Zoog Volkov Martinez is a character role-played by XOZoog
About Kitty
General Description
Zoog Volkov Martinez better known as "Kitty" is a Mexican/Russian immigrant that came to Los Santos looking for new business opportunities. Usually, Zoog can be spotted wearing a cat mask which he refers to as his face. Zoog likes to stay in the shadows and relatively unknown opting to lie about his real name.
Personality
Kitty is pretty friendly with everyone. Although he is a member of the Ballas and his leader Mando Thompson is one of the most ruthless individuals he has ever met in the city, he usually tries to settle matters diplomatically. However, when it is time to smoke people he will not hesitate especially when he is in the middle of war. Kitty is a massive flirt and usually tries to take any girl he meets out on a date. He was probably influenced by his boss Mando. Kitty is extremely loyal at least when it comes to the Ballas, he would never betray them.
Appearance
His appearance is based on "Armor King" a character from the popular fighting game series Tekken.
Connections
Friends
Abigail Sharp: One of the first friends that Zoog made in the city. They've sometimes spent some time together and do various jobs/activities. Through Abigail, Zoog was able to meet members of the Sinister Souls MC.
Bianca Walters: Zoog's close friend. They met at the store deliveries and have been friends ever since. Zoog usually criticizes Bianca's driving because she absolutely can't drive.
Mando Thompson: The relationship between Zoog and Mando got off to a rocky start, to say the least. After Zoog witnessed Mando stealing a van, Mando approached Zoog trying to ask him some questions but Zoog proceeded to pull out a gun threatening to open fire if he didn't get away from him. Eventually, Mando caught Zoog as they say "slippin" and put a bullet in his shoulder. Some time after, Zoog sought out Mando because of his ability to launder currency and became his business partner. Every so often, they collaborate in illegal activity.
Ash Ketchup: Zoog met ash when she was lurking around the cul de sac trying to talk to Outto-Tune Tyrone. They eventually met again outside of Burger Shot and Ash assumed that Zoog was stalking her (he wasn't). They've occasionally hungout but as of late their friendship has been tested because of their association with opposite rival street gangs.
David Rusky: One of Zoog's oldest and closest friend they are almost always seen together.
Enemies
Carmella Corset: Zoog first met Carmella at the front of the apartments where she passed out for some bizarre reason. Carmella eventually regained consciousness and they chatted about their outfits. Zoog asked why she was wearing lingerie which she proceeded to take offense to and claims she can wear whatever she wants. Carmella later proceeded to insult Zoog's shoes so in retaliation Zoog sent her down the elevator shaft. Later in the day, Carmella spotted Zoog at the Rooster's Rest where she proceeded to kidnap him and take him to the cemetery. At the cemetery, Carmella shot Zoog on the side of his skull which rendered him unconscious, and stole a vast amount of money from him. Zoog has been on the hunt for her ever since.
Vagos: Due to the fact that Zoog is a full-blooded member of the Ballas, he occasionally bumps head with members of the Vagos. He does have huge respect for a few members such as Chino Gonzalez and Benji Ramos who he's interacted with during the "Benji Kidnapping Incident".
Relationships
Major Events
Rooster's Rest Suspension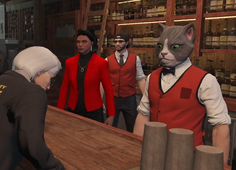 After working two short days at the Rooster's Rest, Zoog was suspended for an entire week because officer Claire Everly decided to arrest Zoog at the Rooster's. The reason is due to the Rooster's strict "No Crime" on the premises policy which prevents employees from talking, committing, or anything of the sort involving crime.
Kitty in for the 9s
Zoog's has been sent in for the 9s. He was assisting Mando Thompson with the sell of meth and the cleaning of dirty money and was detained by Lenny Hawk and Randy Wrangler on the corner of the cul de sac. Randy Wrangler somehow got a raid approved when Mando was caught with only 2 bags of meth. Allegedly, Zoog and Mando were selling drugs which they claimed they weren't. Wrangler attempted to strike a deal with Mando and Zoog in order to catch a "bigger fish" but they gave him absolutely nothing. Now they're in the jail waiting for their court case which is estimated to be within a week.
Court Case 'The People V. Mando Thompson'
In court case they're are charging Mando Thompson, David Rusky, and Zoog with Drug Trafficking as well as sale of drugs. If they are found guilty, they each are looking at a 100k+ fine as well as 3 years prison sentence. On top of all that, Mando could potentially have his house seized by the DA.
Kitty VS DOC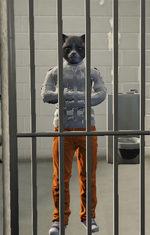 TBW.......
Bail/Down Bad Arc
To be written.........
Extras
Gallery:
Quotes
"Skrt"
"SHEESH"
"What it do, what it be?"
"Time to smoke some foos"
"Say Less"
"Damn Straight!"