Ziggy Buggs is a character role-played by Ziggy.
Ziggy Buggs is a Senior Deputy for the Blaine County Sheriff's Office, Badge #322.
He was formerly a member of the Criminal Investigation Division.
Ziggy is the "Original Los Santos Park Ranger" A.K.A. " Master of the Murder Kitties", as he has allegedly tamed all of them single-handedly. Previously, Ziggy was also known as "Lord of the Mountain", before losing the title to Siz Fulker. He is often referred to as one of the more laid-back cops, according to both colleagues and criminals.
He is most known for crashing his vehicle during active chases. Because of this, pursuit crashes are now referred to by medical staff and fellow officers as 10-Ziggy.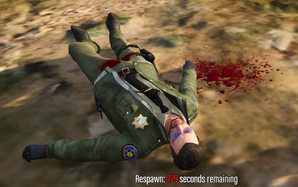 Ziggy has been known to sneak to the Vanilla Unicorn Strip Club and dance for tips, but doesn't seem to care about the money, as he just enjoys dancing for fun.
Buggs was working on several cases, his primary cases included:
Previously in a long-term relationship with Hilda Bulking. This led to a lot of distrust towards Hilda from various criminals and gangs.
Had a drunken affair with Erin Cox during his relationship with Hilda, ultimately leading to the end of it.
Went on a few casual dates with Bambii Byrd.
Has an ongoing "bromance" with Jackie Snow.
Propositioned a "four-way" to Senior Deputy Bobby Smith, consisting of Vladimir Raven, Dante Wolf, Bobby Smith, and himself.[2]
Has made out with Dante Wolf often, and tends to brag about it during casual conversations with others.
Previously dated "Seductress" Jenn Bordeaux. Upon Jenn's proposal of marriage to Ziggy, he flung himself off of the side of Mount Chiliad; effectively ending their relationship.
Ziggy is often referred to as "Zaddy." (Nickname courtesy of the late Nora Dupres †).
Ziggy's birthday is every day.
Self-proclaimed "Most Handsome Guy in the PD".
Once committed Grand Theft Auto while on duty. Ziggy hotwired, and went on a joyride in Siz Fulker's Brawler in the mountains for a period of time, before losing it in the Land Act Reservoir. He has since purchased his own Brawler.
Ziggy is referred to as the "BCS-hOe" due to his flirting and various sexual remarks towards all citizens of Los Santos.
Previously held the ranking of Lieutenant and Field Training Officer, before the restructure.
Ziggy's current goal within PD is to one day make the rank of State Trooper within the San Andreas State Police.
Revealed to Lauren that he is a switch.
Community content is available under
CC-BY-SA
unless otherwise noted.