Roblox: DeepWoken - The Loop
Play Sound

Wu Chang Records is a Los Santos based record label.
History
Wu Chang Records was created by Mr. Wang Chang & Vinny Pistone, and established under Mr. Wang Chang's name.
Vinny and Mr. Chang unofficially signed Lil Erf as the label's first artist, after the debut of his hit song "Chang Gang."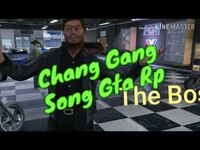 AmeriChang Idol
Chang Gang hosted the AmeriChang Idol talent show, with the winner receiving a Wu Chang Records contract. Many great contestants auditioned, but the unanimous winner was Austin Creed, however Patrit "Mete" Metemahaan was also the 2nd winner too, from his creative cover. Austin's singing talents earned him a $250K record label contract, presented by Mr. Chang.
Wu-Chang Records Top Songs
2.0
3.0
Rival Record Labels
Wu-Chang Records SoundCloud
As Wu Chang Records continues to grow, the label has created an official SoundCloud page.
Artists who receive 40K plays earn a Gold Record, artists that receive 100K plays earn a Platinum Record, and artists who receive 400K plays earn a Diamond Record. Any artist that earn a Gold or Platinum Records will also receive a bonus paycheck from Mr. Chang.
Released Songs
| Cover | Title | Artist | Release Year | Certification |
| --- | --- | --- | --- | --- |
| | Chang Gang | Lil Erf | 2019 | |
| | Cool Papers | Chris Porter | 2019 | |
| | Beatdown Crew | Riley Johnson | 2020 | |
| | Beating Down You | BDC Riley Ft. V, Lil Erf, Randy Bullet | 2020 | |
| | Wu-Chang Ting | Wayne Biggaz | 2020 | |
| | Now That's What I Call Guns: Vol 1 | Chris Porter | 2020 | |
| | OTT RIP | Lil Erf | 2020 | |
| | Whatever You Need | Karen Dahmer, Austin Creed, Randy Bullet, BDC Riley, Chris Porter, Pablo Wealth | 2020 | |
| | Neva Gonna | Austin Creed | 2020 | |
| | I See Dead People (Gladys Diss) | Lil Erf | 2020 | |
| | Moves | Austin Creed | 2020 | |
| | O'aight | BDC Riley Ft. Outto-Tune Tyrone | 2020 | |
| | Wu-Chang Crazy | Wayne Biggaz, Big D, Austin Creed, Ramee El-Rahman, Lil Erf' | 2020 | |
| | Speed Runnin' Tacos | Outto-Tune Tyrone | 2020 | |
| | Skittles Diss Track | Outto-Tune Tyrone | 2020 | |
| | Panto Anthem | Outto-Tune Tyrone | 2020 | |
| | Irreplaceable | Dwayne Flores | 2021 | |
| | Lagging | Dwayne Flores | 2021 | |
| | What's Beef | Lil Erf | 2021 | |
| | Diamond Casino | Lil Erf | 2021 | |
| | Weak Sauce | Lil Erf | 2021 | |
| | Molly Bitch | Molly Minaj | 2021 | |
| | Sky is the Limit | Lil Cap | 2021 | |
| | Wu-Changed Me | Lil Cap | 2021 | |
| | Rags to Riches | Lil Cap | 2021 | |
| | Crlitos Loco | Paff | 2021 | |
| | Runnin'(Remastered) | Dougie Fresh | 2021 | |
| | All I Ever Do | Dougie Fresh | 2021 | |
| | "Savage" Remix | Molly Minaj, Lil Cap | 2021 | |
| | Sugar Daddy | April Fooze | 2021 | |
| | Lean Boi | Yung Fierro | 2021 | |
| | Sheeeesh | April Fooze | 2021 | |
| | Balenci | Dwayne Flores | 2021 | |
| | Chanclas | Jay Que | 2021 | |
| | Heart Stoppin | Crusty Rusty | 2021 | |
| | Rags to Riches Remix | Lil Cap, Big D | 2021 | |
| | Gangsta Party | Molly Minaj, Paff | 2021 | |
| | Dog Hours | Lil Ese, Paff, Trippy | 2021 | |
| | Vibe | Dwayne Flores | 2021 | |
| | Southside Behavior | Paff, Lil Ese | 2021 | |
| | Ro Block Kidnapped & Robbed Mackenzie Hayes (the Cop) For Her PD Assault Rifle + PD Glock | Liz Anya | 2021 | |
| | summer blues | Elena Vega | 2021 | |
| | Block Party | Liz Anya | 2021 | |
| | Busta | Dougie Fresh | 2021 | |
| | 1079 | Yung Fierro | 2021 | |
| | Grape In A Box | Lil Ese | 2021 | |
| | Gas | Captain Raw | 2021 | |
| | Care Tak'n | Captain Raw | 2021 | |
| | Yuh | Elena Vega | 2021 | |
| | Sleepin On Me | Crusty Rusty | 2021 | |
| | Rather Be Lonely | Saint Noelle | 2021 | |
| | No Handouts | Crusty Rusty, Molly Minaj | 2021 | |
| | 5150 | Eezy | 2021 | |
| | Roll On | Jackson Creed | 2021 | |
| | Low | Oswald Tinkerman | 2021 | |
| | Crunchy Love (feat Mr. K) | Tee Veeman | 2021 | |
| | Ever Ask | Dwayne Flores | 2021 | |
| | Overdue | Dwayne Flores | 2021 | |
| | Tommy T | Dwayne Flores, Tommy T | 2021 | |
| | Asbo | Dwayne Flores, Eli Porter | 2021 | |
| | My Home | Jackson Creed | 2021 | |
| | Ride | Eezy | 2021 | |
| | Wunami | Eezy | 2021 | |
| | Finish Him | Saint Noelle | 2021 | |
| | Big Name | Molly Rollin | 2021 | |
| | The Crime | Aadi T. Boom | 2021 | |
| | My City | Zolo | 2021 | |
| | Chicken Little (Lang Buddha Diss) | Yung Fierro | 2021 | |
| | Messages | Eezy | 2021 | |
| | Ride or Die | Dougie Fresh | 2021 | |
| | Bling | Crusty Rusty, Liz Anya, Yung Fierro | 2021 | |
| | The Funk | Crusty Rusty, Dwayne Flores | 2021 | |
| | M&Ms | Molly Rollin | 2021 | |
| | Who Dis? | Zolo, Tui | 2021 | |
| | Took a Shot | Eezy | 2021 | |
| | Submit | Saint Noelle | 2021 | |
| | Wunami Cover | Molly Rollin | 2021 | |
| | M&Ms Saints Remix | Saint Noelle | 2021 | |
| | Lower | Eezy | 2021 | |
| | Thrive | Yung Fierro | 2021 | |
| | Crime Cover | Jackson Creed | 2021 | |
| | Uh Huh | Captain Raw | 2021 | |
| | Mag Dump Szn | Captain Raw | 2021 | |
| | Attached | Zarina Vega | 2021 | |
| | Fuck The Southside | P Willy | 2021 | |
| | Drip Like Water | Zolo | 2021 | |
| | Davinci Accent | Valentine Dalla | 2021 | |
| | Dick On The Mic | Gioconda Coppola, Tig O'Connor | 2021 | |
| | Bad Doggy | Zarina Vega, Liz Anya | 2021 | |
| | Fangs | Liz Anya | 2021 | |
| | 666 | Saint Noelle, Yung Fierro | 2021 | |
| | Got It Good | Valentine Dalla, Eezy | 2021 | |
| | Big | Eezy | 2021 | |
| | On Go | Zolo, Tui | 2021 | |
| | Rasta | Sparky Kane | 2021 | |
| | Ramella | Liz Anya | 2021 | |
| | Spare Coochie Maam | Big D, Oswald Tinkerman | 2021 | |
| | FK12 | Sly Lion | 2021 | |
| | Backseat | Valentina Dalla, Zarina Vega | 2021 | |
| | Nasty Bitch | Crusty Rusty, Valentine Dalla, Liz Anya | 2021 | |
| | Gas Remix | Captain Raw, Valentine Dalla | 2021 | |
| | One | Manny Campa | 2021 | |
| | Pengu | Manny Campa | 2021 | |
| | Catching Lines | Manny Campa | 2021 | |
| | Heartless | Zarina Vega | 2021 | |
| | Speeding | Zolo, Tui | 2021 | |
| | Twerkquake | Liz Anya, Carmella | 2021 | |
| | Vicious Cycle | Liz Anya, Hung Jae Min | 2021 | |
| | Vibrations | Zolo | 2021 | |
| | Grime Man | Sparky Kane | 2022 | |
| | Not Afraid To Die | Damien Tinkerman, P Money | 2022 | |
| | Delirium | Selena Martinez | 2022 | |
| | Bullet Express | Randy Bullet, P Money, Big D, Wayne Biggz, Dwanye Flores | 2022 | |
| | Sick Thrill | Mia Beyern | 2022 | |
| | Luigi | Zolo | 2022 | |
| | Twerkquake Remix | Liz Anya, Carmella, Donnie Badman | 2022 | |
| | Pause | Eezy | 2022 | |
| | Prada | Valentine Dalla | 2022 | |
| | Wait | Saint Noelle | 2022 | |
| | More Ways | Liz Anya | 2022 | |
| | In The Hills | Tui | 2022 | |
| | Ayaya | Topi | 2022 | |
| | Staring At The Moon | Zay Di | 2022 | |
Gallery