Raise a Floppa - The Loop
Play Sound

Wilmer "Azul" Guzman is a character role-played by WildJing.
General Information
Azul is a latino sicario born in Nuevo Laredo, Mexico. Having lived in a drug ruled neighborhood by the local cartel called Los Zulus , Azul was able to join the cartel and learn the ways of the Sicario and eventually assist with the smuggling operations. Having lived in the streets and being part of a drug cartel Azul has a large bag of tools at his disposal that makes him a very dangerous and unpredictable man.
History
Azul was born as Wilmer Guzman, named given by his father Joakim who was a laboring mechanic barely making enough to bring food to the table for the family. Already at age 11 he started helping around his "barrio" in Nuevo Laredo in order to make some money, close the the US-Mexico boarder, a local low level cartel member gave Wilmer a few extra pesos for him to be the "eyes" and signal to other watchers in the neighborhood when police, a rival member or an unknown is entering the barrio.
The local cartel Los Zulus noticed that Wilmer was very careful and always picked the best locations to be the eyes so they decided to give him and his family some extra cash in exchange for him moving and selling some packages of marihuana to the "local market". So by the age of 13 Wilmer was already dealing drugs and had a small crew of 4 people that helped with the transactions. Wilmer always liked the color blue that even all his crew wore blue and you would never find Wilmer not wearing blue, so much that the entire barrio gave him the nick name AZUL.
For several years Azul was able to build a reputation for selling marihuana now with several crews increasing his profits and having enough muscle to take care of his competition in the most brutal and terrorizing ways that it would make other dealers think twice about coming to Azul's spots to sell drugs. Los Zulus had seen good potential in Azul so they recruited Azul and increased his salary in order for him to become a Sicario.
The Sicarios are the elite hit squad of the Cartel and in this branch of Los Zulus they are very militarized in their training. So Azul was brought in and spent several months in training under the sicarios learning everything from: following people, kidnapping, executing, reading plates, human psychology, torture, shooting, etc...
After each training session, at night Azul and his sicario brothers would go to the local bar and have a few drinks and that is when Azul fell in love with Lupita. A beautiful Mexican woman who was serving alcohol, the problem was that she was 18 and Azul was only 17. This did not stop Azul from perusing her to which eventually both would fall in love and end up being married.
At this point in his life Azul was doing good, until Lupita let him know she was pregnant. After the first child Azul saw how expensive everything got so he needed to make more money to keep up with the lifestyle he had shown Lupita. So Azul went to "El Jefe" and asked if he could get a promotion as he was a new father and needed money. El Jefe agreed and besides being a sicario Azul was given the opportunity to help protect and move the Cocaine from Nuevo Laredo to Texas. This new opportunity brought a lot more money to Azul that him and Lupita had two more children and then again the finances became tight once again as Azul was giving the best to his family. Then the most unexpected thing happened… Lupita got pregnant again, this time with twins!
At this point in his life Azul started having major hair loss to where he was almost bald. Once again Azul approached El Jefe and asked if it was possible to get another promotion, and due to all the great work Azul has put in the Cartel as a Sicario and Smuggler El Jefe decided to send Azul to Los Santos to make sure that the pipe-line of distribution in Los Santos stays in tact while making sure the name of Los Zulus is respected in the streets. So Azul had to make the hard choice of leaving his wife Lupita and his 5 children in Mexico so Azul can go to America to make more money in dollars and send back to Lupita that money for the family.
After crossing the Nuevo-Laredo/Texas border using the under ground tunnel system the Cartel has built, Azul made his was to Los Santos with the look of a man who has purpose and desire knowing that if he does one mistake... either The Cartel or Lupita would have his ass.
Major Arcs 3.0
The sky is always AZUL
Using one of the Cartels connections, Azul was able to get smuggled in Los Santos with freshly made papers that would solidify him as a legal resident. Upon arrival Azul met Misty Mocha, a friendly chica who took Azul on a hunting trip showing the "illegal" hunting and monetary gains that could be made from exotic animal pelts.  On one of those trips, after shooting a cougar, the local Rangers were called on scene and Misty knowing she and Azul had illegal pelts decided to take the fall for Azul. This shocked Azul as he was thinking to take the fall for Misty but she beat him to the punch.

Since that day Misty earned Azul trust, and after picking Misty from DOC a new bond was formed. This bond led Azul to meet the owners and employees at Smoke on The Water, where she worked at. Azul was first introduced to Windsong and later met the entire crew as he provided "security" on and off premises at no cost, maybe just for a few joints.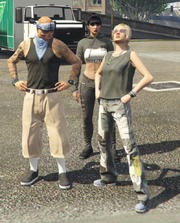 Azul still knows he needs to make money to send back to his wife Lupita and his 5 kids, but he also needs to establish himself in the city in order to lay the foundations of the Zeta organization in Los Santos.  In order to achieve this Azul resorted to what he knows best, being a good criminal with the tools and skills he learned back in Mexico. Along with Misty, Azul was able to meet Mia Joy and Tuxedo Man who regularly became accomplices in drug runs.
Upon his ventures in the city Azul one day came across a chicano called Rubio who had valuable information to share. Rubio took Azul up north near Sandy Shores and introduced Azul to an individual who provided a list of cars to steal and chop down. Both Rubio and Azul took this list and after a few cars a trust was created.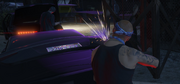 Azul being over 30 has a few limitations in his current physical abilities (his knees hurt often), that is why he often plans and takes time to observe his target and strike at the right time. Azul never works alone but one night he needed help and there was no one he knew to be found. So near the Alta Street Apartments he cam across a young gangster called Grock Mulla.
Azul heard his story on how he was the baddest gangster in Norway, even though he never fired a gun, so Azul decided to take this young man under his wing and teach him the ways of the street. Grock was like a sponge absorbing everything but more than anything he was resourceful when it came to thinking on his feet. After a few criminal activities and a few laughs at Smoke On the Water, Azul asked Grock if he would be down to team up with Azul in exchange for "gangster training" and Grock agreed.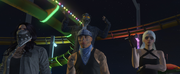 These are the first steps taken that would lead to many opportunities and unforeseen events. Now Azul must plan out his next steps to establish Los Zulus in the city.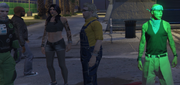 New Friends & New Connections
Azul has had one thing on his mind, connections. This is the bloodline of any organization when it comes to getting supplies, information and more importantly respect. So in this regard Azul bought a property on Roy Lowenstein along with Misty Mocha in order to start the beginnings of the Zulu organization.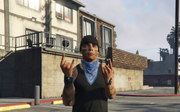 Unfortunately, Misty Mocha suffered an unknown incident in the city which caused Azul pain of loss as he would never see her again. With this Azul continued with the idea of building the organization as how it was envisioned with Misty.
One of the first things required was a steady legal income, so Azul continued his work with Smoke on the Water as security even though sometimes things did not go so smooth...
Molotov thrown at Dean's World #SmokeOnThePier
Also during his time, Azul became good friends with Pancho and most of the time Azul had to go up to Sandy Shored to do a bit of security ensuring the grow operation is going smoothly. But there would always be the one's who tried and failed...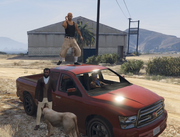 Weed was one thing Azul loves to smoke, but it has interested him very much how to grow and produce this beautiful plant as this is bringing back memories of him dealing in the streets of Mexico. With all the knowledge gained learning how to grow learning side by side with Pancho, Azul then tried his luck on a few grows trying to produce some good marihuana.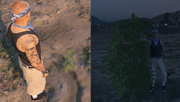 Now that weed was on the table, it was time to grab the boys and start selling some of this marihuana on the streets. Azul had some general knowledge of the street selling game from the information he gained talking to Pancho and how he and the Vagos were doing it. Azul took good notes as this was a very respected group who had a good way of moving product in the city. With this he met up Grock, who at the time has been brought in as a prospect for the Zulus, and explained how the weed run works and then later on Azul gathered more details and strategies from Scotty as he too was in the weed game.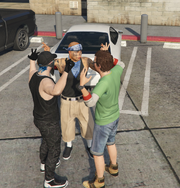 Everything is going in the right direction with Azul, he is earning respect with the south side gangs, holding down his territory and making good money. But one day in a very hot Los Santos afternoon a man with a blue bandana approached Azul and then a very interesting conversation ensued…
The Alliance and Merger
To be continued...
Quotes
"Lupitaaaaa !!!"
"What up bro?"
"Que pasa papi?"
"Ahhhhhhhhhh!"
"Wufalo" - (Azul's Buffalo pronunciation)
"Hey Bro"
Gallery