Fire Emblem Warriors: Three Hopes - The Loop
Play Sound
🧁

Please do not put FALSE or UNCONFIRMED INFORMATION on this page, thank you.

🌸
"Let the UwU change you..."™
UwU Café is a restaurant created and owned by Ash Ketchup. Benji Ramos, Sherry Paie, and Attorney James Haze each own a small percentage of the company and help run it.
Description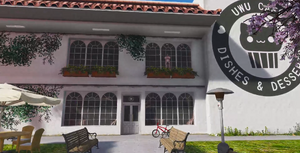 A F&B outlet that has a Cat Maid cafe theme that is run out of the Little Seoul neighbourhood. For the first few months, the cafe operated through Dean's World and Farmer's market vendors booths.
The cafe has established relationships with other businesses. With Hayes Auto Body Repairs for daily food supply runs during the cafe's vendor booth era. And for a short while, with the National Paintball Association to sell food at the arena during matches. The business offers catering for special events.
History
Disgruntled with management decisions at Burger Shot, Ash Ketchup decided she wanted to start up her own rival establishment in the form of a cafe, eventually conceptualising it fully as a cat maid cafe. Sharing her idea with similarly peeved Burger Shot colleague, Kitty Dream, the two initially wanted to go in as equal partners until disagreements over ownership and perceived commitment levels to the project resulted in Kitty bowing out. The business proposal was submitted and approved under the Denzel Williams mayorship administration.
Within its first few weeks of operating, the business drew attention from competitors such as other market vendors, but most notably a rivalry with Burger Shot. In response to this UwU Café applied for trademarks to protect its IP, including menu items, slogans and the UwU brand name.
On 23rd August 2021, the cafe's Little Seoul location was officially confirmed and construction within the city began. The building costs were announced officially on 5th September 2021, amounting to 600K in cash and 3K each of Rubber, Glass, Copper, Aluminium, Plastic and Steel materials, and were all gathered over the following weekend.
On 16th October 2021, the first major shoot out on the premises occurred with Chang Gang holding out against the Police Department in the partially constructed cafe interior, resulting in a lot of cops being shot down before the defenders were eventually taken out. In post-incident interviews conducted at prison between the Cafe owners and Mr. Kebun, Mr. K gave a 5 star review score of the cafe as a potential holdout spot. Other heist crews have since followed suite, and the PD has sent teams to survey the spot as a place of interest for such incidents.
November 23, 2021, UwU Cafe's Little Seoul location opened.
On November 28, 2021, UwU Cafe hit over $1,000,000 in the bank account making over $800,000 in the first 5 days of the physical location.
In the first month of operation at the Little Seoul location, the cafe encountered a frequent amount of harassment from robbers and gunmen, including infamous south-side gangs like the Vagos and BSK; both of which have problems that stemmed from the cafe's ties with prominent ex-Vagos members. The cat cafe went on high alert: pairing up on ingredient runs, locking up employee doors, and even closing shop on a tensed shift. On December 12, 2021, after a bomb was thrown in the cafe and locked a Vago in premises, the Vagos ceased their attacks. On December 16, 2021 the BSK and UwU management settled to end the attacks, and some degree of peace was restored to the cafe.
As of February 23, 2022, the cafe has hired over 200 employees.
Menu
Dishes
Mains
Sides

Om-Nom Omurice
Kira Kira Curry
Sugoi Katsu Sando
Hamburg Steak
Doki Doki Pancakes

Rice Balls
Warm Chicken Noodle Soup (Secret Menu)
Awwdorable Valentine's Chocolate (Valentines Season)

Desserts and Drinks
Desserts
Drinks

Strawbelly Shortcake
Meowchi Mochi Ice Cream
Oxygen Cake
Purrfect Parfait
Ballaberry Cupcake (Secret Menu)
Dragon's Fire Cupcake (Secret Menu)
GingerKitty Cookie (Christmas Season)

Matcha Coffee
Booba Milk Tea
Sweet Herbal Tea
Hot Chocolate (Christmas Season)
Lovely Hot Chocolate (Valentines Season)

Specials

Combo Meal (Vendor Booth)/Bento Box Combo (Restaurant)

1 Drink
1 Main Dish
1 Dessert
Mystery Box/Kitty Toy (for Bento Box combo)

Taste of UwU Combo (Vendor Booth)
Current Employees
Inactive Employees (In Memoriam)
Gallery
Trivia
The restaurant's interior was primarily created by Denis3D.