Fire Emblem Warriors: Three Hopes - The Loop
Play Sound

Tracy Martell is a character role-played by hobbittrash.
General Description
Tracy Martell is a Captain for the Los Santos Police Department, Badge #461.
She was previously a Deputy for the Blaine County Sheriff's Office, Badge #361, as well as previously a Doctor at Pillbox Medical Center.
Background Information
Often referred to as "Dr. Bitch", Tracy was formerly a cosmetic surgeon at Pillbox. During her time working for the hospital she developed a reputation for being incredibly abrasive towards patients and co-workers. She despised working at Pillbox with such fervor that she'd frequently stand on the sidewalk by the entrance in hopes that she'd be kidnapped just to avoid being alone at the hospital.
Tracy later resigned and became a dispatcher to spite her ex-girlfriend, Nettie Machete - an EMS turned criminal, for being married to a man. Vowing to one day become Chief of Police and put Nettie in jail, forever.
After joining the BCSO, Tracy became close colleagues with Randy Wrangler and adopted many of his mannerisms after appreciating his style of police work. She at one time was even mistaken for Wrangler as she looked, sounded, and acted like him. She later transferred to LSPD due to department politics preventing her from being promoted.
In September 2021 Tracy was turned into a vampire by Carmella Corset, kickstarting her vampire ark.
In December 2021 she proposed a platonic marriage to William Gunner with a ring she stole from Randy Wrangler's PD locker. He accepted.
Momentous Dates within the Government
2.0 and prior
Rank
Insignia
Note
Date
Resident
Hired to PBM
TBA
Doctor
Promoted to Doctor
July 30th, 2019
Dispatcher
Hired to Dispatch; Call-Sign D-7
August 17th, 2020
Recruit
-
Accepted into Academy; Badge #R-11
September 16th, 2020
Cadet
Passed Academy; Badge #556
September 24th, 2020
Solo Cadet
Solo Certified; Badge #606
November 10th, 2020
| Rank | Insignia | Note | Date |
| --- | --- | --- | --- |
| Solo Cadet | | PD Ranking Restructure; Badge #606 | February 5th, 2021 |
| Deputy | | Promoted to Deputy; Badge #361 | February 25th, 2021 |
| Officer | | Transferred to the LSPD; Badge #461 | May 21st, 2021 |
| Senior Officer | | Promoted to Senior Officer | May 27th, 2021 |
| Sergeant | | Promoted to Sergeant | August 5th, 2021 |
| Chief of Police | | Promoted to Chief of Police for the day | October 28th, 2021 |
| Sergeant | | Returned to Sergeant | October 28th, 2021 |
| Captain | | Promoted to Captain | December 10th, 2021 |
| Certification | Legend | Rank | Note | Date |
| --- | --- | --- | --- | --- |
| Field Training Officer | | Senior Officer | FTO Certified | May 28th, 2021 |
| Street Crimes Unit | | Senior Officer | Appointed as Advisor to the SCU | TBD |
| Burglary Task Force | | Sergeant | Invited in by Silas Grimmer | August 24th, 2021 |
| K9 Handler | | Sergeant | K9 Certified; Handler for Roxxane | November 6th, 2021 |
| Field Training Instructor | | Captain | FTI Certified | December 10th, 2021 |
Events
Transfer to LSPD
Martell transferred to the Los Santos Police Department on May 21, 2021, after realizing that being a deputy with the Blaine County Sheriff's Office would not further her career. And that she'd not be acknowledged for her achievements and, as a result, would not have been progressed. Afterwards, she submitted a transfer request.
Despite the fact that she received a lot of negativity from Sheriff Kyle Pred as a result of the transfer, she maintained her head high and demonstrated to everyone how good she could be. Demonstrating great leadership on several occasions.
DEEEEEAAAN!!!!!
Dean Quincy had become public enemy number one in the eyes of Martell. Especially after he had repeatedly lied to her about what he had been doing when she wasn't looking.
Martell was on a mission to capture the man and take everything she could from him. She gathered as much information and evidence as she could on the man and his accomplices. She knew they were in the illegal drug trade and had discovered blood at the scene of a violent shootout where she suspected they had a warehouse. With what she had, she planned a raid on them.
Quincy managed to get a phone call through to Guy Jones, informing him that they were about to be raided. Jones arrived at the warehouse soon after, but the cops arrived as well, and a shootout ensued. As a result, many cops went down in the altercation. But soon after Quincy and his associates were then taken to Bolingbroke Penitentiary to serve their time for their held until trial (the 9s). They were sentenced to 7 to 9 years in jail for Illegal Drug Trafficking.
With this Martell was able to lead the largest drug bust/raid in Los Santos at the time. Taking down NBC and Quincy.
From Senior Supervisor to Sergeant
Martell, like many other members of the force, had applied for the position of next chief of police. When Deputy Sam Baas discovered she was running for it as well, he approached her and offered her a high ranking command position with him if he won.
After some time had passed, Sam Baas was selected as chief of police. When he next approached Martell, he called her to his new office and told her that he sees her as a sergeant and believes she would be successful in that position. Baas then proceeded to forget what he had told her and said the same thing three times later. The last was with Domenic Toretti and Lance Malton, his newly appointed Assistant Chief and one of his Captains. Martel and Dante Wolf were both assigned to the role of Senior Supervisors (Shift Supervisors) and would be put on as trial Sergeants. The two would have to be watched for the sergeant post.
Martell was kidnapped by four men with voices that've been altered dressed in white lab coats, shorts and flip flops with black and white stripped socks on their heads on August 5th, 2021. They transported her to a remote location and warned her that because she was too sexy, they would have to kill her. As they pointed class 2s at her, they ordered her to turn away. They then removed their socks to reveal their identities as Malton, Toretti, Baas, and Shiesty, and promoted her to Sergeant.
The Vampire Arc
Carmella Corset bit Martell's neck, transforming her into a vampire, on September 15th, 2021.
She carried on with her life, oblivious to the fact that she had been turned, and even went back to work the next day. Except for the fact that her appearance and system had changed. Her dirty blonde hair has been abandoned for dark reddish black. Developing a strong sensitivity to both sunshine and fluorescent lighting. Along with an aversion to garlic and an unquenchable thirst.
A shooting occurred one day while Martell and Gunner were riding together. Gunner exited the vehicle and began firing, but was knocked down in the process.  While he was down, he continued to make fun of Martell's condition, despite Martell's threats that if he continued to do so, she would bite him.  He continued, and she bit his neck, transforming him into what she was.
Martell eventually discovered (from Carmella) that she was a vampire, not someone suffering from Type 3 Diabetes.
The Day Martell Became the Chief
Martell anticipated she would be the next Ass. Chief. She shaved her head and dressed in an outfit that was similar to his. It was, however, one of those Baas thengz that got turned against Martell. Baas caved in and after some loud and messy sobbing he granted her the four stars by Chief of Police Sam Baas to be the chief, for the day, on October 28th, 2021.
All of this happened because Chief Baas hinted that if something happened to Assistant Chief of Police Domenic Toretti, she would take his place. Toretti was worried for a while that she might do something to him to get his rank, such as lying about his whereabouts, dressing up in a disguise and changing his voice.
Getting K9
K9 proved tough for Martell to obtain from Trooper Jack Ripley. She had previously claimed to hate animals, particularly dogs. Ripley didn't believe she'd ever want to get the certification in the first place.
Martell was serious about obtaining her canine. She thought it was something that would be valuable in her time zone. As there could only be two K9 certified officers on duty at the time, they were always busy with processing, court, or traffic violations.
Martell demanded a meeting with Ripley the day she become Chief, and she dragged Domenic Toretti along. After much discussion, they felt it was time to add a third handler to be on duty
Ripley told her to show up for the next K9 training day because he noticed she was serious about achieving her certification.
On November 6th, 2021, Tracy Martell got her K9 and named her Roxxane.
Roxxane is Pregante???
Martell and Ripley partnered up more often and would be on K9 duty at the same time. As a result, Zero and Roxxane would often work together.
One day Martell thought that the dogs were lonely and opened the gate to their kennels to let them hang out. After their first vet appointment, Martell got the news that her suspicions were true and that Roxxane was pregnant. Although Martell suspects that she had been pregnant since before she even got Roxxane.
Ripley who had been present during the appointment heard the news and began accusing Martell of negligence and not taking responsibility on his side.
The Proposal
The interactions between Martell and Ripley have always been interesting. Since they started riding together, they've cycled between flirting and fighting with one other. Martell wanted to make Ripley feel bad by telling him she had been holding a present for him after Ripley took back the diamond he had given Martell as a Christmas present for stupid reasons.
She went looking for Ramee in the hopes of obtaining Chang Gang merch, which Ripley would have appreciated. When she couldn't find anything, she considered the next big thing: Mandem merch. Dubbing them the Walmart version. Despite her multiple requests, Dean Quincy was unable to provide her with a chain.
Finally, she came up with the idea of rummaging through her colleagues' lockers for anything she thought Ripley might like. She discovered a diamond engagement ring in Randy Wrangler's PD locker and grabbed it for herself. Using it to propose to her bestfriend, William Gunner. She proposed the next time she ran into him, December 9th, 2021. And he agreed to be in a platonic relationship with her.
Wedding plans are in the works.
The Big Promotion
Chief of Police Sam Baas promoted many female officers during a PD meeting on December 10th, 2021. Pond and Vale obtain Corporal, and Hall and Martell attain Captain. Making Martell reconsider her decision to work as a sheriff's deputy in Toretti's office. Her goal was to relieve Bass of some of his responsibilities.
She has demonstrated how good she is with her new leadership role. Helping P&T with recruitment and taking charge of the meetings, amongst other things.
The Ladies of PD Meeting
[Work in Progress]
The Start of the Harem
Martell was involved in a big court case in which Kaminski and Riggs were pitted against their roommate. She was questioned about her relationship with Riggs and the events of a private meeting between the two, during which she said that the two would maintain a "professional" relationship moving forward.
She left the courthouse with a mission due to the long court case. To design and build a harem of willing and consensual sex slaves and officially gain her harem.
Martell went to Bass at some time and told him about her intention to establish a harem with members of the pd. Which he approved of.
Martell's Harem now consists of:
Relationships
PD Relationships
Kyle Pred
Martell and Pred used to partner up often but after some time there was a distance between the two. Martell eventually transfered to LSPD
Rocko Columbo
In Martell's time as a new hire, she wanted to get married to Rocko for benefits.
Owen Svensen
They are best friends.
William Gunner
As punishment for an altercation between Martell and two of her superiors (T.J. Mack and Randy Wrangler), Gunner was assigned to ride with her for a few days to keep an eye on her. However, this backfired because Gunner and Martell grew to be close friends. Martell proposed to Gunner before Christmas and he accepted. They are now engaged.
Jack Ripley
While they would only interact briefly at first, when she saw that more K9s were needed, Martell applied and was repeatedly rejected, prompting the two to argue constantly. Ripley recognized Martell's commitment to the certification he could give her, and the two became fast friends. They are often seen riding together with their K9s, Zero and Roxxane.
Den Shiesty
Despite Den being one of the numerous cadets Martell had trained he set himself apart from the rest and the two became fast friends.
Domenic Toretti
After Toretti became Sheriff of SDSO Martell has tried her best to show support and help him out. But because Toretti is often on edge because of years of bullying from fellow members of the pd, he doesn't believe she's helping with good intentions and the two often fight.
Other Relationships
Marlo Stanfield
Martell used to want to take down Marlo to the point where she was gathering intel on what he was up to. But after some time, and his sudden disappearance from the city, she changed her mind and would bother him constantly.

She once sent him a photo of her carrying him as a baby. Implying that she was his mother.

Because he believes she is his mother he goes out of his way to help her monetarily. Even giving her money for her to buy her new mansion.
Alexander Blake
Blake is Martell's primary care provider. Blake has to drop everything he's doing to take care of Martell.
Martell's Harem
William Gunner
Martell and Gunner didn't start off on a good path. Gunner's way of speaking at the pd meetings lead her to believe he was sexist but after a punishment from Wrangler he the two paired up and got to know one another. Their friendship blossomed and Martell decided to propose to him. Proposing the two have a ??? relationship.
Jack Ripley
These two also didn't get along at first and still continue to bicker from time to time. But there are times where they are found flirting with each other.
Fingle Dan
He's old but he's in the harem.
John Riggs
Martell has ridden with Riggs and Kaminski on several occasions and has developed a friendly relationship with them. Toretti later notified Martell that Riggs might have been romantically / sexually interested in her. As a result, Martell beckoned Riggs to her residence in Mirror Park, where she waited in her sex dungeon adorned in her "professional lingerie." Riggs became embarrassed when he arrived at her house and saw her waiting for him. She then proceeded to ask him a series of questions before telling him that they will have a "very professional" relationship going forward.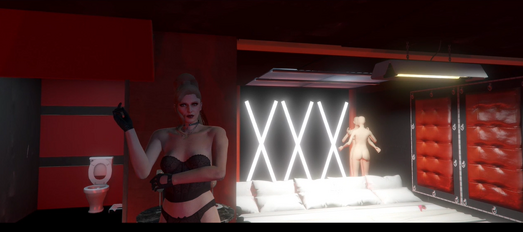 Vingle Dan
Martell approached a PD vehicle with Vingle Dan in the passenger seat as a ride along and advised him that he would be a member of her harem and that he may need to get his keys from Fingle Dan. He cheerfully agreed.
Quotes
"Children are literally the worst thing that can happen to America - and this is coming from a former child. I mean honestly, people talk about immigrants? No, it's children." [1]

"DO IT NOW!"

"SPEAK UP!"

"What's your blood type?"

"Is it because I'm a woman? Oh my god! OH MY GOD!"

"HELLO!!!!!!!!!!"
Trivia
In 2.0 Tracy owned a pink Baller.
Tracy often refers to breakups as "brakks".
Nettie first asked Tracy out on AOL.[2]
Tracy's AOL username is: TRACY_BABYXOXORAWRXD.
She has 3 cats, though she may have drowned them in her bathtub.[3] One of them was even pregnant.
Tracy wears wigs because her hair grows disproportionately after one of her exes threw acid on her head.[4]
Naturally blonde, Tracy has a habit of changing her hair color when she's upset. During her first breakup with Nettie she went through a goth phase and wore her hair black, then after being chastised by Dr. Serge Cross for not wearing proper hospital attire she changed it to white.
While she was a doctor Tracy kept a stash of dirty needles in one of the Pillbox cabinets and frequently used them to threaten patients to be complacent with her demands. She at one point even went as far as giving someone chlamydia for flirting with Nettie.[5]
Tracy occasionally plays Minecraft while off-duty.[6]
Tracy has an intense hatred for White Claws and doesn't understand why people like them.
Tracy has had plastic surgery to give herself a button-nose.
As part of a joke, one of the judges married Tracy to Michael "Mikey" Dias.
She's named after the nickname of the drag queen, Trixie Mattel.
Tracy takes antipsychotics to manage her mental instability.[7]
Was a member of MCD.
Den Shiesty, her PD child, crushed her heart by handing over evidence to the enemy and then transferring to the BCSO; betraying her.
Her work partners have been: Domenic Toretti, Owen Svensen, William Gunner, and Jack Ripley.
Has drag race songs or Creed playing in her head.
Gallery
References