No Man's Sky Update - The Loop
Play Sound
Tommy Biggaz is a character role-played by Vader.
Description
Tommy travelled from Jamaica to Los Santos on vacation and came acroos his brothers Wayne Biggaz and Darnell Biggaz. Tommy is the oldest brother in the family and the most serious one. He likes to use Voodoo and black magic to intimidate his enemies.
First Day
Paleto
The moment Tommy met up with Wayne he they decided to do some criminal activity with the family as Darnell just arrived at the airport. Wayne proposed to do the Paleto robbery since he was training to do the thermite. After picking up Darnell and gearing up TT aka Timoteo Bushnell joined the crew. The gang picked up a man who annoyed Tommy earlier as a hostage before travelling to Paleto to execute their plan. Once there Wayne, TT and Darnell all took turns trying to break trough the door with thermite. Surprisingly Darnell was the one who got the farthest, unfortunately none of them could actually get in.
Once the gang ran out of thermite they decided to drive off with Wayne saying "TT you can drive". This turned out to be a mistake as less than a minute in TT crashed the car on the highway leaving the crew stranded with no cover and a big force of cops around them.
Darnell decided to shoot which started a shootout between the gang and the cops. Unfortunately for the gang they were outnumbered and blind from coke. The gang got downed after taking out a few cops and got arrested. After being brought to MRPD and having his fingerprints added to the database Tommy was sent to Bolingbroke Penitentiary. But not before he scared a bunch of officers by threatening them with Voodoo and black magic.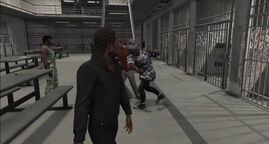 Once Tommy arrived in jail he joined the rest of the gang who were talking to Mr. Robert Rodgers. After laughing at his confession of erectile dysfunction and micro penis and then being creeped out by his mayo sandwiches Wayne knocked him out to get some relief. Tommy then went to sleep and serve his sentence in peace. After serving his Jail sentence Tommy and Wayne reunited at the pink cage.
Jewelry Store
Tommy, Wayne and a sleepy and drunk Karen Dahmer gathered equipment and proceeded to drive to the sandy shore airport to buy a purple card for the bank from Georgina "Windsong" Williams. The group then proceeded to procure a super diamond and drugs as preparation for the jewelry store to the dismay of Karen who wanted to go to sleep. After 30 minutes of misadventures the crew kidnapped Lana Valentine and finally arrived at the jewelry store. The crew then started robbing the store while at the same time arguing with a sleepy Karen who wanted to bail so she could go to sleep. With their loot packed up, Tommy at the wheel and cops on their tail the crew drove off. Tommy lost the cops with ease. The loot was split up and Karen finally got her wish and went to sleep.
Quotes
"Bless up! Bless up!"
"Bless up, mon!"
"Good ting mon!"
"T'cha mon!"
"Bombaclat!"
"Cut off dem head"
"Clowns be bad luck"
"Keran wake da fuck up Keran!"
Trivia
The character originally came in to existence due to Tuong Ru Kim's efforts, trying to infiltrate the Top Shottaz. When Tuong approached Wayne saying he was his brother, Wayne responded with "Is that you Tommy?".
Tommy was suppose to be a one time off perma character, but Vader enjoyed playing him to the point where he decided to keep him.
Gallery