The Taco Farmer also formerly known as the Taco shop was a fast food restaurant that doubled as a cover for illegal goods distribution center located at the Southside of Los Santos.
Prior to its closure on August 28th, 2020, the Taco Shop had two sides:
The Shop provided food and delivery jobs to the people of the city. They hired cooks and delivery drivers to keep the shop running.
The shop doubled as a front for the criminals to push illegal goods throughout the south side and parts of the city. The illegal goods vary from money bags, rolls/stacks of cash, and bulk sales of marijuana.
On August 28th, 2020 the Taco Shop was closed down by the City Government after they had discovered that illegal goods were being pushed through that shop.
Chang Gang lurked around the Taco shop which increased tensions between them and the Leanbois, which later erupted into a full-on war.
Taco Shop was being held down by Vagos, East Side Ballas, and formerly the Leanbois in different timezones.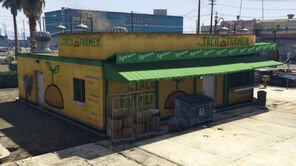 Community content is available under
CC-BY-SA
unless otherwise noted.