Stephen McClane is a character role-played by CurtisRyan.
Stephen McClane is a Sergeant for the Los Santos Police Department, Badge #488.
He is widely regarded as one of the best shots and drivers within the PD.
McClane is a 28-year-old male with naturally brown hair (currently dyed white) and a trimmed beard.
McClane has sported multiple different hairstyles, including a short haircut with the sides shaved, a mohawk, and a longer "Rambo" hairstyle.
Los Santos Police Department
Mack is McClane's adopted brother, and together they have formed "The Sons of Soze."
After McClane lost his brother Bodean Tucker, McClane asked AJ if he wanted to be his brother in place of Bo. AJ accepted this offer.
Knight is McClane's adopted son. McClane adopted him at the same time that Brittany Angel adopted him.
McClane's adopted son. McClane is adopting some of Angel's kids to piss off Kyle Pred.
McClane and Angel are good friends and can regularly be seen patrolling together. McClane often flirts with Angel and attempts to sleep with her but she always shuts him down and maintains that she's in a relationship with Kyle Pred.
McClane and Angel both adopted Brian Knight.
McClane, alongside Rocko Colombo and Angel, formed the "Silver Fox Gang", which is a group within the PD of highly skilled officers who all have white hair, be it dyed or natural.
Kyle Pred and McClane are rivals, with both of them claiming to be the true father of Brian Knight. Although they enjoy messing around and getting into petty fights, if the scenario requires it they will put aside their differences and work together. McClane regularly attempts to sleep with Pred's girlfriend, Brittany Angel, which, for obvious reasons, angers Pred and causes him to act hostile towards McClane.
On May 20th, 2020, McClane commissioned Bryce Miller to make a diss track about Pred. He released the track just a day later, on May 21st, 2020.
-
Blaine County Sheriff's Office
Bodean Tucker was McClane's adopted brother, and together they formed "The Sons of Soze."
San Andreas State Police
Kael Soze is McClane's adoptive father.
McClane was adopted by Soze on November 26th, 2019.
McClane and Olivia Copper are good friends and can be regularly seen patrolling together. McClane and Copper often flirt with each other. Copper stated that McClane was one of her only friends along with Jackie Snow and Angel.
-
Criminals
McClane and Claire Seducer have a very fierce rivalry/relationship. Their rivalry started when Claire kidnapped and cut McClane's hair off. He then responded by doing it to her. They still continue to mess with each other. The two have formed an odd relationship, they have recently started flirting with each other and calling each other names such as "sweetheart" and "baby/babe".
The KGB v Ramee El-Rahman
Chapter One: "A Lover's Quarrel"
On May 18th, 2020, McClane alongside Brittany Angel, Olivia Copper, and Terrance "TJ" Walker kidnapped Ramee El-Rahman outside of the Fleeca Bank on Vespucci Avenue. After kidnapping Ramee, they take him to the lighthouse on Catfish View. While at the lighthouse McClane films a vlog while Copper prepares to run Ramee over with their cruiser. While McClane is filming the vlog Copper accelerates at Ramee and jumps out while the cruiser knocks him off the cliff.[1]
After hitting Ramee with the car, the four of them all run to Sandy Shores where they get intercepted by Vinny Pistone, Charles "Taco" Prince, Bobby Brown, and Ramee who then take McClane hostage and head to Paleto PD to sign him off duty. While driving to Paleto, McClane tries to explain to them that he didn't do anything, that it was all Copper's fault, and that Copper forced him to participate. At Paleto they sign him off duty and force him into a different car where they are found by Angel, Copper, and Walker. While getting chased by the PD they demand McClane put his phone with the vlog on it in the glove box, and he complies. After a minute or so of chasing McClane gets pushed out of the car by Ramee and Angel, Copper, and Walker pick him up. While driving back to PD McClane informs the others that they stole his phone.
Later that day, Ramee is contacted by Larry Hallow, the current acting Distract Attorney, and Larry tells him that he's looking into pressing charges against McClane, Angel, Copper, and Walker but he needs to talk to Ramee and Vinny before moving further.
---
Chapter Two: "Charges"
On May 19th, 2020, McClane and Brittany Angel got called into the Captain's Office by the Undersheriff, Rocko Colombo, and Trooper Jackie Snow to discuss the events that transpired the day before. Colombo begins by asking who exactly knows what happened, and Angel explains to him that the report is literally public on the MTD. Snow says that he doesn't understand why Lauren Forcer put the report on the MDT, that she should've taken it to PD Command / High Command, and that this being public is not good for the PD's image. Colombo and Snow both agree that they need to suppress this info as much as possible. McClane and Angel both initially blame Judge John Bailey, and then say that it was just a lover's quarrel between Olivia Copper and Ramee El-Rahman. They tell Colombo that they were just present for it, but that Copper did everything. McClane explains that he just wanted to make a cool TikTok. Colombo explains that this is the whole KGB Prison Riot situation all over again, and asks for the report number. Angel explains to Colombo that Bailey told them to kidnap Ramee as a result of Ramee kidnapping and executing Bailey. Angel reiterates that this was all Copper's doing and that she personally had no involvement with what happened. Snow asks them what they're gonna do, and asks them if the Distract Attorney knows what happened. McClane and Angel both inform Snow that they've received emails from Larry Hallow, the current Distract Attorney, wondering if the scenario was as serious as it sounded. McClane explains to Snow that the DA questioned how Ramee had gotten the video evidence, and says that Ramee got it by stealing McClane's phone after kidnapping him. Snow tells them that they need to lawyer up, just in case something happens. Snow says that Angel, McClane, and Copper are the last people the PD needs to be convicted and sent to prison. McClane and Angel both say that, if they do get charged and sent to prison, they'll run it and shank anyone that fucks with them. Colombo says that he's getting heavy prison feelings from this, and this looks like one of those scenarios that get out of control. Colombo asks them how Ramee is, and if he's dead yet. McClane explains to him that Ramee literally kidnapped him, so his injuries couldn't have been that bad. Angel says that even if they do get convicted, who's gonna dare take them to prison. Colombo says that he personally isn't going to punish any of them and that he's forwarded the video to the Chief of Police, Bobby Smith. Kyle Pred then tells Angel that his motto is "I'll just lie" and that she should give it a try. Angel says that she doesn't need to lie because she actually didn't do anything, Copper was the one who ran Ramee over and she just stood around while it happened. Snow says that the Department of Justice doesn't really care if she didn't do anything, and that they'll just throw her in on accessory charges. Angel reiterates that she doesn't care and that Bovice Wilkinson and her will run the prison. Snow says that he doesn't want any of them to get charged or arrested or anything.
"I quit." - Colombo, after learning the exact details of the KGB v Ramee El-Rahman
Colombo says that if the DA presses charges against them, the PD is gonna leave them out to dry. After a couple more minutes of bickering, McClane, Pred, Colombo, and Angel head back out on routine patrol while Snow goes off-duty.
Later that day, while attending a bench trial, McClane and Angel run into Larry Hallow who informs them that it's unlikely that Angel is in any trouble but that McClane might be. After hearing this Angel immediately tells McClane that he's on his own and runs away.
---
Chapter Three: "Court"
On May 19th, 2020, Ramee El-Rahman officially filed his civil suit against McClane, Olivia Copper, and Brittany Angel. With Benjamin Crane as Ramee's attorney, the case is currently awaiting scheduling.
On May 22nd, 2020, The Distract Attorneys office officially filed charges against Oliva Copper and Stephen McClane, but not Brittany Angel. At the time, Copper was facing Attempted Murder and Kidnapping, while McClane was facing Accessory to Attempted Murder and Kidnapping. Later that day, McClane and Copper pled guilty to their charges and were sentenced to prison. While in prison McClane was stabbed and placed into the ICU while Copper befriended Bovice Wilkinson. On May 31st, 2020, McClane emerged from the ICU and returned to active duty.
---
Chapter Four: "Court"
On June 3rd, 2020, the civil case between Ramee El-Rahman and the LSPD occurred. The defendants were Olivia Copper, Terrance "TJ" Walker, and for a short period of time, Brittany Angel. Copper was unable to find a lawyer prior to the case causing Solomon Seerson to step in and defend her. Ramee was represented by Benjamin Crane, and the Judge presiding was Wayne Ardson. The case went on for quite some time and ultimately ended with Ramee being awarded 250,000$ that wouldn't be paid for by the state, but by members of the LSPD.
Momentous Dates within the PD
[
edit
|
edit source
]
| Ranking | Note | Date |
| --- | --- | --- |
| Cadet | Hired. | February 17th, 2019 |
| Cadet | Took his final eval. | May 1st, 2019 |
| Officer | Promoted - Badge #488. | May 11th, 2019 |
| Senior Officer | Promoted by Rocko Colombo; FTO Certified. | September 29th, 2019 |
| Corporal | 2019 PD Ranking Restructure.[2] | October 20th, 2019 |
| Sergeant | Command; SWAT Certified. | January 13th, 2020 |
| Sergeant | Interceptor Certified. | July 17th, 2020 |
Was previously in a "friends with benefits" relationship with Senior Officer Emily Reinhart.
Has been stabbed by fellow Sergeant Brittany Angel multiple times.
"Crim Killa Records, we out here!"
"My dick won't get hard cause I'm too sad."
"Hell yeah."
"Stephen McClane" by Bryce Miller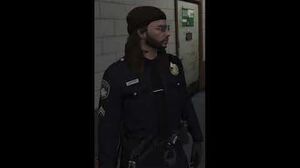 Community content is available under
CC-BY-SA
unless otherwise noted.