Ryan Parker is a character role-played by curvyelephant.
Ryan Parker is a manager at Premium Deluxe Motorsport (PDM) and Harmony Repairs Garage, and is taken. He is married to Reid Dankleaf of the Lost MC, which makes him an Old Lady in the MC. He also works for Matthew Payne as his personal assistant.
Formerly known as the most wholesome criminal in all of Los Santos, he was often used as a getaway driver due to his expertise in driving. Ryan is still willing to take part in petty crimes with friends and family occasionally, however his job at PDM restricts what he can do. He is nowadays notoriously known as the 'Payment Vulture', because of his relentless chasing after customers guilty of overdue car payments, and his pointed habit of scanning everyone in his vicinity for any said offenders.
Ryan has a love for cars, more specifically a love for station wagons. He enjoys bragging about how he owns all of them and is frequently seen driving them around the city.
He is a 25-year-old male with a high-pitched voice. He has a baby face, a fluffy blonde mohawk, and fair skin. He wears a pair of glasses, and sometimes carries a sock mask and a fake blond beard that he puts on and calls himself 'Bryan Barker'.
He is typically seen wearing either his signature leopard print suit or bright colorful clothing; but will dress in all black when a situation is intense, or his own life is in danger.
As an Old Lady of the Lost MC, he owns a Lost leather vest that has 'Property of the Lost' written on the back. He will usually don it when spending time with the bikers.
Since he started to participate in the racing scene, on June 19, 2020, he picked a new racing outfit to match with Tommy Cruizer (although the orange camo jersey is the same as Titanium's.)
Ryan was initially soft-spoken, with a meek personality. Due to his dislike of guns and his dainty voice, he was usually underestimated by everyone. Over time, he grew to be more outspoken and headstrong as he navigated through the ups and downs of life in Los Santos, and through the people he met along the way.
When put in a corner, Ryan will viciously defend himself, and the people he cares about.
He can also be described as a very petty person when he is being wrongly accused or is put in a situation that isn't fair to him; as seen when he got seven citations in one traffic stop by Darrel McCormik, or when he threw Drew Harrison's mustang in the lake when he held up Ryan at Harmony.
Early Days: Con Crime Life
[
edit
|
edit source
]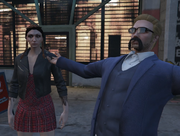 The first time Ryan changed his style of crime was when he attempted to rob the jewelry store in a taco truck with Mia Mersion, acting as if they were both selling tacos from the truck, almost got caught by Brittany Angel and afterwards, left the scene with zero issues. This particular scene, was what developed Ryan and Mia's friendship.
Because of this, he continued to work on various con jobs with Mia; and together, they successfully robbed multiple Fleeca banks and the City Bank's Vault without any hostages.
One of Ryan's main goals when it came to crime was to do it in the most creative ways possible and make it fun for everybody involved. This would mean wearing goofy clothing, escaping in vehicles that seem unrealistic to get away in, or have some unconventional plan like bringing a taco truck to the jewelry store, or pretending to work at a bank while robbing it.
Back in the day, Ryan became obsessed with the idea of becoming a food truck vendor, and opened his own business called Ryan's Sugary Delights with Mia Mersion. While the food truck primarily sold various sweets to the citizens of Los Santos; it was also an illegal business front for Ryan to sell cocaine to his clients. Due to restrictions for PDM though, he is no longer actively selling on the streets.
ERP (Everything Ryan Parker)
[
edit
|
edit source
]
Because of his undying love for fashion, his hobby led him to open up ERP. He dresses his clients head to toe in bright clothing that would not typically be seen on the streets.
Sometimes he also enjoys experimenting in other jobs, thus leading to the creation of both Ryan's Towjobs and RP News (Ryan Parker News), though these have been inactive for quite some time.
Ryan previously worked at Clucking Bell Farms and QuickFix.
Premium Deluxe Motorsport (PDM): He works at the car dealership as a manager. He claims to be, and is, the #1 salesman of PDM.
Matthew Payne Assistant: In March 2020, Ryan became the personal assistant to Payne, helping him with his day to day business deals and simple tasks like cleaning his shoes and wiping his nose.
Harmony Repairs Garage: On April 29, 2020, he quit his job at QuickFix and moved on to working as a mechanic at Harmony. Ryan is known to grind at his jobs, leading him to get position of manager weeks after he got the job.
Ryan is considered one of the best drivers in the city, and was able to constantly escape the police in whatever vehicle he is driving. For instance, he once got away from a store robbery in a station wagon seconds after police showed up.
He believes himself to be a station wagon connoisseur as he owns every single wagon in the city. With each new shipment of vehicles that comes into the city, he will usually seek out more wagons to add to his collection.
Zircoflow Stratum
A few months ago, Ryan got approved for his drift licence in one day, having Mary Mushkin as his drift instructor. Later on, after receiving his licence, he was gifted a Zircoflow Stratum (1/1 drift) from Eddie Marshall, after he heard about his love for station wagons. His husband, Reid Dankleaf, helped him pay for his lessons and his car.
Primo
When calling Doug Canada about a car payment over the phone, Doug mentioned that he was selling his Primo and said that if Ryan were to buy it, he could turn it into a wagon. Hearing this, Ryan bought the Primo off from Doug and has changed the livery multiple times after seeing it can be transformed into a highway patrol car. (The car is a 1/3 - Shane Powers and Rudi Rinsen own the other two.)
S2000
Because of Ellie Dono's overdue car on a S2000, Ryan decided to pay for the car and buy it from her, with an intent to flip the car and sell it to someone else. However, due to its small stature and its easy to move capabilities down in the Southside, Ryan decided to keep the car and has used it for many taco deliveries and a couple races.
Miata (Sold to Claire Seducer)

Ryan previously owned a purple colored Miata (with floppy headlights that he bragged about having) that he sold to Claire, after showing her what it could do; such as, climbing up every staircase in Los Santos and driving at high speeds on the highway. Although, he was hesitant on selling the Miata after a few refusals, Reid was very adamant that he sell it regardless, as it looked 'ugly.' Claire still owes Ryan $20,000 for the remainder of the purchase.
GTR Liberty Walk
He recently bought a GTR Liberty Walk from Jordan Walker that he uses to race in.
Every once in a while, (although rare) Ryan has been seen doing crime in his Zircoflow Stratum (the drift wagon). His latest shenanigans involving his reformed Primo wagon, was when Ryan and Reid proceeded to take the new LSPD cadets on a chase throughout the city to help them with their coms. Then again, where they were in an hour and a half chase with the police; the two males continuously heading back to Harmony, repairing their car, and found by the police. The chase ended with spike strips and a molotov.
Family
Ryan's husband. Together they have an adopted son, Gazz Maloo, and a biological son from Reid, Napoleon Dankleaf. Ryan and Reid are not only partners in life, but also partners in crime. The pair are often seen robbing banks or committing other criminal activities together along with the rest of the club members from the Lost MC.
The two met on the first day of Ryan's arrival to the city, where Reid, Irwin Dundee, and Ryan Kindle took Ryan as a hostage for a Fleeca bank job. A few days later, Ryan caught Reid attempting to steal his car outside of Pillbox Medical Center. To Reid's surprise, Ryan punched him in the face, and nearly downed him. The incident ended with Reid giving Ryan's money back, and taking him under his wing for not-so-petty crimes.
As their friendship grew, Reid started harassing Ryan into a one-sided romantic relationship. Even though Ryan insisted he only liked Reid as a friend, Reid would always refer to Ryan as his boyfriend, old lady, or property. Due to Ryan's timid personality, lack of connections in the city, and constantly protesting against the relationship, Ryan never actively sought a way out of it.
Over time, Ryan and Mia Mersion grew closer, and Reid was almost always caught up in Lost MC business. The pair suddenly found themselves hardly having any time to interact with each other. Reid began ghosting Ryan, and lied to him; saying that Ryan had been fired from QuickFix, and escalating to an altercation between the two. Reid apologized afterwards, and admitted that he gets jealous and insecure. The two men remained friends, and Reid agreed to stop referring Ryan as his lover.
This changed during the CKR war. When Reid went to save Ryan during a hostage situation with Alabaster Slim, Gomer Colton and Lang Buddha, he fired multiple warning shots and drove their getaway car half a block from the vault. This situation escalated to the point where Reid had to call Ryan to plan a fake relationship to, essentially, save each other from the Lost when they got involved. Despite them being 'official' to the club and Ryan was officially an Old Lady, Keith "Bulldog" Dooger began to question their relationship, saying that the timing was convenient and that it didn't make sense. Later, he shared his concerns with Reid, where he denied everything, despite them being true.
After Ryan got admitted out of ICU, he met with Reid where he told Ryan that when the whole war was over, and everything had cooled down, they should 'break up.' Ryan questioned why it was up for discussion, where Reid admitted that he didn't seem very into it. Ryan denied, saying that it was some of the things he said, but it wasn't anything else.
On July 9th, 2019, they were officially together.
They got married on August 18th, 2019 after Dennis LaBare joined them together during a city vault robbery, while they were in the middle of a Dungeons and Dragons scenario. Reid planned to marry Ryan a few months prior, but on the day, Mia and Colombo were shot and therefore, postponed.
The following months were filled with Ryan coming around less and less, driving Reid into meth. On September 13, 2019, Reid and Ryan got into a fight, shouting about how Ryan was unable to balance out his jobs and spend time with Reid. Ryan promised to spend more time with Reid and they were both able to settle. However, Ryan continued to not be around for Reid and Reid threatened to divorce Ryan several times. Ryan pleaded yet again with the promise that he will be around more often. Reid pointed out that every single time Ryan made this claim, he vanished a week later, but Ryan insisted on giving him another chance. Reid did and Ryan has been around consistently since then.
---
Rachel is Ryan's older sister and enjoys picking on Ryan. However, Ryan is typically very protective of her. He goes as far to say that "she's taken" to prevent anybody from hitting on her.
Rachel and Ryan have done several jobs together while both keeping the same mindset of making it fun for everybody involved. Ryan was the first person to teach Rachel how to rob a convenient store and still has yet to teach her how to be as good of a driver as he is.
---
Napoleon Dankleaf is Reid's biological son. At the beginning of Napoleon making his existence known, Ryan accepted him into the family, but Reid did not. As time went on, Ryan found himself being annoyed by Napoleon consistently.
Ryan once put a hit out on Napoleon for $1 to Eugene. After making the deal with him, Reid commented what he did, leading him to chase down Eugene and say that it was a joke.
---
Gazz Maloo was adopted by Reid and Ryan. Gazz is frequently upset about Ryan not being around, leading him to pout.
---
Lucy is married to Gazz, thus leading her to be Ryan's daughter-in-law. Throughout Ryan's absence, Lucy has texted him stating that he is dead to her for being a bad father to Gazz.
---
Adopted by Gazz and Lucy, Aaron Flocko is Ryan's grandson. Ryan calls him "Flanders" and enjoys having him around.
Friends
Ryan's best friend. The two are often seen together pretending to be bank tellers, construction workers, or taco truck vendors. Instead of taking hostages and fleeing, Mia and Ryan usually remain at their crime scenes, and con their way out of charges.
Ryan and Reid ran into the Mersions and Kanye Mushkin while both groups were selling weed on Hawick Ave. The conversation went south, and Mia whacked Ryan with her baseball bat, turning into a 4v2 brawl. During the exchange, the Mersions accidentally dropped Irwin Dundee's name, a close friend and business partner to Reid. Later, Dundee, Ryan, and Reid held the Mersions at gunpoint, and forced them to apologize. Ryan punched Mia in the face, stating it was for hitting Reid.
A few days later, Ryan ran into Mia, again. The two agreed to end their "beef", and decided to rob the jewelry store together. They stole a taco truck and pretended to sell tacos whilst running in and out of the store, and snatching up jewelry. The pair found out how similar they were in criminal interests, and have been partners in crime ever since. The taco gig was later made into a song: Akataco.[1]
After Mia's engagement to Rocko Colombo, Mia asked Ryan to be her "mate of honor", as Ryan put it. The wedding has yet to happen, as Mia has been in and out of the city.
---
Ryan enjoys the company of Maxy Mersion. Both Maxy and Ryan have done jobs with each other in the past, but it's been sometime since Ryan last hung out with Maxy.
---
The fiancé of his best friend, Mia Mersion. Ryan loves to harass Colombo whenever he sees him, calling Colombo "daddy", and often gets caught by Colombo while doing crime. Colombo constantly tells Ryan that he hates him; but secretly, Colombo cares about the mischievous "cwiminal" much more than he lets on.
---
Ryan and Dundee have one of the most confusing relationships ever.
During the CKR war, while inside Mia Mersion and Rocko Columbo's home, Dundee and Ryan held each other up at gunpoint. Dundee did not believe Ryan was prepared for something like a war, but Ryan did not put his gun off of Dundee until he heard a siren in the distance and booked it out of the house and to his car.
At a later point, Reid bought a car from a previous member of the Bondi Boys MC, pissing Dundee off, as that vehicle was special to the BBMC. Ryan was dragged into the situation when hanging out with Reid. The two were at Legion Square when Dundee and his crew showed up. Ryan hid in Garage T with his pistol and Dundee circled in a car around Reid who was also in a car. The situation ended in a shootout, pissing Ryan off to the point where he wanted part in the war.
Since that situation, Ryan has been on good terms with Dundee, frequently pestering him about car payments.
---
Although Ryan had been working for Harmony for a little over a few weeks, he managed to develop a close relationship with Jordan as his colleague and soon, a close business partner.
Because Ryan began to include himself in the racing scene, and inquired about a new car, Jordan gave Ryan the last GTR LW from Fast Lane. He replies that he got the car from Ebay whenever somebody asks him to lessen suspicion on Jordan.
On June 15th 2020, Jordan organised a stratum race for Ryan's birthday and invited most of Ryan's friends to participate. (For a long time, Ryan always wanted to race with stratums, however, never had the time too.)
Lost MC
Rudi and Ryan struggled to get along for some time. Ryan started off as being "too quiet" for Rudi, but after the CKR war, Rudi had no tolerance for him. Ryan was blamed for all the deaths that occured during the war. Ryan had his keys stripped and was not permitted to be at the compound. Ryan feared even being near the compound, as the sight of him would trigger Rudi.
After months, Rudi was able to forgive Ryan. Seeing him at the Integrity Apartments, Rudi found it in his heart to get over his hatred for Ryan and allowed him back on to the compound grounds on the conditions that he will be less "flamboyant."
---
Ryan and Cat get along better than most others in the Lost. The two have known each other since before Ryan was an old lady of the Lost MC, as they worked together at QuickFix. They both care for each other greatly and would protect each other at all costs. Ryan attended Cat's wedding.
---
Knowing him for such a short time, Reggie made an impact in Ryan's life. Reggie always treated Ryan very well and fought for him in the CKR war. When Reggie passed away, Ryan was included in his will, which stated:
"To Ryan, I leave my very bloodied map of Los Santos. Don't lose yourself because of people you hate, else you will end up like me and no one wants that. Take care of Reed."
After Reggie's passing, Ryan spent much time grieving with the Lost, but the tension was difficult as several still felt as if the war was Ryan's fault to begin with, placing the death's fault on him.
Ryan and the Egg
On April 12, 2020, Coop Holliday was having a race for a collectible egg. Luther Caine, Erin Cox, Victoria "Vivi" Veine, and Ryan Parker decided to enter this race. The terms were that the first person to locate Coop would recieve this egg. There were several people looking for the egg, and the four decided they could find it, sell it, and split the profits.
A clue of Coop's hiding spot went out and they sped to the location, thinking it would be at the lookout near Chiliad. They were correct and decided that Ryan should hold on to the egg. They drove to the Integrity apartments and Ryan hid the egg. With the egg being a very valuable item, the four decided that they will not tell anybodyof their treasured prize until it is time to sell it.
Later that day, a tweet goes out from Ramee El-Rahman stating that he needs the assistant of a PDM worker, leading Ryan to reach out to help. He drives himself, Vivi, and Erin to PDM to meet with Ramee. Both Ramee and Charles "Taco" Prince show up. Ramee then demands that Ryan gets in the car and he does. Vivi shouts, telling him not to do it, but he does it regardless. Taco and Ramee drive underneath Olympic Freeway where they point guns at Ryan, saying "put your fucking hands up." Ramee places Ryan in cuffs and demands to know if he has the egg or if he knows who has it. Whenever Ryan tried to respond, Ramee would interupt him claiming he was "lying." Ryan proceeded to shout that he doesn't know and, as a result, gets punched by Ramee. Ramee begins calling people for more information.
When Ramee returns, he forces Ryan back in the trunk of the car shouting "He has the egg, Erin just told me he has the egg." It is then revealed as they are driving that Erin claimed that if they don't get Ryan back safely, Ramee will never see the egg, but Ramee also heard Vivi in the background ask if he knew that Ryan had the egg. Ramee continues ranting on about how screwed Ryan is that he lied.
They drive to the lighthouse just west of Dundee's place and continue pointing guns threatening to harm Ryan if he doesn't give them the egg. It comes to the point where Taco tapes Ryan's mouth shut and Ramee calls Erin starting the conversation with "now that we know Ryan has the egg..." Taco accidentally shoots his gun, so they quickly put Ryan back in the trunk again and drive away.
"You see Ryan, another thing that I read, was uhh- I saw Reid Dankleaf tw- texting you saying that 'if I ever find out your in a loving relationship with another man I'm going to kill you,' so- there is somebody that loves you!" -Ramee El-Rahman
While they try to find another spot to settle at, Ramee calls Reid, but he doesn't answer.
They park at the beach resort in Chumash and remove the tape from Ryan's mouth where they continue to go back and forth about the egg. Ramee calls Erin again telling her to meet at the Chumash Pier. Erin is willing to meet on the one condition that Ryan is okay, and asks to be able to hear him over the phone. Ryan nervously responds "uh...hey" before getting put back into the trunk and taken to the pier.
Once at the pier, Ramee and Taco try and negotiate for the egg, but they get nowhere. After some time, Erin and Vivi show up at the pier, where tape is slapped on Ryan again. Vivi and Erin try to talk things out, but Vivi gets cuffed by Ramee and held hostage, leaving Erin to make the choices. Erin tries to stall for as long as she could, but eventually gave up and shouted that Ryan had the egg. Ramee then places cuffs on Erin and prepares to let Ryan go get the egg, but there is a problem.
Ramee: "So Ryan, do you have the egg?"
Ryan: "Uhm... I don't."
Ramee leaves to grab a knife. Taco then takes the tape off of Vivi. Both Ryan and Vivi try to talk to Taco by shouting that they don't have the egg.
"I don't know why, but you're believing the two fucking nutcases here!" -Ryan Parker
Taco leaves the three for a moment. They all agree to say that Luther has the egg and Ryan apologizes for calling them nutcases.
Ramee separates the three of them; Ryan to his left, Erin to his right, and Vivi in front of him. He holds a knife to Vivi. He asks each of them if they have the egg, but they all deny. He then asks if any of them gave the egg to somebody else, Vivi claims they never had the egg in the first place. He then turns to Ryan with Taco in the background encouraging Ramee to kill. Ryan shouts, "What!? I already told you!" Within seconds, Ramee stabs Vivi. Ryan panics and when Ramee asks if Ryan has the egg, he continues to say he doesn't have it, stuttering after what he just witnessed. Taco begins to poke at Ryan saying it's all his fault.
"Erin's up next," Ramee says pulling her to the middle. Erin pleads to Ryan, before Ramee stabs Vivi a second time. Erin screams at Ryan that she doesn't want to die. Ryan finally cracks.
"Ok, FINE! Fine! Hold on! I'll say something!"
Ryan tries to negotiate. The condition being that Vivi gets help, but Ramee adds that Ryan is in no place to negotiate, and starts to count down before he stabs Erin. Right as he starts with five, Ryan says it. "Luther." Ryan explains that the plan was- they give it to Luther because he is HOA, Luther gives it to Siz and they all get paid.
Ryan: "I'm gonna make this very clear, uhm- I'm not saying anything until she gets help."
Ramee: "Oh your not in a position to speak my friend."
Ryan: "Oh, are you sure about that?"
Ramee walks over to Erin with the knife, where Erin begins to panic. Ryan makes it clear to Erin that they promised if they were given a name that both of them would be released, but they didn't keep their promise. What's the point of saying anything else if they are going to continue to lie?
Ramee begins to question Ryan about the full story where he is greeted with the silent treatment.
Ramee: "What about you, Ryan? Where was the egg? Where did you find Coop?"
Ryan: "..."
Ramee: "Ryan?"
Ryan: "Huh?"
Ramee: "Where did you find Coop?"
Ryan: "..."
Ramee: "Ryan- hello?"
Ryan: "Oh, hi."
Ryan explains to Ramee that he said they would be let go and Vivi would get help if he got a name, but Vivi was still hurt and Ryan was still in cuffs. Ramee keeps trying to ask where Ryan found Coop, but Ryan's ability to shut his mouth was magical. Ramee told Taco to get him out of cuffs and to hold a gun to his head, and Taco did exactly that. Ramee asked again where Coop was, and Ryan stated," I think my memory would come back to me if she [Vivi] got some help." Ramee let's Erin hold pressure to the wounds to fill his end of the bargain, but Ryan still refuses to answer. Ramee shoots Ryan in the leg for holding back the information. Ramee asks again where he found Coop. Ryan spills it, answering all his questions while also sprinkling in lies about why Luther has it. Ramee states that if Ryan was lying, he will find him, kill him, and Reid will not be able to protect him.
Ramee kicks, then stabs Erin and both Taco and Ramee flee the scene, leaving Ryan still up. Ryan takes Erin's phone off of her to call 911 and immediately tries to help Vivi, as she was struggling to breathe.
As soon as EMS arrives on scene, Ryan passes out from losing too much blood. Khloe Brooks, an EMS worker, takes him and begins to treat him medically before placing him in Lifeflight 1 with Vivi and Erin. Once at Pillbox Medical, Ryan is both checked in by Nancy and seen by a doctor. Ramee approaches Ryan's bedside asking what happened, being genuinely confused as to how he was unconscious. Ryan was then submitted into a 12-day ICU with Erin and Vivi also going in for an unknown amount of time.


Arson x1
Burglary x1 
Criminal Possession of a Firearm [Class 1] x2 
Evading x1 
Failure to Obey Traffic Control Devices x1 
First Degree Speeding x1 
Grand Theft x1 
Joyriding x4 
Kidnapping x3 
Misdemeanor Possession of Cocaine x1 
Misdemeanor Possession of Controlled Dangerous x1 
Misdemeanor Possession of Crack x1 
Obstruction of Justice x1 
Reckless Evading x7 
Resisting Arrest x5 
Robbery x7 
Tampering With a Vehicle x2 
Trespassing x2 
Unauthorized Parking x1 
Vandalism of Government Property x1 
Drivers License: 4 Points (Valid)
AFTER RECORD EXPUNGEMENT
Failure to Obey Traffic Control Devices x3
Negligent Driving x1
Reckless Evading x1
Second Degree Speeding x1
Third Degree Speeding x1
Drivers License: 7 Points (Valid)
He was the designated getaway driver and thermite master on jobs.
Ryan and Rachel's father was rumored to make an appearance in the city at some point.
"I'm taken!" Said to basically everyone he meets.
"REID!!!" Said basically every day.
"Free pasta, no spices!" Said to Travis Tribble during a Fleeca bank robbery.
"I'm getting married to Reid so I can take his money."
"Begone; only I can wear a purple hoodie." Said as a local wearing the same hoodie as him disappeared.
"Bad credit? No credit? Doesn't matter! If you breathe, you drive!"
Community content is available under
CC-BY-SA
unless otherwise noted.