Raise a Floppa - The Loop
Play Sound

Rocky Topps is a character role-played by ReverendCatino.
General Description
Rocky Topps is Los Santos' most sought after motivational speaker, emotional janitor, unlicensed therapist, submarine enthusiast, sanitation expert, ect. He can usually be found inspiring people at the Rooster's Rest and Pillbox Medical Center, or more recently as a mechanic at Hayes, or dancing at the Vanilla Unicorn Strip Club.
🐎 The Stable
Rocky was a Senior Stable Hand in The Stable, a shadow crime organization led by Mick Flair, Richard Chiclets, Nancy Drew, and Thomas Dwayne (the four "Stable Heads"). The Stable bought a warehouse (nicknamed "The Barn") under the name of Rocky's romantic partner Sabith "Bunny" Cohen, who stayed clean while the group ran illegal activities to pay it off. In the early days of The Stable, the crew enjoyed robbing banks. During one heist, Rocky blocked the police cars with a garbage truck and fled a hail of PD bullets on his motorcycle.
Rocky was tasked with mentoring The Stable's youngest and most impetuous Stable Hands, Xavier Valentine and Elizabeth "Lizzie" Byrne. As a testament to The Stable's chaotic nature, people in the group seemed unaware that this was his role. Lizzie proved to be particularly challenging for The Stable to control, often threatening police officers and being loose-lipped with information. On one fateful night, Bunny alerted Rocky that Lizzie was premeditating the murder of an ADA she had been stalking, Malcador Sigilite. Rocky and Bunny were unable to stop the murder, and Bunny became deeply traumatized when she discovered Malcador's burnt body in a torture chamber on August 18, 2021. After a probationary period that Mick had set for Lizzie, the Stable Heads finally decided to remove her from the group on August 24th, 2021.
As SCU detectives Sexton Hardcastle, Amber Gold, and Luka Kovacic investigated Lizzie for Malcador's murder, they began investigating Bunny as an accomplice to the ADA's murder because of the suspicious "coincidence" that Bunny had discovered Malcador's body in the secluded torture chamber. At the same time, Thom Yung had spotted Matt Rhodes searching for the warehouse used by both Lizzie and Xavier Valentine after Lizzie had kidnapped and gunned down Rhodes' husband Richard Dark. Alarmed, The Stable emptied everything illegal out of The Barn, refilling it with Bahama Mamas West booze and condoms. Although the police eventually cleared Bunny, Rocky disapproved of Mick's impatience to restock The Barn with meth pillows (a potential HUT offense for Bunny). Rather than jeopardizing Bunny again so quickly, Rocky suggested either tricking the police into raiding The Barn beforehand, or finding a new clean face. Lizzie finally confessed to the ADA's murder after encouragement from Rocky and Bunny, and was sentenced to 21 years in prison.
Rocky's wish for The Stable to socialize in a fun event finally came true after he joined them in a memorable Fleeca Bank heist where Richard Chiclets got him, Mick, and Abner Vaca away from Crocodile Steve in an interceptor. Although the police caught eyes again and trapped the getaway car, Rocky and Mick ran off and coincidentally hid in bushes across the street from each other. With Richard and Abner in handcuffs, Roy Armstrong asked them who they were. Richard proudly declared, "The Stable!" (but then Roy forgot). As celebration for escaping with 3/4 of the loot, Mick urged The Stable to accept Nancy Drew's invitation for paintball at Cerberus Arena. The Stable split up into two paintball teams, and had a blast shooting at each other.
A Stable Wedding
A week after The Stable's first successful big meth run, Rocky officiated the outdoor wedding ceremony of Stable leader Dick Chiclets and Stable hand Marie Ortiz on October 26, 2021 at the Vinewood Racetrack. Mick Jhonson showed up as a surprise guest to support his friend Dick. The reception was held at the Vinewood Racetrack stables, and was catered by the same kind of taco truck that The Stable used as a front for their meth sales. Mick was last seen at this wedding with his fiancé Jessie Jugg before he was declared missing by Det. Sexton Hardcastle in the MDW.
First City Vault Heist
On December 17, 2021, Rocky robbed the City Vault for the first time ever in a classic Stable heist where everything went awry. As Rocky stood lookout outside of the City Vault, the police began chasing the bank crew in Thomas Dwayne's car to the vault (after a motorcycle exploded their only hostage and Tony Andrews spotted an uzi on Xavier Valentine's back). On Thomas' urgent phone orders, Rocky held a sole bank customer hostage by the ATM. As Rocky and Marie Ortiz guarded the back entrance without any hostage there, cops kept peeking in while Andrews and Kyle Pred considered breaching. Andrews allowed the crew four minutes, enough time for the crew to leave the bank with half of the loot. In the ensuing police chase, the entire crew escaped when Richard Chiclets accidentally ocean dumped their getaway car by the docks.
By the end of 2021, The Stable had broken up.
💼 Rocky Topps
On January 17, 2022, Rocky cracked a 24/7 Supermarket safe for the first time as Richard Chiclets held Perry Alton hostage. No police responded. Rocky implemented various plans to rob 24/7 Supermarket safes without using hostages, until all of the 24/7 chains stopped using safes in April 2022.
In a surreal scene on January 21, 2022, Rocky taught Amy Rain how to dance and hot tub stream in the Vanilla Unicorn Strip Club.
On January 26, 2022, a blacked-out individual named "Z" promised Rocky $10,000 to bring a taco truck to an anonymous ping. Suddenly at the dropoff spot, Chief of Police Sam Baas and Detective K detained him, searched the taco truck, and found enough guns for a weapons trafficking charge. In exchange for his help in catching "Z", Baas let Rocky go without a raid. Some time later, Rocky concluded that Det. K was the one who had set him up.
On April 27, 2022, Rocky helped the police positively identify the Game Master, a serial killer who was holding Bunny's ex-boyfriend Jeffy Coldiron captive. Sgt. Sexton Hardcastle negotiated a controversial deal with the Game Master to return Jeffy alive in exchange for a car for her to drive away in and a 24-hour head start. The police admitted Jeffy into the ICU.
Mick is Missing
Rocky and Det. Sexton Hardcastle were determined to find Mick Jhonson, the beloved Stable leader who hadn't been seen since Dick's wedding in October 2021. Starting on March 22, 2022, a locked-up Mick began calling out for help with cryptic texts. Finally on April 27, 2022 after being missing for six months, a starving Mick called Rocky for help. Nancy Drew twatted out "STABLE ASSEMBLE", and all of the original Stable OGs including Lizzie reunited to search for Mick with his long-time fiance Jessie Jugg, Nancy's BBMC friend Collin McKinley, and Ursula Leichenberg. At the Kortz Center hedge maze where they found pages from Gracie's diary, Ursula's alternate personality Gracie explained that she had nursed Mick to health after Melbert Rickenbacker had beaten him up there. On a nearby rooftop, Mick's captor (blacked-out with a cowboy hat) fired off shots and left a note from "The Highwayman". Both Rocky and Collin secretly knew that Pez Speedwagon had inherited "The Highwayman" persona from his deceased brother Cody Speedwagon. The Stable and Collin eventually converged on The Highwayman at the Los Santos International Airport (where he fired upon Rocky's car), exchanged gunfire with him, and managed to rescue a dying Mick from one of the hallways. The police chased Collin, Dick, and Nancy from the airport, recovered a comatose Mick from their trunk, and admitted him into the ICU.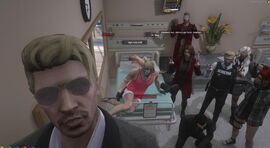 The next day on April 28, 2022, Sgt. Sexton Hardcastle escorted a comatose Mick out of the ICU so he could marry Jessie Jugg in a "MatriMania" wedding. Rocky ring announced/officiated the ceremony at the Vespucci Beach wrestling ring. Best man Dick wheeled a drooling Mick down the aisle, and Pez held his body up inside the ring. Maid of honor Nancy walked Jessie down the aisle. Dick recited vows on Mick's behalf in his voice. After Mick woke up and proclaimed "I WOOOOO!", a yeti crashed the wedding and triggered a battle royal. Afterward, Mick was shocked to learn that The Stable had disbanded.
First ATM Heist
On April 29, 2022, Kirk Jerkems finally found a tow rope during a house robbery. As a trial run, he, Rocky, Xavier Valentine, Chatterbox, and Delver Lee disguised themselves as construction workers to test Fat Tony's tow rope on the Burger Shot ATM. As Fat Tony tried to attach the rope from the ATM to their bison pickup truck, Cadet Piper Paisley rolled up on them and they aborted. During Fat Tony's second attempt, Piper returned to see their pickup truck tethered to the Burger Shot ATM trying to yank it out. As the ATM refused to budge and the truck repeatedly bounced off of it like a yo-yo, the police eventually captured them all except for Xavier. During the clowns' third attempt on May 2, 2022, Rocky, Kirk, and Stumbles Fumbles watched Chatterbox attach Kirk's tow rope from a Sadler pickup truck to a beachside 24/7 supermarket ATM (with a getaway motorboat anchored nearby). Chatterbox drove the truck and repeatedly tugged on the ATM for about seven minutes until finally it popped out of the wall. Kirk searched the ATM and stole $2412 from it, then lockpicked it open to find 15 marked bills and a green phone dongle inside. No police responded.
Quotes
"I take responsibility."
"Well, well, well..."
"As I live, and as I breathe..."
"I love you too" (said stand alone, with no one saying, "I love you" first)
"Are you playing Snood?"
"Psst...hey..."
"You look beautiful...like Tommy Wiseau from The Room"
"NYUM, NYUM...NYUM, NYUM, NYUM"
Trivia
Has a tattoo of the word "Respect" on his lower back. He got this tattoo along with his friend Nancy Drew, who has a matching tattoo but she has since had it removed for convenience purposes.
Had a relationship with one of Timothy Snapple Jr's 14 moms.
Before spiritual healing session he conducted on CherryClaire Dinwittie, Cherry confessed to murdering her boyfriend.
Really loves a good guided tour.
Is in a ethically, non-monogamous relationship with Sabith Cohen, AKA "Bunny".
Formerly lived in Los Santos in 2013 and worked as a dancer/sex worker under the name Rocky Bottoms.
Is branded as a member of the now defuct crime "femly", The Stable.
Is the one-time, limousine-riding champion.
Is also the one-time, top-shelf drinking champion.
Has three nipples, yet to be named.
Friends