Rico Ferarez was a character role-played by SAVx.
Description
Rico was a member of the Vagos and he was the cousin of Arush Patel "Speedy" San
Death
Rico died in Pillbox Medical Center on March 4th, 2020, after being shot multiple times by AJ Hunter during a bank truck heist with Siz Fulker, Al Saab, and Curtis Swoleroid.
His last words were: "Just go" to Siz, as Rico did not attempt to board the helicopter Siz was flying, while Siz was waiting for him to board (of which allowed for the police to mortally injure Siz as he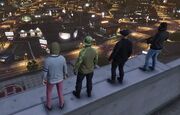 took off, causing his subsequent arrest after the now uncontrolled helicopter crashed into the street below), with his death seemingly being a suicide by police. Him notifying Saab beforehand on his intentions to not come out of the job alive, along with Saab's failure to communicate this to Siz generated a point of contention between the two.
Community content is available under
CC-BY-SA
unless otherwise noted.