Raise a Floppa - The Loop
Play Sound

Reggie Might is a character role-played by Simo.
Description
Reggie Might is an ex-lawyer, turned criminal and recently, he went back to being a lawyer again. On March 4th, 2022 Reggie won the election as Judge for the Department of Justice by popular vote. Out of the 5 judicial candidates Reggie had 275 votes. Fed up with how the justice system works in Los Santos he hopes his knowledge of law will help make changes for a better city.
Reggie was a Criminal Defense Attorney and previously was Owner-Partner of Might & Right Law Firm in Los Santos. Retired Lawyer Meggie Right and associates worked alongside Reggie in their plight to fight for justice for their clients and to help set precedence that not only exposed loopholes within the justice system but also helped to mitigate the injustices that would cripple their clients rights, due to such inadequacies within the justice system.
As a criminal, Reggie was blooded-in as a member of the Vagos, a southside gang who were notorious for being the largest and most feared gang in all of the south side. A few months later, he left the Vagos, along with Benji Ramos, Karl Johnny Black, Chico Guzman, Pepe Ramos, Javier Diaz, Joaquin Jimenes and Selena Martinez, and most of them went on to form a new family, called Seaside
Reggie can frequently be found at UwU Café, where he is the Stock Manager, and with the other members of his "family"
Reggie has inner demons, who he is constantly fighting to keep at bay. Tasks such as farming, cooking meth and even his work as a lawyer, all helped to keep his mind focused and busy. Without those distractions, Reggie becomes a ticking time bomb, ready to unleash chaos on those who cross him.
Background
Reggie is a broken soul, damaged by his abusive father, who was a drunk and his mother, who watched and did nothing to protect Reggie or his siblings, from being hurt. As a young adult, Reggie's life of crime began when he joined an MC back in Australia and ultimately, when he killed both his parents for their wrong doings. Reggie then fled Australia and landed in Los Santos to begin a new life. Due to his turmoil upbringing and the heartache that it represents for him, Reggie has since vowed to murder any of the family members who try to find him. He doesn't want to acknowledge family in anyway. This is why he refuses to allow people to get close to him or call them "friends" or "family". That was until recently, where his relationship with his Seaside members and Ash Ketchup grew and he gradually learned what true family and friendship, meant to him. However he does still live a life of celibacy.
Reggie Might is a cut-throat attorney. His criminal background taught Reggie that the laws were often misunderstood or misrepresented with little regard for criminals and their civil rights. His past experiences with innocent people being hurt or mistreated, made it a more personal fight for him. Reggie didn't go to law school. He learned everything he knew about law by going to court cases and assisting Judge Antigone Weston as a stenographer for her court cases.
Reggie quit practicing law after seeing the injustices by the police department and department of justice and subsequently joined the Vagos, who were one of his main clients. Reggie was named Asesor (Advisor) for the Vagos, and was the main cook for their extensive meth operations, garnering him the nickname "El Cheffe."
During his time as a Vagos member, Reggie was seen as the kingpin of the meth scene, managing and controlling the public lab sector. He liaised with other gangs or crews, such as the Ballas, Bondi Boys MC and Chang Gang, to coordinate a cook schedule, to ensure cooks and labs were covered at all times. Smaller groups were purged from the scene, to protect the labs from being patrolled or "burnt" by police surveillance.
After Benji Ramos decided to leave the Vagos, there was a meeting of the remaining members at La Fuente Blanca, where Capitan Karl Johnny Black was preparing to leave the gang as well. As KJ was about to be executed by the Vagos, Reggie threw his yellow bandana on the ground and walked forward and stood next to KJ, showing his solidarity. Reggie then uttered the words "KJ has been the only one there for me from the beginning", This was not only a symbol of protection for KJ but also a way to make it easier for the remaining members to shoot Reggie rather than KJ and not feel guilty for doing so. He also wanted to protect the other members from getting in trouble for not shooting him, so he wanted them to feel angry enough and not be afraid to shoot him. Reggie and KJ were shot down multiple times and Reggie was dropped in the ocean. Reggie has no memory of his past with the Vagos and is now trying to move forward and find what is next for him.
Reggie's life evolved from being a lawyer to being a terrorist, to then becoming a blooded-in Vagos member and then surprisingly, he recently returned to being a lawyer again.
Reggie's primary goal as a lawyer, has always been to seek justice for the citizens of Los Santos. After his time with the Vagos, he realized just how corrupt the justice system and the Police Department had become. He then consulted with Judge Nathaniel Greyson, who offered Reggie the opportunity to be expunged of all his crimes (due to his memory loss) and reinstate Reggie's bar license back to him.
Reggie is notorious for being cocky, confident and very intimidating. His courtroom approach is aggressive, flamboyant and articulated and his attention to detail, unprecedented. Being a sociopath, Reggie uses manipulation and calculated maneuvers to under-hand not only his opposition in the courtroom but anyone in his path of justice and as one of the most sought-after lawyers in Los Santos, Reggie's reputation precedes him.
This second go-around, Reggie will be more selective in his representation, only representing those from Seaside, UwU Café and other important clients or cases.
Reggie also has a very dark and sinister side. He likes to toy with people's emotions and uses his power of persuasion to gain their trust. Many of them are just pawns, waiting in the wings for when Reggie wants to manipulate them for his own purposes. Reggie has breaking points when he can't release the pent-up aggression inside of him. He needs chaos and violence to contain that, otherwise he becomes unstable and extremely violent.
Reggie has a special disdain for serial killers, stemming from his work on the Cassette Killer case and seeing the manipulation done to his best friend, Bree Matthews.

Dark Path Begins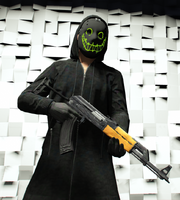 Reggie started going down a dark path after he meets with a woman by the name of Amanda Corrina, who had called Reggie and asked him to meet with her to discuss her boyfriends' case, who was a lifer in prison. Her boyfriend was in prison for multiple murders and acts against women. Reggie has limits on who he represents and refused to take the case. Amanda then flipped and demanded 50k from Reggie so she could try and break her boyfriend out of prison. Reggie refused, so Amanda and her boyfriends' brother, tortured him and left him to die.
Reggie was found alive and was in ICU for a number of days. His face was permanently scarred, which left him unwilling to show his face. Reggie felt his scars represented weakness, especially since the attack itself made him feel vulnerable and powerless. No one makes Reggie feel this way and gets away with it. Reggie decided to wear a replica of the mask that his attackers wore, except his one was green whereas, Amanda's was pink. He then went on the hunt to "kill" Amanda and had spoken to Clarence Williams and Lily Pond from the Los Santos Police Department about his intentions. He understood the consequences of his actions, but revenge was what he needed to get back the self-esteem and confidence that Amanda had shattered.
Shortly after, Reggie began a movement similar to The Chaos, Which is also a terrorist organization and just as open and vocal about their cause. Exposing the corruption within the DOJ and Police Department and openly chanting "embrace the chaos" on twatter and tagging the MRPD and the Courthouse with this same message. Reggie's dark path was evolving more and more. It turns out that the "chaos" movement became somewhat of a smoke screen for his "alleged" murder of Amanda Corrina. It seemed to throw the PD off the murder investigation and kept them distracted. The movement involved wearing the mask that Amanda wore when she attempted to kill Reggie. Reggie called upon civilians, criminals and various DOJ members to join his movement, Including Paige Green ex-District Attorney and his Law firm partner, Meggie Right.
Reggie also spoke with a number of police officers and a few judges, using them as pawns in his scheme of deception. Gaining knowledge and planting seeds of information each time. Reggie is calculated and he is always steps ahead of his opponents. As the Police Department's most hated lawyer, it was not surprising that Reggie became a hot target for the Major Crimes Division, in regards to the alleged murder. Reggie hand-picked officers, knowing exactly how to get information from them, when to give them parts of information that "he" wanted to give them. Time would show just how important these actions are, when pieces of the murder investigation, were all pieced together and how this impacted the final outcome.
Vagos, War and the end of the Murder Investigation
Coming to the end of the 30 days for Reggie to be charged with Amanda's murder, Reggie was losing more and more faith in the DOJ and the Police Department, with outlandish rulings from judges, the police avoiding him for cell representations and pressing unfair charges on his clients. He became more drawn towards the life of crime and his relationship with the Vagos was intensifying, especially after Matt Rhodes tagged him as Vagos for having yellow shoe laces. The next day he dressed all in yellow and vowed to keep taunting the police by dressing more like the Vagos.
Whilst boosting cars with Pepe Ramos from the Vagos, Mando Thompson from the ballas crashed into Reggie's car. After a few words were exchanged, Mando decided to hold Reggie and Pepe up, rob them and then kill them. Something you do not do to Reggie, is attack him. This became a personal vendetta for him and Reggie unleashed more of his dark alter-ego to seek vengeance on his attacker and/or anyone else in his way. Reggie had once again entered into another stage of his evolvement, from law abiding Attorney, to full blown criminal. He joined the Vagos on their war against the Ballas and vowed to kill Mando for what he had done to him.
During one of the gun fights between the two gangs, Reggie surrendered to the police and claimed "stand your ground" defense. This went to bench trial as the police didn't believe Reggie was simply defending himself and charged him with gang related shooting, which Reggie pleaded not guilty to. During the bench trial, Judge Allison Thomas ruled against Reggie, stating that he should have dialed 911 and retreated, instead of retaliating and shooting back at the Ballas. Due to Thomas's interpretation of stand your ground and gang related shooting laws, she had found Reggie guilty. He was then charged and sent to prison. Shortly after Reggie got out of prison, he received a phone call from Alan Crane, a newly appointed Attorney. Alan told Reggie that he had passed the ruling by chief Justice Coyote Russell, who said he would approve an appeal based on the information Alan Crane had given him. At this point, Reggie was already fuming. He knew the justice system would let him down and it seems this was just another nail in the coffin for him to turn further towards crime. Reggie said at this point that he wouldn't appeal the charge and if there was a bar review against him because of this, he would just let him have his bar license.
Something else was also brewing in the wings for Reggie. Weeks after the murder investigation started against him, the Major Crimes Division had hit a dead-end. However, coming up to the eve of the 30 days statue of limitations for Reggie to be charged with the murder of Amanda Corrina, Kareem Lyon from M.C.D decided not to let Reggie off so easily and re-opened the investigation.
Lyon painstakingly pieced all the evidence together that Lily Pond and Daisy Dukakis had collected, along with linking casings from the weapon used for the murder, to any casings found from Vagos who were charged previously. He hoped this would give enough reasonable suspicion for a search warrant to raid Reggie's warehouse with the added bonus of nailing the Vagos. He used the M.C.D's previous investigations on Reggie and all the evidence linking him to the murder, to issue a warrant for his arrest. Meanwhile, Reggie was already wanted for gang related shootings again. This time, he was fully involved in the shooting and was apprehended by police but not cuffed at the time. He managed to escape at Pillbox Medical Center and evaded the police for 2 days.
On the final day for Reggie to be charged with Amanda's murder, Reggie made sure to clear his warehouse, sign over Might & Right Law Firm to Arthur MacNee from his firm and prepared himself for his inevitable arrest. Later that day Jackie Snow arrested Reggie and took him in for questioning. After almost 3 hours in the interrogation room and without Reggie being interviewed, M.C.D realized they couldn't press the murder charge as they were outside of the statue of limitations. The District Attorney Jacob Slate advised the police that they didn't have enough reasonable suspicion to issue a raid warrant either. Reggie served a small amount of time for the gang related charges from the previous warrant but was cleared of the murder charge and released.
The beauty of all this was, that Reggie knew that Los Santos Police Department wouldn't be able to get enough evidence on him to charge him, especially when he had the murder weapon on his person for 3 days following the murder and no one bothered to search him. Ironically, the 30 days statue of limitations was changed to 60 days some weeks after the case was dropped against Reggie. Reggie believes his case had something to do with this change.
Reggie Quits Law (The first time)
On the 28th July 2021, Reggie was summoned to the court house by judge Allison Thomas. She issued him with a suspension of his bar license due to his recent felony charges. This came after he was refused entry into MRPD to represent a client and he was told this was an order from high command, prompting Reggie to file appeals for his felony charges. Shortly after was when was summoned to the court house. Reggie told Thomas that he had appeals in for both felony charges however, Thomas said he was "guilty until proven innocent" and he will stay suspended until he is cleared of those felonies. This was the final straw for Reggie. He slammed his bar card on the judges desk and told her to keep it and walked away. If this was how the justice department wanted to treat him, Reggie wanted no part in it.
He was tired of fighting the DOJ and the Police Department for peoples rights, when no one would listen, laws were being misinterpreted or overlooked and too many corrupt cops and judges were getting away with breaking rules, regulations and abiding by the law when it suited them. Sure Reggie had gone on the deep end a little with some of his unorthodox methods but he knew getting through to people by normal means, wasn't working and he had to think outside the box to get their attention. Although his suspension had been coming for sometime, Reggie knew to his very last day as lawyer in Los Santos, that he had put up a great fight and done all that he could have done for the peoples rights. He was done trying.
Reggie has since returned to being a lawyer.

Vagos/Cooking/Asesor

July 2021, Reggie was given a task by Speedy to get 100% purity meth, in order for him to earn his bandana (Become a blooded-in member of the Vagos). Reggie was given the role of " El Cheffe", which meant he was in charge of the cooking of meth for the Vagos After 56 cooks and 11 days, Reggie achieved 100% purity meth. Some weeks later, Reggie was officially blooded into the Vagos and given his rank as Asesor (Advisor) of the Vagos.
Reggie proceeded to build up his "meth empire", by establishing solid relationships with the Ballas, Bondi Boys MC and Chang Gang. At the same time, he became the gatekeeper of the public labs, punishing and banishing all small and unknown groups from cooking meth in the public labs and orchestrating scheduled cooks between those "approved" groups.
Reggie became a very resourceful member of the Vagos. He bought and sold weapons and ammo from speedy, onto other Vagos members and his many connections, outside of the Vagos. This also helped him "prepare for war" at all times.
Notable ex-clients and friends
Reggie has a long and well-established relationship with the Vagos, which the police were well aware of, especially when they would scream out "Reggieeeeee!" in the cells. Reggie is good "friends" with Karl Johnny Black and Benji Ramos. As their retained attorney, Reggie would often be called to the cells during the early hours and represented them in court on a number of cases. Reggie is now looking to join the Vagos as a criminal.
Also a member of Law Gang, Ash thinks of Reggie as a brother and trusted in his ability to help her whenever she was in trouble with the law. Reggie also helped get the vagos tag removed from her MDW profile, when it was put there by Randy Wrangler. Just before Reggie quit as an attorney, he also helped to get Ash's criminal record expunged.
Being someone who is close to Vagos and also because she is a civilian, Reggie is very protective of Ash. Ash also helps to keep Reggie grounded and makes him feel more "human". Reggie has done a number of activities with Ash, including animal spotting and selfies for her birthday, treasure hunting, car boosting, Sanitary and of course, Law gang. Ash is also one of the last people to see Amanda Corinna alive before she was murdered by Reggie.
Tim was Reggie's good friend, driver and head paralegal of Might & Right Law Firm. Tim would often drive Reggie and his legal team around Los Santos and was the co-Founder of Law Gang. When Reggie entered into his dark and chaotic phase, Tim felt distant from Reggie and decided to leave his side and went on his way. They have not spoken much since.
Meggie Right was Reggie's law firm partner and good friend. They worked effortlessly together and bounced court cases off one another to find solutions or draw up the best arguments for each case. She came to the law firm just at the right time when the case load was extremely busy. They were feared when together as they were an unmatched force to go up against in the courtroom or in interrogation.
Clarence is one of Reggie's close friends and also his primary inside connection to the police.
Cleo is a cadet that Reggie met and quickly befriended. Because they land on different sides of the law, they keep their relationship a secret from nearly everyone in the city. They grew close very quickly, frequently having secret meetings to have deep talks, metal detect, or ride around on Reggie's motorcycle. Reggie opened up to Cleo, telling her things about his past and his personality that he has only told one other person in the city. The two have a very unique relationship, they are both very stubborn but both challenge each other and their talks help to make them both grow and evolve. The dynamic between the two has been known to be a bit volatile at times.
Gunther Klean is a Ciminal Informant (C.I) who Reggie represented during his plea deal with Randy Wrangler. Although this deal would be a huge conflict for Reggie knowing who Gunther was snitching on, Reggie had covered his bases well and made sure his retained clients were always protected. Gunther self-leaked the deal on twatter before faking his death and disappearance. He later appeared and his first contact back was with Reggie. He made a number of cryptic Morse code and treasure hunt like puzzles for Reggie to follow before trusting in Reggie to keep his whereabouts secret. Gunther is still in contact with Reggie.
Jaxon Haze is a good friend of Reggie's. Old criminal buddies, Reggie and Jaxon go way way back to 2.0, where Jaxon was Reggie's president when they were both in the Bondi Boys MC during one of the last iterations in 2.0. Reggie remembers very little after the economy crash, only that Jaxon did crime with him but not they they had been apart of any club together. Reggie has recently introduced Jaxon to The Vagos and given him that inside connection to doing bank jobs, Oxy runs and other criminal activities. Jaxon is deciding if he wants to take that next step of becoming a Vagos Hangaround.
Reggie has had a long standing relationship with Jordan Walker. As the owner of Harmony Repairs Garage, Jordan gave Reggie an opportunity to work at the garage and ever since they have been close buddies. Jordan is one of the few people who Reggie trusts and looks up to. For this reasons, Reggie refuses to let anyone do any crime or do any wrong by Jordan or by the garage.
As a Harmony employee as well, Harvey has been close buddy of Reggie's for sometime. He often trolls Reggie at any opportunity but has also been there when Reggie needs him the most. Harvey lent his holden to Reggie and allowed him to pay it off for him, as well as put a stash house under his name for Reggie.

One of Reggie's latest clients
Criminal Record
Expunged by Judge
DEPARTMENT OF JUSTICE
Reggie was elected as Judge for the Department of Justice on March 4th, 2022 with 275 votes winning with the most votes overall.
Trivia
He does not "feel" emotions and therefore does not believe in relationships.
Reggie is a self-proclaimed Sociopath
He hates to be lied to (as a lawyer, he would often walk away if a client lied to him)
He loves to banter with officers (as a lawyer and as a crim)
He loves threatening officers with bench trials
He does not like hugs or being touched
He has a pet rock named "Rockinald"
Has been tagged as "Vagos" in the MDW when he was a lawyer
Reggie likes to taunt the police with empty threats of shooting them down with an uzi
Reggie is protective of civilians and those who cannot protect themselves
Reggie was not disbarred as a lawyer, he quit (threw his bar card on the judges desk)
Reggie doesn't believe in friendship, there is always a reason why he keeps people in his life
Reggie does not care about money
Reggie currently drives a Holden
Reggie calls people his toys or possessions.
Reggie wins election as Judge on March 4, 2022 with the most votes out of all 5 candidates.
Quotes
"You fucking spoon"
"Help.....Help......Help"
"stay away from the barrio"
Gallery