Fire Emblem Warriors: Three Hopes - The Loop
Play Sound
Raymond Romanov is a character role-played by Ray__C.
Description
Raymond Romanov was born in Russia on Valentines day in 1994. He has grey hair and usually wears anything black with a helmet or a mask. Raymond is very intelligent. He completed a degree in the medical field while balancing and finishing off flight school to get his pilot license. He is known for his great flying and was the "best pilot in his nation". He uses Rayven-1 as his call sign for radio communications with air traffic personnel. Raymond has a younger cousin, Raycardo Flick, who was born in the USA.
Raymond decided to has a few jobs and is one of the founders and co-owners of Betta Life Pharmaceuticals. Raymond's charms and his friendly nature works very well to disguise his criminal life. He is a very valuable member of Cleanbois and Pegasus Concierge. His reputation in the criminal world has grown quickly, effectively creating a very reliable network to reach for information, resources and jobs that aid with his criminal endeavours. His constant motivation to progress in criminal activity has earned him the affectionate title of "The Grinder" of Cleanbois.
Ray is known in the city for a couple of things. He used to have an awful fashion sense until his ex-girlfriend Kitty Dream helped him refine his closet. He is also known for hitting on every woman that he comes in contact with after breaking up with his girlfriend. However, Ray has adjusted to the city very well, and has become an incredibly feared criminal who is willing to do anything to succeed.
Milestones
Got his first job in Rooster's Rest on March 16, 2021.
Successfully completed his first heist on April 3, 2021.
Founded his first business on May 1, 2021.
First successful Vault heist on May 10, 2021.
Owned his first motorbike, the Hakuchou, on May 11, 2021.
Got keys to his first home on May 11, 2021.
Achieved a net worth of $1.0M+ since May 24, 2021.
Officially a member of Cleanbois since May 27, 2021.
Purchased his first car, the Coquette D10, on May 31, 2021.
Received keys to the Clean Manor on June 24, 2021.
Completed a total of 100 heists on June 24, 2021, with a 75% success rate.
After failing 3 Lower Vault heists, he successfully hit the Lower Vault with the Cleanbois on their 4th try on July 6, 2021 and escaped with $1.32M in total.
Managed to stay away from jail for 1 full month (30 days) in all his "heists" between June 30 and July 30, 2021.
Acquired his first vin scratched vehicle, Vapid Dominator, on August 20, 2021.
Completed a total of 100 street races on August 30, 2021, with 22 wins.
Purchased his Tuner Shop car, the Lamborghini Aventador on September 30, 2021.
Went a full month (30 days) without failing a heist of any kind between September 30 and October 30, 2021.
Professions
Cleanbois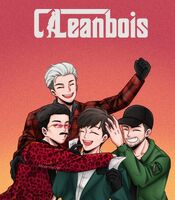 With Raymond's uprising in the criminal world, he was subsequently invited to more jobs with a crew, mostly include Lang Buddha, Tony Corleone, Nino Chavez and Humberto Antonio Donato Pecorino at that time. As Raymond's connections to information and resources continue to grow, there is without a doubt that his value to the crew continues to grow too. Following their successful vault heist on May 27, 2021, Raymond was recruited into the Cleanbois, together with Yuno Sykk. The current crew now is made of individuals with different complementary skills, which includes Raymond (The Grinder), Lang (The Planner), Tony (The Driver), Yuno (The Hacker/Cheat Code) and Mickey (The Planner). This highly successful crew can be considered as one of the best heist crews to ever exist. As of writing, the crew has successfully pull off the Lower Vault heist. Their heisting journey are no where near the end as they plan to venture further into the heist progression and eventually reach the Diamond Casino and Resort.
Apart from all their achievements, the members are all very fond of each other and has a very familial dynamic. Everyone sees each other as "FEMLY" and their relationship is based on absolute trust, with a deep understanding of one another. They often share light-hearted banter and tender chatter, the group displays a synergy that other crews struggle to find. This bond of theirs is demonstrated over and over again when Raymond would put his life on the line whenever he can to save any member of the crew. They even spend time with each other doing things outside their line of work, including the "'Cleanbois 'FEMLY Friday Games Nights" and their recent trips to "Las Venturas" (or Las Vegas).
Momentous Dates With The Cleanbois
Team RayCers (NPA)
Team RayCers is a team of individuals put together by Raymond for the National Paintball Association (NPA). The team's first major tournament was on August 7, 2021 but Raymond failed to make it and the team did not do very well as the team was completed with some last-minute substitutes. They were defeated by Team The Guild in the first round of the NPA third tournament.
On the NPA fourth tournament (August 20, 2021), Raymond arrived late unintentionally. However, he had asked for help from Nancy Drew, the NPA CEO, prior the tournament event to re-adjust their team schedule so he can catch up with the rest of his team members. With Nancy's help, Team RayCers had been scheduled into the last queue of the tournament versus the previous tournament winner, Team 10-13A led by Sam Baas.
The latest list of members in the Team RayCers as in August 20, 2021 consists of:
Main:
Backups:
Tournament History
No.

Date

Team

Performance

Description

1
August 20, 2021
Knocked out in
Semi-Finals
Round 1 vs Team 10-13 Alpha: Won 4-3, Won 4-1

Semi-Finals vs XxClownB0isxX: Lost 2-4, Lost 3-4
Assets
Criminal Record
Trivia
Although Jay Que is the one that started the Cars 3 reference, it is Raymond who spread it across the whole city.
Raymond is addicted to stashing Akumas across the city.
Police pursuit bike interceptors were almost named after him due to his well-known Akuma-stashing addiction.
Raymond owns a Lamborghini Aventador, a car bought from the Tuner Shop. It is currently a 1 of 1 in the city and he has painted it black with a red pearl like Tony's R8.
Raymond is known as "The Ladies Man" or "The Wives Collector" among his friends as he is always seen flirting with women while successfully acquiring their phone number during their first encounter.
When confronted with his trigger-happy tendencies towards cops, Raymond admitted that shooting people "makes [him] feel alive."
Raymond is known as "The Grinder" of the Cleanbois as he's always awake on "degen" hours while other members are asleep.
During heists, Raymond always takes the negotiator role to negotiate demands with the police in exchange for their hostages.
Ray has an insane record of rolling very high cock check D12 rolls, only time ever rolling low was against Ai Musori, aka Egg, where he rolled two 1s in a row.
Ray is known for his very bad fashion sense.
Book of Ray
Notable quotes from Ray
"Ahh that's unfortunate"
"You motha fuckah!"
"What happens when I send it here?"
"That might be what they call karma"
"Don't EVER point a gun at me mother fucker"
"WICKED"
"If you ever want a bike you know what to do. You just stop right? And you say like "I want a bike!" and what you do is you walk into a bush and your like "Ray is your bike in here?" and yes, Ray's bike is in every bush."
"I've done 100 [Insert illegal activity]"
"I'm not fucking leaving you."
Ray to his ocean dumped AK: "Rest in peace my friend"
"It will be funny, Goofy and Kitty call me Daddy now"
"Just because there's a ring, doesn't mean you can't do the thing"
"Seriously FUCK Goofy"
"Just because there is a goalkeeper doesn't mean you can't score"
"Always carry condoms on you wherever you go, it's very important to be safe in life."
"My intensions were that [Mickey] would die."
"I'm smiling through pain."
"Make it so they can't walk , you break their legs, you break their arms you break everything about them!"
"All you need is Lamborghini and life is easy"- Raymond when asked about dating