Penelope "Penny" Farthing is a character role-played by Raine.
Personal Life
Penny Farthing is currently the CEO of the Nest Holdings, and it's subsidiaries: Rooster's Rest, Rooster Cab Co., and Rooster's Inn. In addition to Manager of Sales at the Rooster's Reef.
When she isn't working, citizens of Los Santos can find her fishing, hunting, and "carstacking" at Premium Deluxe Motorsport. She drives a Sandking with a custom license plate that reads "H3LLYE4H."
She's often seen wearing a baggy white shirt, and grey shorts on her free time, dubbed the "Down bad" look. She is currently sporting a short bob hairstyle with 2 buns on the top.
She was in a relationship with Harry Brown. They enjoy watching Disney and Pixars' Cars 3(2017) and role-playing Toy Story(1995) characters in bed. In which Harry Brown plays Buzz Lightyear, and Penny plays Bo Peep. She is pregnant with his child (estimated start of pregnancy).
The couple "share" a "joint" savings account which was opened June 3rd, 2021, with the goal of buying a car and home together.
On June 4th, 2021, and with the financial help of Lang Buddha and Augusta Carlin, the couples beachside home was purchased for $235,200. The 1-bedroom, 1-bathroom abode is located on Melanoma St. in La Puerta and Vespucci Beach, Los Santos, and is labeled "Beachside Court 15" in the public records.
Penny is now dating Curtis Swoleroid.
Rooster's Reef
Penny was hired by Harry Brown as a sales associate at the Rooster's Reef during it's first days of operating under the Rooster's Rest location. Rapidly gaining a reputation as a hard worker, with great upselling skills and a silver tongue. That tongue would later be useful as she started dating Head of Security, Harry Brown resulting in her being promoted to Manager of Sales. She became an integral part of the company's success along side Eve Summers, Barry Svensson, Bruno LeMons, and Harry Brown.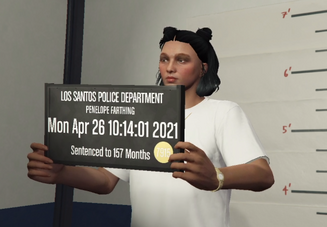 On April 26th, 2021, Penny was detained and "wrangled" by Captain Randy Wrangler at Willy's near the Andi Jones Farmers Market for "transporting weed" without a 311 call. She plead not guilty, and racked up a $12,770 fine. She served 157 months in Bolingbroke Penitentiary, and was released with 314 months of parole.
With Reggie Might and Adam Nielsen as her legal representatives, the incident was taken to court on May 20th, 2021.
Due to the absence of key witness, Officer T.J. Mack, and negligent paperwork from Captain Randy Wrangler, the case was ruled a mistrial. This resulted in the strike points against Rooster's Ranch and all charges against Penny being expunged.
The favorable ruling played an essential role in gaining trust with Lang Buddha and his partners.
Due to the mysterious appearance of suspicious packages in the Beachside house, Penny decided to step down from the Reef employment in order to reduce the chances of her getting raided and convicted for drug trafficking.
Rooster's Rest
After Rooster's Ranch was forced to move their operation to a Dean World booth, Penny continued to impress Lang Buddha as she started working behind the counter at Rooster's Rest as a regular employee. She worked shifts along side members of The Guild, and the likes of Rooster's Rest co-founder and resident down bad degenerate, Ellie Dono.
Penny was known for introducing the Rooster Pin Promo. This was a marketing scheme in which customers could purchase food at the Rooster's Rest worth $150 (Glory to the Cock meal) or 3 exotic joints at the Rooster's Ranch and be rewarded with a rooster pin; subsequently, 3 rooster pins could be turned in for a free entrée at the Rooster's Rest or joints at the Rooster's Ranch booth at Dean World. This was seen as innovative and "5Head", and was met with praise by management and employees alike.
After Lang Buddha unveiled some traumatizing and "stunlocking" information involving the current CEO, Petunia Brookshire, and the secret terrorist organization operating under the Rooster's Rest known as Talon, A precautionary decision was made to swiftly remove the distrustful CEO from her position. Lang Buddha began looking for a new "clean" CEO and face for Talon's front. Penny quickly became the clear cut choice for the position, due to her loyalty, charisma, innovation, aggressive leadership, and most importantly; a clean record.
On May 25th, 2021, Penny was appointed CEO of Rooster's Rest.
On June 1st, 2021, Penny was appointed CEO of the Rooster's parent company: Nest Holdings, and it's subsidiaries: Rooster Cab Co. and Rooster's Inn by Lang Buddha. This was officially approved by Justice Buck Stanton.
Chief Executive Officer
Acts as CEO:
Normalized end of shift staff meetings to boost morale and get employees on the same page.
Implemented a new rule for one mandatory "cock-in" spot for security positions, in addition to hiring more security.
Hired and Promoted Event Planners to help reinstate the Rooster's Rest as a social hub of the city.
Established a partnership with the Towing union to protect employee's registered vehicles in return for food.
Granted Nikita Reznikov permission and resources to train, and prepare employees as a result of recent Burger Shot attacks.
Worked with Adam Nielsen and Nikita Reznikov in creating a standard operating procedure handbook for employees.
Made efforts to assist Denzel Williams in his mayoral campaign by sponsoring future campaign events as his unofficial campaign manager.
Implemented a promotional offer in which customers could tweet #Denzel4Mayor and receive a free Cock in the box containing 1 of 11 Rooster Toys.
Reviewed the current employee list and their performance evaluations via resident serial complainer, Adam Nielsen.
Trivia
The name Penny Farthing was inspired by raine 's favorite bar in New York with the same name.
The penny-farthing, also known as a high wheel, high wheeler or ordinary, was the first machine to be called a "bicycle."
After her first week as CEO of the Rooster's Rest, the restaurant made more money than it's ever made in one week since it's opening.
She is currently in the market for a "4-door that drives like a 2-door"
After meeting and hiring Swan DeLeur, Penny may or may not be bi-curious.
raine and Penny's birthdays are 5 days apart.
In the running for longest pregnancy arc (start Mid May 2021 - Due date 4.0)
Penny partook in her first Fleeca bank robbery with Street Team on August 10, 2022, she was invited by Marcell Miller.
She is an undiagnosed nymphomaniac.
Gallery