Olivia Copper is a character role-played by Hirona.
Olivia Copper is a Trooper for the San Andreas State Police, Badge #238. She is also a Captain for the Joint Task Force.
She was previously the Assistant Chief of Police and a Sergeant for the Los Santos Police Department.
Copper is regarded to be one of the scariest cops on the force, due to her many skills, stealthiness, alpha demeanor, and her no-nonsense attitude. She was the former Captain of both the SASP and CID before the May 2019 PD Restructure. Copper claims that the SASP members are "practically perfect in every way."
She is one of seven officers to hold all five LEO certifications (Air, FTO, Interceptor, K9, and SWAT). The other officers who hold all five certifications are Sergeants AJ Hunter, Brittany Angel, and Matt Rhodes, and Troopers Jackie Snow, Kael Soze, and Tony Andrews.
Los Santos Police Department

[

edit

|

edit source

]
Emily Reinhart
Copper has known Emily Reinhart since Reinhart was a Cadet. The two were married by Judge Dennis LaBarre on the side of Senora Freeway, after hearing that Mikey Dias had legally gotten married to Dr. Martell. Right after getting married, Copper gave Reinhart her personal knuckle dusters as a ring.
Copper has stated in the past that, even though Reinhart isn't a member of the SASP, she was still "practically perfect in every way". Copper took notice of all the hard work that Reinhart had been putting in as an Officer, and promoted her to Senior Officer, with extended invitation into the CID.
Bobby Smith
Copper helped train Bobby Smith when he was a Cadet. Ever since then, the two have been practically inseparable. Constantly criticizing him for all his mistakes and bad driving, she would eventually be the one to clear him for solo patrol. Copper has always been very supportive of Bobby. Although he struggled at first, Copper never stopped believing that he was more capable than he let on. She was proven to be correct, as Bobby has risen up the ranks rather quickly. She promoted him to the rank of Senior Officer, after he insisted on becoming an FTO. Shortly after, he proved himself to be a capable leader at the PD academy, and she promoted him to Sergeant of the BCSO.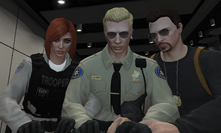 The two are very close, and show concern for one another when either is injured or in a down mood. The duo spent so much time patrolling together that they became known as "Bopper", and formed a blood pact. Bobby gave her the honor of being his "Best Ma'am" for his marriage to Vladimir Raven (she played a role in getting them together).
After the wedding, she gave a heartfelt speech, in which she wished Bobby would "stop fucking around, and become a Detective". Bobby rejects her idea constantly, stating that it's "basic police work". However, the two have been doing more investigations as of late, with Bobby appearing eager to lend her a hand (although his struggles with computers hinders him greatly). Copper also had plans to have Bobby take over as Assistant Chief, so that she could return to the SASP. Bobby was later promoted to Chief of Police on February 7th, 2020.
Criminals and Criminal Groups

[

edit

|

edit source

]
Big D
The two had a relationship in the old server. They are still friendly with one another.
Ramee El-Rahman
Copper has shown interest in having a relationship with Ramee El-Rahman many times. The two will text back and forth, however, Ramee has been hesitant to have an official date with her. This is likely due to him being very active in crime, and her role as a police officer. Copper has stated many times that she is looking for a "beta man", believing Ramee to be a perfect example of one.
The attraction she feels towards him has not stopped her from threatening to bring him, and his associates in the Chang Gang, down. During a conversation the two of them had, she acknowledged Ramee as being a "warlord", and likened herself one as well. When Copper has Ramee in custody, he will often try to sweet talk her, in an attempt to get a smaller jail time. He is one of the few people that call her by her first name, Olivia. Copper has also mimicked his voice and used his catchphrases on multiple occasions.
Isaac Smith
Isaac and Copper share living space, and are in an unconventional "relationship." Neither are tied down to the other, and both have stated that they are "married to the job."
The KGB v Ramee El-Rahman
Chapter One: "A Lover's Quarrel"
On May 18th, 2020, Copper alongside Stephen McClane, Brittany Angel, and Terrance "TJ" Walker kidnapped Ramee El-Rahman outside of the Fleeca Bank on Vespucci Avenue. After kidnapping Ramee, they take him to the lighthouse on Catfish View. While at the lighthouse McClane films a vlog while Copper prepares to run Ramee over with their cruiser. While McClane is filming the vlog Copper accelerates at Ramee and jumps out while the cruiser knocks him off the cliff.[1]
After hitting Ramee with the car, the four of them all run to Sandy Shores where they get intercepted by Vinny Pistone, Charles "Taco" Prince, Bobby Brown, and Ramee who then take McClane hostage and head to Paleto PD to sign him off duty. While driving to Paleto, McClane tries to explain to them that he didn't do anything, that it was all Copper's fault, and that Copper forced him to participate. At Paleto they sign him off duty and force him into a different car where they are found by Angel, Copper, and Walker. While getting chased by the PD they demand McClane put his phone with the vlog on it in the glove box, and he complies. After a minute or so of chasing McClane gets pushed out of the car by Ramee and Angel, Copper, and Walker pick him up. While driving back to PD McClane informs the others that they stole his phone.
Later that day, Ramee is contacted by Larry Hallow, the current acting Distract Attorney, and Larry tells him that he's looking into pressing charges against Copper, McClane, Angel, and Walker but he needs to talk to Ramee and Vinny before moving further.[2]
Chapter Two: "Aftermath"
On May 19th, 2020, Brittany Angel and Stephen McClane got called into the Captain's Office by the Undersheriff, Rocko Colombo, and Trooper Jackie Snow to discuss the events that transpired the day before. Colombo begins by asking who exactly knows what happened, and Angel explains to him that the report is literally public on the MTD. Snow says that he doesn't understand why Lauren Forcer put the report on the MDT, that she should've taken it to PD Command / High Command, and that this being public is not good for the PD's image. Colombo and Snow both agree that they need to suppress this info as much as possible. Angel and McClane both initially blame Judge John Bailey, and then say that it was just a lover's quarrel between Copper and Ramee El-Rahman. They tell Colombo that they were just present for it, but that Copper did everything. McClane explains that he just wanted to make a cool TikTok. Colombo explains that this is the whole KGB Prison Riot situation all over again, and asks for the report number. Angel explains to Colombo that Bailey told them to kidnap Ramee as a result of Ramee kidnapping and executing Bailey. Angel reiterates that this was all Copper's doing and that she personally had no involvement with what happened. Snow asks them what they're gonna do, and asks them if the Distract Attorney knows what happened. Angel and McClane both inform Snow that they've received emails from the Larry Hallow, the current Distract Attorney, wondering if the scenario was as serious as it sounded. McClane explains to Snow that the DA questioned how Ramee had gotten the video evidence, and says that Ramee got it by stealing McClane's phone after kidnapping him. Snow tells them that they need to lawyer up, just in case something happens. Snow says that Copper, McClane, and Angel are the last people the PD needs to be convicted and sent to prison. Angel and McClane both say that, if they do get charged and sent to prison, they'll run it and shank anyone that fucks with them. Colombo says that he's getting heavy prison feelings from this, and this looks like one of those scenarios that get out of control. Colombo asks them how Ramee is, and if he's dead yet. McClane explains to him that Ramee literally kidnapped him, so his injuries couldn't have been that bad. Angel says that even if they do get convicted, who's gonna dare take them to prison. Colombo says that he personally isn't going to punish any of them and that he's forwarded the video to the Chief of Police, Bobby Smith. Kyle Pred then tells Angel that his motto is "I'll just lie" and that she should give it a try. Angel says that she doesn't need to lie because she actually didn't do anything, Copper was the one who ran Ramee over and she just stood around while it happened. Snow says that the Department of Justice doesn't really care if she didn't do anything, and that they'll just throw her in on accessory charges. Angel reiterates that she doesn't care and that Bovice Wilkinson and her will run the prison. Snow says that he doesn't want any of them to get charged or arrested or anything.
"I quit." - Colombo, after learning the exact details of the KGB v Ramee El-Rahman
Colombo says that if the DA presses charges against them, the PD is gonna leave them out to dry. After a couple more minutes of bickering, Angel, Pred, Colombo, and McClane head back out on routine patrol while Snow goes off-duty. Later that day, while attending a bench trial, Angel and McClane run into Larry Hallow who informs them that it's unlikely that Angel is in any trouble but that McClane might be. After hearing this Angel immediately tells McClane that he's on his own and runs away.
Chapter Three: "Charges"
On May 19th, 2020, Ramee El-Rahman officially filed his civil suit against Copper, Brittany Angel, and Stephen McClane.
On May 22nd, 2020, The Distract Attorneys Office officially filed charges against Copper and Stephen McClane, but not Brittany Angel or Terrance "TJ" Walker. At the time, Copper was facing Attempted Murder and Kidnapping, while McClane was facing Accessory to Attempted Murder and Kidnapping. Later that day, Copper and McClane both pled guilty to the charges and were sentenced to prison. While in prison McClane was stabbed and administered into the ICU while Copper befriended Bovice Wilkinson.
On May 31st, 2020, McClane emerged from the ICU and returned to active duty.
Chapter Four: "Court"
On June 3rd, 2020, the civil case between Ramee El-Rahman and the LSPD occurred. The defendants were Copper, Terrance "TJ" Walker, and for a short period of time, Angel. Copper was unable to find a lawyer prior to the case causing Solomon Seerson to step in and defend her. Ramee was represented by Benjamin Crane, and the Judge presiding was Wayne Ardson. The case went on for quite some time and ultimately ended with Ramee being awarded 250,000$ that wouldn't be paid for by the state, but by members of the LSPD.
"Pat pat pat."
"What are you doing!"
"Bobby!"
"SASP members are practically perfect in every way."
"Yea yea yea..."
"The name's Copper, like the metal."
"I'm not a criminal!!!" - after kidnapping Ramee El-Rahman.
She does not have many friends, however, her best friend was Kevin Shaw.

(After many months of not seeing Kevin in the city [and after an incident where he seemed to be more concerned about the criminal that had put him in the ICU instead of her], Copper has demoted him.)

Is the "Leader of Chang Gang", allegedly.
Copper's K9 Partner is a Siberian Husky named Crybabypeepants.
There have been many rumors of her taking criminals out to Sandy Shores and burning them alive, though these events can't be proven.
Copper started out her career in the police department as a Deputy in the Blaine County Sheriff's Office.
She was Bobby Smith's "Best Ma'am" for his marriage to Vladimir Raven.
Copper has commented that she hails from Arizona.
Although unaware at first, she's had the misfortune of becoming friends with multiple serial killers and psychopaths, such as Ander Destolle.
Her callsign when bringing out Air-1 is "Meteor-1".
Community content is available under
CC-BY-SA
unless otherwise noted.