Welcome to the NoPixel Wiki
NoPixel is a Grand Theft Auto V roleplay server started by Koil. The server is run on the third-party multiplayer server system, FiveM. It contains custom scripts created by Koil and other members of the community

The idea of roleplay is to talk, act, and proceed as the character you are playing. This means that any action taken while in-game is taken on behalf of your character. The intent is to create an immersive experience where players and viewers alike can experience stories and situations in what is essentially another world.
Note: some of the information provided has been sourced from TheDailyLosSantos Discord server, which can be found here
Interested in becoming an Admin or Moderator of the NoPixel fandom page? Simply message cattt#5453 on discord with a reason why you think you'd be a good fit! Once we have a good team of staff, this will be removed.
We are currently editing
654
articles, and
1,502
files. We could use your help expanding and adding articles to the wiki. If you're new to the Wikia, please take a moment to read the
Wikia tutorial
before getting started.
Factions (Gangs/Departments/Businesses)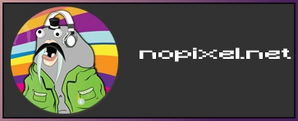 Community content is available under
CC-BY-SA
unless otherwise noted.