We now have a discord! Check it out here and join today!
Welcome to the NoPixel Wiki
NoPixel is a Grand Theft Auto V role-play server, developed by Koil. The server is run on the third-party multiplayer server system, FiveM. It contains custom scripts created by Koil, and other members of the community.

The idea of role-play is to talk, act, and proceed as the character you are playing. This means that any action taken while in-game is taken on behalf of your character. The intent is to create an immersive experience where players and viewers alike can experience stories and situations, in what is essentially another world.
Note: Some of the information provided has been sourced from TheDailyLosSantos Discord server, which can be found here. It is recommended that when you use information from the TDLS Discord that you please cite it. Thanks! - This Wiki is in no way affiliated with TDLS, we just source information on occasion.
Thank you to all of our editors and everyone who checks out the wiki!
We are currently editing
1,021
articles, and
2,539
files.
We could use your help expanding and adding articles to the wiki. If you're new to the Wikia, please take a moment to read the Wikia tutorial before getting started.
When you edit the wiki, please use up to date and accurate information. Memes that exist in world of NoPixel will be tolerated to a certain extent. However, the wiki is not a meme page; if you vandalize pages with memes and unrelated information, your edits will be undone. Thanks, from the Admins and Moderators.
The admins and moderators of the wiki would like to thank contributors and artists Edislendering and ZanarkandSky for creating the new logos for the wiki! We truly appreciate it!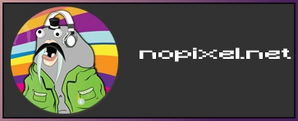 Community content is available under
CC-BY-SA
unless otherwise noted.