Natalie Sumi is a character role-played by Natsumiii.
Description
Natalie Sumi usually wears a black top with gradient pink short shorts. She has purple hair, and is known for trying to pick up girls with one liners. She appears to be an innocent person who rides a bike throughout town as her way of transportation.
Her backstory is one of a bullied victim, where she recounts memories of kids putting her inside trashcans and calling her, "built different". The kids also called her an animal. She is homeschooled. She often sees these memories as just fun activities in her hometown, but only two Los Santos residents have pointed it out that it's not fun. Her hometown is a small town on an island in Canadia. Her dad taught her a lot of self defense, so that's why her muscle spasms in reaction to a small movement.
She is signed to Wu Chang Records on her first day in the city, works at Rooster's Rest, and is a ride-along for EMS. Autumn invited Natalie to the Besties Squad on her first day in town and Elena agreed.
Habits
Natalie loves to park her vehicle on the highway near the apartments. She is also directionally challenged. She also likes to smoke in really long breaths. She also loves to take free showers from the fire hydrants. She also likes to twerk on top of cars while waiting for people.
Goal
Natalie wants to be a great singer in her future. A side goal of Natalie is to become a part time EMS. Another side goal of Natalie's is to find a girlfriend. Even though she has all these girls in her contacts list, she still hasn't found the right one.
Career
Music
Natalie signed to Wu Chang Records on May 3rd, 2021. She was recommended by her friend, Autumn.
Fast Food
Natalie was hired to Rooster's Rest on May 8th, 2021. She learned how to cook ramen, beef dish, and sushi.
Art
Natalie was hired to Vultur Lé Culturé on May 19th, 2021. She was knocked out and even had to pay for EMS.
EMS
Waiting for results...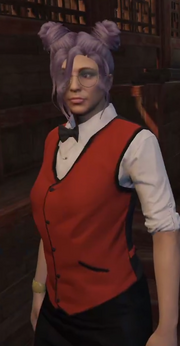 Pets
Waiting for results...

Quotes
"Sorry, do you have a name or can I call you mine?"
"There's something wrong with my phone, Ray. Your number's not in it."
"It seems like my phone is broken, it doesn't have your number in it."
"Jay is down, down, down bad"