Fire Emblem Warriors: Three Hopes - The Loop
Play Sound

Mona Sanchez is a character role-played by Reina.
Biography
She remained loyal to her remaining gang members until law enforcement agencies conducted a sting operation on their gang house. Mona was able to escape capture but soon realized she needed a fresh start. She decided that the vast city of Los Santos would be her new beginning and arrived with the knowledge, conviction, and dedication to make a name for herself in a city full of people attempting to do the same.

Mona likes to call her self a ''social butterfly'' because she is always ready to talk to anyone that she bumps into. Making friends is really easy for her to the point where she can't get rid of them. Her phone is filled with numbers she doesn't even remember, but she will always give her number in case people need help.

She likes to make friends with cops, but for a good reason. It's so that she can use her pretty smile the next time she gets stopped by the same cop. It works like a charm.
Early days in Los Santos
Unfortunately Mona had to start from the scratch since all her money got taken away by Australian law enforcement when they froze her accounts. So that resulted in her turning to petty crime and the Taco shop.
After working there for couple of weeks she finally got enough money to move to Integrity.
Meeting new people
Her social skills which pretty much made her talk to every single person she bumped into, somehow made her cross paths with Matthew Payne. They ended up talking for a while and Mona found him extremely interesting. When she found out that he owns a real estate business company she decided to be hell bent on trying to become his assistant.
However Matthew Payne did not find this cute at all and he had an idea to pawn Mona off to someone. His victim was going to be Vinny Pistone. He was a very well know ladies man making it extremely easy to get rid of Mona.
While Payne's plan worked, it turned out that Vinny and Mona liked each other a bit more than Payne expected. A couple of weeks later they started officially dating.
Making connection
Without even knowing how powerful her boyfriend is she started meeting new people, people that are extremely powerful in this city. She met the likes of Johnny Cassle, Nino Chavez, Juan Carlos "Flippy" Hernandez and many more.
While dating Vinny Pistone, she met all of his boys that are part of the Chang Gang. They still give her hard time, but she is warming up to them.
Her social skills made her name known to the whole city and she started making bigger and bigger name for herself each day.
Looking to move away from petty crime and get to some real money making jobs, she recently got a job at the Tuner Shop, so that she has a way to clean her money from the bigger jobs.
Hitting the rock bottom?
Making connections in the city opened a lot of business opportunities for Mona, one of those opportunities was selling coke.
So one night, Mona decided to sell some coke in Winewood. Just as she was half way done with her business, she gets call from tuner shop for a repair. As she never declines tuner shop repairs, she quickly gets into her car to go to tuner shop. On the way there just before the tuner shop on the bridge, her tire pops. Right next to PD. Out of no where Randy Wrangler jumps the fence to hear what all this big noise was about. Unfortunately that was the only cop that was bad for Mona, because Randy Wrangler was just before that undercover and taking pictures of people selling coke in Winewood and he recognized Mona in her outfit. With this pictures he detains Mona for questioning, searches her, and finds 22 bags of coke, 40 joins and 10 oxy. After long interrogation, raid on her integrity apartment and all her cars, Mona and her lawyer Bill Maze proceed to go to a bail hearing. She was there granted bail for the amount of $190.000 and scheduled a court date which was set for Thursday, October 22nd at 7pm EST.

Mona court case verdict was: Report to parole officer - Wrangler, King, Divine, Williams or Metzger. They can search her, but they need reasonable suspicion to do so. She is allowed to smoke joints and drink alcohol but no other paraphernalia. No guns at all, legal or illegal. Traffic infractions are ok, rest of misdemeanour or felony is forbidden. She needs to serve 8 days of parole ending on 30th.
Relationships
At the beginning everything seemed perfect, but as the time went by, Vinny was putting less and less effort into relationship. It felt like literally everything took priority than spending time with Mona.
And the worst of all, Mona felt that Vinny didn't trust her. He would never tell her anything at all, even though she was loyal to him before they even got together and never did anything to betray that trust.
Finally after 3 months of emotional torture she had enough of him and his ways and decided to end it. To no ones surprise Vinny didn't even try to fight it at all.
That was a sign to her that she made the correct decision and moved on.
It all started at the wedding of Carmella Corset and Boby Janta. After the ceremony Mona was bored and she saw at the corner of her eye Jack Cortair flirting with couple of girls, and she thought it would be funny to ruin his intentions. So she went there, and she started saying that she is Jack Cortair wife in a hope that girls will go away and Jack Cortair will feel embarrassed. At first Jack Cortair was really confused, but at the end he just went with the joke and started telling everyone that Mona is his wife.
In the next couple of weeks they spent more and more time together, keeping up the joke, until one day, both of them realised that they like spending time with each other. So while Mona was trying to get the courage to ask Jack if he likes her, Jack Cortair was doing the same. So one day at the party. they both wanted to talk to each other, so they decided for Jack Cortair to go first with his question. He started his speech and at the end he got down on one knee and proposed to Mona. While being nervous and excited at the same time, she said yes.
Couple of weeks later, they had the wedding at Grove Street and got married. Mona moved in with Jack Cortair and now lives at the Grove Street, where she is current manager of the Grove Street Gas Station.
Sadly the marriage didnt last long and was ended 2 months after. They still remain good friends.
Demetrius Jones
It all started with Mona crushing on Draco. She had liked him for months without saying a word but one day she made it obvisous. Draco had mentioned taking out another girl on a date in front of Mona and she ended up pushing Draco and saying "hell nah u aint". He asked her "why do you have a problem with it?" Mona didn't respond, so Draco cuffed Mona and took her to a building roof and held her there for awhile till she finally opened up and said she liked him. They have been inseparable ever since and do everything together.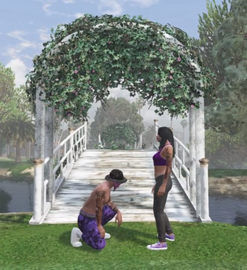 Never forget
With so much stuff happening in the new city, Mona decided to keep a secret diary of important things that happened to her through out each day. Good or bad, pretty or ugly. The journey of Mona Sanchez where you can never know what tomorrow has prepared for you.
The Diary
Day 1
Day 1
Just landed to Los Santos international, flight was good but plane was late because Sydney Air Traffic control was awful.
Fake passport worked like a charm, no one suspected a thing, and I like my new last name, Sanchez sounds so much better than Lot.
Finally i reached the promise land. Los Santos, city of opportunity. Time for a fresh start. FBI was getting way to close to our gang house and it was time to get out before it was too late.
I just hope Jimmy and Taylor are safe and made it trough the airport security. It feels weird being alone.
Alright, I have to go get my hair done and get some new clothes and maybe buy like a BMX just to be easier to get around. Anyway time to get out and make Los Santos Mona's playground.
Quotes
"Ya yaa"
"Shiiiiiiiiiee"
"God damn"
"Wha chu mean"
"Dummy"
"Fuck outta 'ere"
Gallery
Played By: Reina
Characters: Mona Sanchez • Maya Lopez