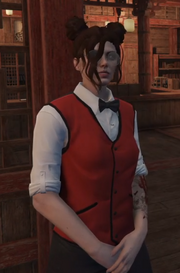 Lilith Ailhart is a character role-played by Lozdog.
Description
Lilith Ailhart is an Australian woman of 25 years of age. She moved to Los Santos on March 20th 2021.
Generally quiet and passive at first impression. Lilith tends to participate in conversation by simply observing and listening; this is mostly due to her being shy in nature. Getting to know Lilith you will find underneath the many layers of her deceivingly awkward demeanor is a feisty and boisterous personality that she only reveals to those she feels comfortable with. Since her arrival to Los Santos she has developed sudden outbursts of rage due to the locals in the city.

Background Information
TBA

Lilith Ailhart Joins The HOB
Lilith was hired by Kian Mercer, a close friend of hers, to be a bartender and a booth worker for Mirror Park Tavern. She is a dependable person who is able to handle multiple tasks on a daily basis. She is quickly being recognized to be a reliable part of the group after some time working for the tavern, especially by Andi Jones, Kian and later Siz. This was originally demonstrated for being the beef stew connect for the HOA leader Siz Fulker. Naturally after being closely involved with the tavern people, she was asked by Siz to be a lookout for one of their meth cooks and later for Flippy and Freddy's public meth cooks as well.
August 25, 2021 while attending the Mirror Park Tavern booth on Dean's World, she was approached by Andi and was offered a heartwarming invitation into the HOB as a prospect for the HOA. She accepted the invitation with heartfelt pleasure. The very next day Andi and Kian held an official ceremony that took place in the crypt alongside other HOB prospects like Gillea Taylor, Luis Fernandez and Joey Toes.
Lilith Ailhart Joins the HOA
On October 8th, 2021 Lilith was made into a full-member of the HOA after Andi Jones and Siz Fulker saw her proactivity and eagerness to help the group out when it comes to the group's general activities.
Lilith First Ever Bank Job
On August 27, 2021. She did her first ever bank job with the HOA members made up of Freddy, Kian and DRL. The day started with Freddy wanting to use the soon to be moldy Grappling Hook for something, and came up with a bank job involving grappling someone down the bridge while fleeing from a cop chase. They then agreed to the plan and decided to hit the Boulevard Del Perro, Morningwood Fleeca Bank which is close to the bridge with a second car waiting at the bottom. Freddy was tasked with hacking the bank safe, DRL was the getaway driver and Kian was tasked with the ultimate getaway plan of grappling off the bridge. Kian held half of the money while the rest stayed with the initial group of DRL, Freddy and Lilith. While setting up the job she promptly came into contact with a heavy dose of HOA brain rot for multiple poor HOA comms and dumb shenanigans during the bank negotiation. Nonetheless, they managed to have a deal with the cops for no Air-1 alongside the Los Santos Special of free passage and no spike-strips. The chase went with only three CVPI units responding and went according to plan. They went straight to the spot on the bridge and Kian parted ways from the group in some "James Bond Shit" grappling down the bridge. He immediately lost contact with the cops and went straight to his home to secure the money. Meanwhile, DRL drove around the city dragging half of the cop's attention to him in a chase attempt. DRL then effortlessly gained some distance from the cops and eventually did his "DRL Special" drive through inside of a garage which instantly lost the cops eyes on him. DRL if not already impressed her and she found it kinda hot. They then drove down to the nearest clothing store for a change of clothes. The job ended with her obtaining 63 bags of marked bills.
Heist Summary
| Type | Total | Success | Failed |
| --- | --- | --- | --- |
| Fleeca | 4 | 4 | 0 |
| Jewellery Store | 1 | 1 | 0 |
| No. | Type | Date | Team | Outcome |
| --- | --- | --- | --- | --- |
| 1 | Fleeca | 2/08/2021 | | Success: Lilith and Freddy managed to escape. |
| 2 | Fleeca | 27/08/2021 | | Success: Everyone managed to escape. |
| 3 | Jewellery Store | 28/08/2021 | | Success: Everyone managed to escape. |
| 4 | Fleeca | 1/10/2021 | | Success: Everyone managed to escape. |
| 5 | Fleeca | 1/10/2021 | | Success: Everyone managed to escape. |