Leah Strong is a character role-played by lovinurstyle.
Leah Strong is the CEO of Bad Boy Customs & PDM Asst Manager. She spends most of her time as the acting manager/CEO at BBC. Hiring new Delivery/Tow Drivers and managing the accounts for the company. In her free time, she enjoys taking photographs for Weazel News and for pleasure. Early on she purchased an office on Vinewood Blvd.
As acting CEO and Bussiness owner of BBC Leah has to manage her time wisely and does so with the help of her team. She has over 25+civilian employees at BBC and plans to give them opportunities for advancement and work at PDM. When Allen offered the Assistant manager job to Leah at PDM he gave her the confirmation that she could bring in those employees from BBC that she felt had what it took for the repo department at PDM.
Leah has been in a romantic relationship with Ex chef EMS and now Paramedic Sam MaCntyre and is in an open relationship. She is in an on again / off again relationship with Officer Scarlet Winters.
Tony calls Leah's boss Saab to get a discount car at PDM.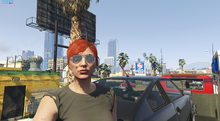 Leah gets the Manager position at Bad Boy Customs
Community content is available under
CC-BY-SA
unless otherwise noted.