Lavante "L" Lamano is a character role-played by TerribleJamie.
Description
Lavante "L" Lamano is a member of "The Families", the shadow owner of Herr Kutz Barber Shop, and is employed at various businesses including Digital Den and Fresh Out Apparel.
Background
Lavante was born and raised in the 'Casa Cristina', located on the corner of Carson Ave. and Forum Dr. in Southside, Los Santos. Lavante's mother secluded him from the outside world, as she feared that the overwhelming amount of gang activity in the area could severely effect her son. So until the age of 19, Lavante stayed in the courtyard of the Casa Cristina and would not attend any outside events other than school.
At the age of 19, Lavante was not doing much. He was sitting at home, doing drugs and not advancing his life. Lavante's mother would have enough of Lavante's lazy attitude and mindset and finally kick him out of her house. Only left with a couple of joints, a phone and one BMX bike, he stood outside his mother's apartment complex, waiting for her to change her mind.
A female gang banger by the name of Madison Fox would stroll by at one point, attempting to steal Lavante's bike. "Hey, that's my bike dawg" Madison quickly realizing the situation, introduced herself to Lavante and asked what he was doing around there. He would explain that he was recently kicked out of his mother's house, and needed to get his life in order. Madison decided to bring Lavante to the other side of Forum, where fellow members of GSF would be hanging out. She decided to hand him a few bags of weed and told him to go sell on the side of the street, thus starting Lavante's introduction into the Family gang life.
Herr Kutz Barber Shop
Lavante took heavy interest in the Herr Kutz Barber shop when mentioned it was owned by his fellow gang members. Lavante asked Triple OG Dexx if it was okay for him to cut hair at the shop on Carson. With Dexx's approval, Lavante began cutting the hair of those answering his yellow page and twatter ads. With the business growing and products becoming available to the public, Lavante partnered with Dexx Martin and Nikita Reznikov to get the official business licence for Herr Kutz Barber Shop. Due to Lavante's extensive criminal history, he was unable to obtain the business licence on his own accord. However, with the help of Nikita, Lavante is now one of the shadow owners of Herr Kutz Barber Shop.
Fresh Out
Lavante is the type of person that will thrive on something that he can come up with new and creative ideas for. When Dexx made mention of Fresh Out, he thought it would make a fantastic business to launder any dirty money. Lavante started to see the potential with Fresh Out at the farmers markets that had just open up in the county. Lavante's wheels started to spin and he began to create hats for the company. Different teams from different parts of the country. After presenting it to Dexx, he was able to have them approved by the city and now sells Hats for Dexx at Fresh Out. Lavante seeks to be a higher management position, and is working tirelessly to do so.
Murder of D-Money
Lavante was minding his own business, preparing for another day of barber work when 3 police cars rolled up on him on Forum Drive. Lavante having a natural reaction, took off running immediately without any question. He was eventually caught by Sgt. Baas and was informed of a warrant for his arrest. Lavante was then questioned for 3 hours by Sgt. Baas in regards to the murder of Deequan Reeves aka D-Money. The police department decided to file for 1st Degree Murder charges against Lavante, and sent him to Bollingbrook Pen. on a Hold until Trial. Lavante served 10 years in prison without charges on the docket, which led to his immediate release once his lawyer was informed. Lavante is now seeking retribution through a lawsuit with the LSPD.
Quotes
"Whas Happenin' Dawg"
"Come thru to Herr Kutz, will fix that shit up right quick for you"
"Be Easy Homeboy"
"I'm gon' kill you Billy"
Family Gang Progression
Prospect: January 28th, 2021
Baby Gangster: March 30th, 2021
Gangster: May 24th, 2021
Shotcaller: September 12th, 2021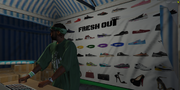 Gallery