Lauren Forcer is a character role-played by Kiwo.
General Description
Lauren Forcer is a Senior Deputy for the Blaine County Sheriff's Office, Badge #344.
She is a "Sergeant Detective" for the Major Crimes Division.
Physical Description
Lauren is a 36-year-old caucasian female with platinum blonde hair and blue eyes. Her hair is usually in a ponytail, but will occasionally wear it down while off-duty.
She has a very defining scar over the right side of her face, due to a point-blank blast from a shotgun, fired at her during a hostage situation.
Background Information
Formerly the "Assistant to the Commissioner" to Francis J Francer in Silverlake; she lost her job when the new Commissioner realized Lauren didn't actually do anything. Wanting to prove to herself that she could be a capable cop, she applied to the Blaine County Sheriff's Office.
Relationships
Romantic Relationships
Johnny Divine
Johnny Divine and Lauren have been together for two years. They recently returned to Los Santos after a two year-long vacation in Vice City.
Working Relationships
Blaine County Sheriff's Office
Travis Tribble
Travis Tribble is a father figure to Lauren. She acts as his personal caretaker.
Jenny Hall
Jenny Hall and Lauren are very much alike. Although their initial relationship was abrasive, over time it has grown and the two appear to respect each other. They frequently express their concerns and frustrations with one another.
Richard Dark
Richard Dark is Lauren's best friend. They studied and went to academy together.
San Andreas State Police
Jackie Snow
Jackie Snow is like a brother to Lauren. She has great admiration for him, and takes both his praise and criticism to heart.
Other Relationships
Denzel Williams
Denzel Williams and Lauren have a long antagonistic history together. Denzel shotgunned half her face off during a hostage situation, severed her pinky, blew her up with C4 and murdered two of her partners.
Momentous Dates within the PD
| Rank | Insignia | Note | Date |
| --- | --- | --- | --- |
| Deputy | | PD Ranking Restructure; Badge #344 | February 5th, 2021 |
| Deputy | | Appointed a "Detective" for the Major Crimes Division | March 3rd, 2021 |
| Deputy | | Promoted to "Sergeant Detective" within the Major Crimes Division | April 19th, 2021 |
| Deputy | | FTO Certified | May 18th, 2021 |
| Senior Deputy | | Promoted to Senior Deputy | May 21st, 2021 |
Major Events
Bid for Major Crimes Supervisor
Prior to the startup of the Major Crimes Division, Forcer had begun to act as an investigation supervisor in an effort to prove that she could lead an investigation department. She spent her first few weeks back in the city, having returned from a two year hiatus to Vice City with Johnny Divine, writing a proposal for a homicide department, as she also curated an investigation board which tracked every ongoing violent crime investigation.
Her first setback came on February 25th, 2021, when the Major Crimes Division was introduced with only one head, her partner Divine. Many people, including Forcer, were underwhelmed by this, as they had expected a division with multiple departments and a hierarchy; instead, the division initially had little to no structure whatsoever. Following this, Forcer was both notably discouraged to do any investigative work, while also struggling to internalize that her partner, Divine, had been chosen over her for the job. This was exasperated by a torrent of workplace harassment, where she was openly mocked for it by several of her peers. Over the next week, Forcer became more and more accepting of Divine's promotion, with the relationship between the two returning back to normal just prior to Forcer being added to MCD as a detective on March 3rd.
Over the next few weeks, Divine made it apparent that he wanted Forcer to be a supervisor for MCD. He approached Jackie Snow and asked whether he would write a letter of recommendation for making Forcer an MCD supervisor, with Jackie Snow agreeing to do so. Around this time, Forcer took a leave of absence from March 10th until March 17th, with the given reason being workplace harassment causing her to feel unsafe on the job. Shortly after her return to duty, she had a minor disagreement with Snow, which was cleared up shortly after. This was when Snow revealed to Forcer that he was writing this letter of recommendation, making a potential MCD supervisor role seem much more likely to her.
On March 18th, there was an MCD meeting. During this meeting, the division was further subdivided into three units, with each unit having a supervisor. While it seemed likely that Forcer would be the supervisor for the Violent Crimes Unit, the position ultimately went to Jenny Hall instead.
Major Crimes Division Autonomy
On April 18th, 2021, alongside the appointment of the new Sheriff, Kyle Pred, both the Personnel and Training Division and the Major Crimes Division were granted autonomy to be run by their respective leaders without interference from the command staff of either the Los Santos Police Department or the Blaine County Sheriff's Office.
---
On April 19th, 2021, Johnny Divine approached Forcer, his fiance, for a discussion within the Mission Row Police Department. He offered her the Violent Crimes unit supervisor position within MCD, a position at the time held by Jenny Hall. If she accepted, Hall would keep her rank of "Senior Detective" and she would be promoted above Hall to "Sergeant Detective", resulting in Hall losing her supervisor role. He also claimed that Sheriff Pred had approved this beforehand. Forcer's immediate response was that she wasn't comfortable taking the supervisor position from Hall, as she herself hadn't investigated anything in over a month and Hall had recently lost her run for Sheriff of the BCSO.
"I don't want her at the supervisor role; she was never my choice."
- Divine on Hall as an MCD supervisor
Divine went further to state that he wouldn't be keeping Hall as a supervisor regardless. After this brief discussion, Forcer agreed to meet again later in the day with Sheriff Pred.
---
Forcer confided in several people about this impending decision throughout the day. Both Matthew Espinoz and Jackie Snow urged her to speak with Hall prior to officially accepting the supervisor promotion.
Forcer then approached Divine and stated that she wanted Hall spoken to before she would accept the supervisor promotion, which Divine stated he would do through email. Forcer still wasn't entirely convinced, as she and Divine argued back and forth on it.
"Even though you fully deserved it and you earned it. She never turned down the position. She never came to you to speak about accepting it."
- Divine on Hall accepting the MCD Supervisor position over Forcer
This conversation ended with Forcer stating that she'd take the supervisor promotion on one condition: she needed Hall's blessing on it.
---
Later that day, Forcer once again met to speak with Divine. She initially requested to be put as the temporary supervisor for the Violent Crimes unit, at the rank of "Senior Detective". Upon further insistence from Divine that he would take care of Hall, Forcer finally accepted the supervisor promotion to "Sergeant Detective". Only moments later, Hall herself called Forcer, both urging her to accept the supervisor promotion and wishing her luck with it.
"Congratulations, Sergeant"
- Hall to Forcer during the phone call
As Forcer was speaking with Hall on the phone, Divine was speaking with Sheriff Pred on the phone as well. It soon became apparent that Divine had made a false assumption: he thought that Sheriff Pred approving the promotion of Forcer to "Sergeant Detective" also meant that she would be given the patrol rank of Sergeant within the BCSO. Divine had already stated multiple times to Forcer even that she would be promoted to Sergeant of the BCSO if she were to accept the supervisor promotion, which Sheriff Pred now refused.
---
This phone call quickly led to an in-person meeting, where tempers flared. Sheriff Pred didn't see a valid reason for MCD's internal ranking structure to have any bearing on the patrol rank of its members, as Divine tried to hang the prospect of his own transfer from LSPD to BCSO over Sheriff Pred's head. Sheriff Pred didn't waver, stating firmly that the BCSO wouldn't recognize Forcer as a Sergeant within its ranks. After this conversation ended, Forcer formally accepted the role of supervisor, as a "Sergeant Detective", for MCD, even though she wouldn't have the patrol rank within the BCSO to match it.
It was later revealed to Forcer that Divine gave Hall no option but to step down from her supervisor position within MCD, with Divine outright stating within the email to Hall that she wasn't his pick for the supervisor position in the first place. On May 26th, 2021, Hall relayed this information to Sheriff Pred and Undersheriff Rhodes during a private meeting, further deteriorating Sheriff Pred's opinion of MCD.
Eighth Amendment - Forcer's Law
Serial Assault and Killings
Any individual who commits the offense of Attempted 1st Degree Murder on three or more separate occasions, with each attack showing premeditation or clear intent occurring in separate events at different times, and sharing common characteristics such as to suggest the reasonable possibility that the crimes were committed by the same actor or actors, may be subject to penalty up to and including life imprisonment or the death penalty.
Trivia
Gallery
Lauren Forcer is a character role-played by Kiwo.
General Description
Lauren Forcer is a Senior Deputy for the Blaine County Sheriff's Office, Badge #344.
She was previously a Cadet for the Los Santos Police Department, Badge #544.
Physical Description
Lauren is a 33-year old caucasian female with naturally white hair, that is dyed blonde.
She has a very defining scar over the right side of her face, due to a point-blank blast from a shotgun, fired at her during a hostage situation.
Background Information
Formerly the "Assistant to the Commissioner" to Francis J Francer in Silverlake; she lost her job when the new Commissioner realized Lauren didn't actually do anything. Wanting to prove to herself that she could be a capable cop, she applied to the Los Santos Police Department.
Relationships
Blaine County Sheriff's Office
Travis Tribble
Travis Tribble and Lauren have an almost parental-like relationship. Tribble makes her drive him around, and she feels comfortable enough to talk to him about a lot of things. After asking him, Lauren is now his "Assistant (to the) Sheriff".
After achieving the title "Assistant (to the) Sheriff", Lauren was bestowed with the prestigious title of "Unicorn Sparkly Balls Deputy". She was given this title to make herself feel special.
Rocko Colombo
Rocko Colombo has shown to be caring and supportive towards Lauren, even with his stern personality. She has on multiple occasions referred to him as "BCSO Dad."
Jenny Hall
Jenny Hall and Lauren are very much alike. After taking Lauren under her wing, Hall and her have been working on multiple cases together. Although their initial relationship was abrasive, over time it has grown and the two appear to respect each other. They frequently express their concerns and frustrations with one another.
Conan Clarkson
Conan Clarkson was one of the FTOs that Lauren felt most at ease with. His goofy attitude helped calm her nerves during their ridealongs. Lauren is very fond of him, and the two often goof around together.
On January 14th, 2020, Conan Clarkson was arrested, due to having a warrant for "Failing to Appear In Court". Conan surrendered himself to Lauren, she was heartbroken to arrest the man that had trained her.
Michael Dias †
Michael Dias and Lauren grew close and were often partners riding together. Dias quickly became very protective of Lauren. However, after a while, she began to feel that he was too overbearing. The relationship between the two had recently been on the rocks, with Lauren sleeping overnight at her office, instead of their shared house.
Following the death of Dias, Lauren regrets not opening up to him about her feelings. She has made it her personal goal to make him proud of her; and become a stronger, more confident person and deputy.
Richard Dark
Richard Dark and Lauren met when they were still applicants, and instantly became friends. Richard has since been a shoulder for Lauren to lean on. Lauren attended the wedding between Dark and Matt Rhodes, and during the ceremony, Dark requested that Lauren was to be his Maid of Honour. Lauren accepted and gave a very heartfelt speech. Everybody cried.
Dante Wolf
Dante Wolf was the first Law Enforcement Officer that Lauren met in the city. She was attempting to hitch a ride on top of a truck back into the city, when she fell off and subsequently was ran over. Wolf found Lauren's body in the middle of the freeway and stayed with her until the EMS arrived. He claimed that he was going to arrest her for hitchhiking.
The duo has a good relationship; Wolf was there for Lauren during a lot of academy and her ride-along sessions. Lauren frequently seeks his advice whenever she needs assistance with anything Detective related.
Lyonel Winchester †
Special Agent / Deputy Lyonel Winchester and Lauren Forcer both had a love for investigations. When Lyonel returned to the Sheriff's Office, the two were frequently seen riding, investigating, and working together. The two had a good friendship, and often shared awkward flirtatious comments with one another.
On February 5th, 2020, Lyonel was ambushed on the steps of the courthouse and was shot by Eugene Zuckerberg. Lyonel was rushed into immediate surgery, and a note was found on his person which read: "I'm sorry Lauren." Lauren slept in Lyonel's room in the Intensive Care Unit that night - she blames herself for being distracted when Lyonel was shot. Lyonel, unfortunately, passed away on March 20th, 2020. Lyonel was the third person that is close to her to pass away. Feeling beaten down by her current position in the police department, Lauren is numb to the death of Lyonel. Before Lyonel's funeral, Bodean Tucker took Lauren aside to tell her about something Lyonel has told him before he passed away. Tucker told Lauren that Lyonel had fallen in love with her and that he regrets not telling her and letting his feelings affect their relationship. Lauren told Tucker that she had already worked that out and that she doesn't understand why this keeps happening to her. First Michael Dias, and now Lyonel.
Jerry Perkins
Jerry Perkins when combined with Lauren Forcer become the unstoppable duo of going by the name Forskins. The two work efficiently together and always have each other's back. Recently they apprehended three of the four Teenage Mutant Ninja Turtles.
Bodean Tucker †
Bodean Tucker and Lauren were initially very close. Bo would often refer to Lauren as being "like a sister" to him. They would often discuss their romantic relationships with each other, and confide on significant life events and worries with each other.
Following the death of Michael Dias, Bo began to make flirtatious remarks towards Lauren. Commenting on her appearance, and proposing that the two have casual sex together. Lauren did not reciprocate these feelings towards Bo.
On December 18th, 2019, Bo switched from the BCSO to the LSPD. Initially, Lauren was upset that Bo had made the switch, due to her own personal experiences within the department. This eventually would lead to snarky comments being made to each other in person. Their relationship grew hostile and they would frequently argue.
Bo sent Lauren a text message telling her that he had lost his way and that he was returning home to work on his mother's house. Attached to the message was a photograph of Bo back in his BCSO uniform. On February 13th, 2020, Bo returned to the BCSO.
"You're family." - Bo to Forcer.
Clarence Williams
In light of his divorce and becoming a single man, Sergeant Clarence Williams and Lauren have begun a no strings attached relationship recently, hooking-up casually.
Prior to their casual sexual relationship, the two have had quite a good friendship together. They have a good rapport, banter and they work extremely well together, whilst having fun.
"Hell yeah, she cute! That's why I'm trying to bang!" - Williams, on Forcer.
Ben Kruezer
After experiencing so much loss, Lauren was struggling to make romantic connections. This resulted in her ending her relationship with Lawrence Splainer. She was concerned that he was going to be hurt if he pursued a relationship with her.
While grabbing her lunch from the vending machine at the Police Department, Lauren stumbled upon Correctional Officer Ben Kruezer she was struck with an immediate crush, and found herself becoming more awkward than usual when around him.
Lauren began to spend time around Kruezer as he worked his job at Bolingbroke Penitentiary in order to get to know him better. She couldn't work up the confidence to ask for his phone number, however, so she asked Inmates Daphne Tillamuck and Kylie Winters to be her wing-women. The two succeed, and Lauren acquired the much sought after phone number.
The two proceeded to have a few dates. Lauren realized how alike Kruezer and her are, to the point that they are both incredibly awkward.
Lauren discovered that Kruezer has been expressing interest in becoming a Deputy for the past four months, however, he has had no luck getting into any academies. So, Lauren made it her mission to get Kruezer in front of the Undersheriff, Rocko Colombo.
On May 9th, 2020, Kruezer called Lauren up to meet him at Sandy Shore's Sheriff Office. Upon her arrival, she was asked to wait outside, while Kruezer went and grabbed something he left inside. He exited the office donning his new BCSO uniform. The two then proceeded to hug, and in Lauren's words:
"I guess you could say it's getting pretty serious." - Forcer, after hugging Ben.
Los Santos Police Department
Brittany Angel
Brittany Angel and Lauren have had a long, complex relationship. When Lauren first joined Law Enforcement as an Officer for the LSPD, Angel viewed Lauren as a daughter figure. She wanted to shape and form Lauren into an image of herself. When Lauren switched to BCSO, Angel felt betrayed by Lauren. Claiming that: "There goes my pride and joy."
Around the same time that Lauren switched departments, Angel and Officer Kyle Pred started a romantic relationship together. Lauren felt conflicted by this, due to having an on-going casual sexual relationship with Pred at the time.
The relationship between Angel and Lauren appeared to remain the same for quite a few months until Angel became frustrated with Lauren. Describing Lauren as "basically a cadet" to the Chief of Police. Although Lauren did not find out about being spoken about in this way, she was feeling similar frustrations towards Angel at this time. As retaliation to this frustration, Lauren decided to have sex with Pred on the desk in the Captians Office in MRPD. Angel was not happy when she found out about Pred and Lauren, calling Lauren a homewrecker amongst other things.
Recently, Lauren and Angel have reconciled their differences. Their relationship is stronger than ever, the two have been seen riding together and thriving as partners. They have also had a "three-way pizza party" which included Lance Malton, however, he was only allowed to watch.
On the day of Deputy Lyonel Winchester's funeral, Angel and Lauren were briefly discussing their differences in the past. Angel told Lauren that she had been talking poorly about her behind her back. Lauren forgave her, and the two declared their mutual (platonic) love for one another. Angel then invited Lauren around for another "pizza party."
Vladimir Raven
Despite their awkward first interaction; Vladimir Raven and Lauren quickly bonded over alcohol, sex toys, and a court case involving a bear.
After the death of Michael Dias, their relationship declined. The two were longer seem to be on speaking terms, due to Raven's opinions towards Dias, and more importantly, his response to Dias' death "not being much of a loss".
Since Raven's step down as the Chief of Police for the LSPD, their relationship has improved exponentially. Recently, they have been seen riding together and their old rapport has returned.
Emily Reinhart
Emily Reinhart helped Lauren deal with her anxiety and panic attacks during the academy. Afterward, Reinhart invited her to move in, and the two became roommates.
AJ Hunter
AJ Hunter was one of Lauren's favorite FTOs. She looks up to him with great respect; as shown when she testified for him and Conan Clarkson during an "SBS" court case. Hunter claims that Lauren is such a good driver due to him, personally, being her FTO.
Jack Ripley
Originally, Lauren was not a fan of Jack Ripley. During her cadet phase, Ripley would tease her, this teasing soon laid to animosity between the two when Lauren learned of his affiliation and stance with the HOA. Ripley was one of the contributing factors which caused Lauren to transfer to the BCSO. However, over time they settled their differences and began an effective, yet fun partnership together. At one stage Lauren believed she was attracted to Ripley, but she soon realized it was nothing.
After Ripley's time spent in Parsons Rehabilitation Center, he appears to be a lot more open to Lauren. Expressing his concerns for his own mental and physical health, but that of other's too.
Brian Knight
Brian Knight has had an interesting relationship with Lauren. Lauren was initially concerned for Brain's health when Kael Soze put Brian under a strict diet regime. Lauren began to notice changes in Brian's appearance; including severe weight loss, and his complexion turning a sickly color. Along with the help of some of her fellow Deputies and Officers, Lauren managed to get Brian to medical professionals, and since has made a full recovery.
Recently, Lauren and Brian were working on an investigation into stolen police weaponry. They were advised to keep it tight-lipped, until more information on the situation was available. As a result, the duo claimed that they were "having sex", as to not raise suspicions that they were working on an investigation.
Kyle Pred
Kyle Pred and Forcer had an affair during police academy and cadet phase, which came to an abrupt end upon Pred and Brittany Angel becoming "just friends". Pred and Forcer had somewhat sour relations for quite some time until they found a common interest in Harry Potter that rekindled their friendship. Nowadays the two get along well.
After Pred's resignation from the LSPD, Pred and Forcer linked up one night to discuss things. Pred told Forcer about his frustrations with the LSPD and his brother, Jordan Steele. Forcer understood Pred's frustrations due to her history in the LSPD and gave Pred the idea of possibly joining the BCSO instead.
Upon joining the BCSO on February 25th, 2020, Pred acknowledged Forcer as one of his best friends.
"She's like my best friend, but she's definitely a serial killer." - Pred about Lauren.
Francis J Francer
Francis J Francer and Lauren have a history together. She was his assistant in Silverlake, where she would feed him donuts and give tummy rubs.
San Andreas State Police
Kael Soze
Kael Soze has been a constant presence in Lauren's police career. The two have done ridealongs since her applicant days and surprisingly get along very well together. Throughout their time together Kael has made it very obvious to Lauren that he is not attracted to her, and that he is a panty tease and an Equalist.
Kael has been making comments on how pointy Lauren's elbows are, and that they, unfortunately, make her less attractive. However, these insults were actually Kael's way of misleading Lauren into thinking that he did not find her attractive. As on April 27th, 2020, while riding in the back of a box truck together. Kael asked if he could lick Lauren's pointy elbows, and was amazed to discover that they tasted like elbow, not chocolate.
Jackie Snow
Lauren sees Jackie Snow as a brother figure and has great admiration for him. She tends to take both his praise and criticism to heart, once nearly crying from his anger at her during a conversation about the Joint Task Force. The two often tease each other with Snow one time asking over the radio if Lauren had a crush on the district attorney, Lawrence Splainer.
"Snow is like a disappointed older brother." - Lauren, after being questioned by Tribble.
Other
Coop Holliday
Lauren and Coop Holliday were casual sex buddies and liked to "take turns" in the bedroom. Lauren has stated there were no feelings involved but asked for keys to his house.
On January 15th, 2020, Coop decided to end their relationship, due to finding out she has had casual sexual encounters with other people. He described her as "tainted".
Pat Downing
Lauren's original sex buddy; Pat Downing and her were quick to hook up, despite their supposed dislike for one another.
Jessie Skid
Jessie Skid and Lauren had a special friendship. Despite being wary of him at times, Lauren was still very protective of him and wanted to see him get better. In turn, Lauren was one of three people Jessie trusted. Lauren was shocked and upset by Jessie's passing. Lauren, along with Senior Deputy Jenny Hall, wished to arrange a funeral service for him.
Lawrence Splainer
Lawrence Splainer and Lauren have a very close working relationship. Lauren respects the work that the Department of Justice does, and tries to seek their council whenever available. Lawrence appears to mutually respect Lauren and has frequently praised her on her thoroughness when report writing. Lawrence even had a letter of appreciation written from the DoJ to Lauren, to thank her for her continued good work.
Although their relationship is strictly professional, Lawrence has complimented Lauren on her appearance and flirted with her on occasion. Despite Lauren never expressing interest in Lawrence, she was recently embarrassed when Officer Brian Knight commented on himself and Lauren having sex (as a cover-up for an investigation the two were working on) in front of Lawrence. Lauren then told Knight in private that he had "cock blocked her".
On February 15th, 2020, during the court case regarding the attempted murder charges against Chasity Dawes, Lawrence took Lauren to the District Attorney's office. He did this under the guise of just wanting to show her around when he really wanted to confess his feelings towards her. Lauren interrupted his confession and made the first move, kissing him. Lawrence reciprocated, kissing her back.
Feeling uncertain of their relationship Lawrence recently pressured Lauren into confessing how she sees their relationship. Lawrence referenced his own relationship with the late Nora Dupres to that of Lauren and Michael Dias. Lauren did not respond well, telling Lawrence that she couldn't be with him, as she was scared of being hurt and losing another person close to her.
Since this event, their relationship has become strictly professional. Once Lawrence would refer to Lauren as "breathtaking", he now refers to her as just "Deputy".
Jordan Steele
Forcer and former Officer, Jordan Steele, have an ongoing rivalry since they both started as cadets. He often playfully mocks her, based on her hairstyle changes, while Forcer often reports Steele and punches him. Tension slowly built between the duo, to the point that Steele tased Forcer on the steps of Mission Row Police Department, and then detained her for arrest.
At the same time, Trooper Tony Andrews was at the front doors of the department. He instantly called the two into the Captain's Office, and a lengthy discussion unfolded. Andrews decided that it was best that the two ride together to deal with their issues face-on. Apprehensive at first, the two have ridden together on multiple occasions, and so far their relationship has improved greatly.
Jason Ledson
Doctor Jason Ledson and Lauren's friendship bloomed out of the most unfortunate of circumstances. After Lauren was forced at gunpoint to stab Ledson[1], most people would believe their friendship was not meant to be. However, this was not the case. The two love gossiping about people, especially Senior Deputy Jenny Hall, discussing their love lives and dancing to classic beats from 1990 to the early 2000s. Ledson also proposed that Lauren should use her relationship curse to sleep her way to the top of the Police Department.[2]
Major Events
The Death of Deputy Tony Tiger
During August 27th, 2019 and two weeks into her cadet training, Forcer experienced her first death. While responding to multiple shots fired in the South Side, Deputy Tony Tiger was shot multiple times and incapacitated.
Bullets raining around herself, Forcer dragged the near lifeless body of Tiger to nearby cover, and began to apply pressure to his wounds. Unable to stop or slow the bleeding, Forcer made the decision to transport the Deputy to Pillbox Medical Center.
Medical staff attempted to save Deputy Tiger's life, however, he would shortly die in Forcer's arms. Forcer had never met Deputy Tiger before this day, and he would shape the police officer she would become. Forcer's happy-go-lucky attitude seemed to disappear, becoming concerned for the well-being of not only her brother's and sister's in blue, but of all citizens of San Andreas state.
Scarred
Chapter One: "Executed"
On November 26th, 2019, Forcer ran after a suspect leaving a shootout, Denzel Williams, into the water canals. After tackling him once, Denzel ran for the deeper water. Upon her final attempt to detain him, he turned around and pulled a shotgun to her.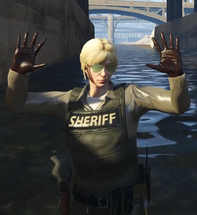 Denzel asked her to drop her weapons in the water - he didn't want to shoot her, or take anything from her; he just wanted free passage. His demands were clear; as long as the police didn't shoot at him, he wouldn't blast Forcer with the shotgun. Denzel asked Forcer to relay his request on the police radio frequency to her fellow officers.

Unfortunately, all of the officers had changed frequencies during the situation, as to not have their channel compromised. Forcer attempted to explain this to Denzel, however, mid-sentence, a cop car could be heard driving by, and shots were heard firing toward their location. Denzel then aimed the shotgun at Lauren's head and fired a total of four times.
"I'm so sorry, Forcer, alright? I'm sorry; it's nothing personal." Denzel before shooting Forcer in the head.[3]
---
Chapter Two: "Aftermath"
Lauren was immediately rushed to Pillbox Medical Center for emergency treatment; undergoing intensive reconstructive and cosmetic surgery for the damage inflicted to her face and skull.
While the surgeons were able to save her life, Lauren now has a very large facial scar from the shotgun blast damage. Though the scar is likely to never heal completely, Lauren maintains physical confidence, as it gives her character in her appearance.
The Death of Michael Dias
Chapter One: "Mikey"
Lauren has been struggling after the death of Michael Dias on November 30th, 2019. She regrets the fact that she never let him in, or gave him a proper chance and return his romantic feelings. Lauren has started wearing his old jacket as a remembrance and has pledged to be a stronger person, as a promise to Dias.
Dias left Lauren a letter the morning of his death, questioning her about their relationship situation. He asked if he should just let it go, or hold on to something that wasn't there. Dias also noted that he missed her, and hoped to talk to her soon. Lauren found the letter when she returned to their home with Hedi Saurus; following their visit to the morgue for their final goodbye to Dias.
---
Chapter Two: "A Letter"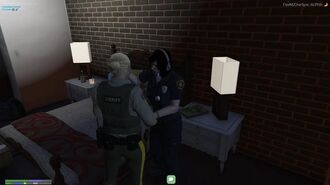 ---
Chapter Three: "Hallucinations"
It was December 2nd, 2019, and Lauren stood atop Raton Pass watching the still Alamo Sea. Lauren was trying to distract herself from the death of Michael Dias by forcing herself on duty, but he was forever on her mind. From the silence came a familiar voice, and Lauren could see Dias stood next to her. There was no denying that it was him, from his signature cowboy hat and beard, to his jacket with the badge "323" pinned onto it. The two had a brief exchange of words, Lauren fighting back tears with every word she spoke. Dias told Lauren he would always love her, and said his final goodbye. Kissing her on the cheek.[4] Lauren looked over to see if Dias was still there, and he was gone.
Lauren had been wearing Dias' jacket since his passing, she wiped her tears onto the sleeve and walked back to her Police cruiser. Jack Knaves was stood next to her vehicle, enveloped in cigarette smoke. Knaves questioned Lauren's sanity, and began to taunt her. But, before a conversation could begin, he was gone. All that could be heard was the sickly cackling of Knaves.[5]
The Return of Lauren Forcer
After the passing of Michael Dias, Jessie Skid, and Lyonel Winchester, Lauren had become a shell of her former self. She found herself struggling to open up to people, be that romantic or work-related. Lauren adapted a Lone Wolf mentality, secluding herself from her colleagues. She would often find herself butting heads with her colleagues making her feel even more isolated. Her frustrations within the Police Department reached their peak when she was not invited to join the new Joint Task Force, she felt disheartened and felt as if all of the hours she had poured into investigative work did not matter. All of this combined with an on-going feeling that she was not respected by members of the Police Department.
Lauren took a much-needed break from work, only appearing on duty when she was required and in short bursts. When Lauren returned, she returned in full-force. Timid and shy of conflict no more. Lauren faced her issues front on, and demanded respect. This new side of Lauren seemed to work. Previously people Lauren believed to not respect her, were singing her praise. It was not long until she was inundated with new investigations to undertake.
Moving on from Mikey
It was not uncommon for Lauren to never visit her property at South Mo Milton Drive - It reminded her too much of Michael Dias. She was often late to pay the mortgage just so she would not have to the empty home. Lauren had made immeasurable progress on learning how to cope with Dias' death, she understood that it would always be a part of her but also, knew it was time to move on.
Lauren had attempted to date various people, some casually and some more serious. They helped her to an extent, but she would still find herself returning to Raton Pass to stand at Dias's favorite spot. Sometimes to talk to him, other times to just reflect on what was going on around her.
On April 23rd, 2020, Lauren met Correctional Officer Ben Kruezer. She was instantly smitten by him, and found herself developing a child-like crush for him, and becoming tongue-tied at the sight of him. Lauren spent countless hours at Bolingbroke Penitentiary just to have an excuse to talk to him. She discovered that he was interested in joining the BCSO, Lauren used her close ties to the Undersheriff, Rocko Colombo, to arrange an interview for Kruezer.
While waiting for Kruezer's interview on April 25th, 2020, Lauren took Kruezer out in her Sentinel Classic. The two drove around discussing the Police Department and his reasons and motives for joining. Lauren soon learned that their ethics and ideologies were nearly identical. Unfortunately, their conversation took a turn and they were soon discussing the death of Deputy Tony Tiger, Kruezer, however, misinterpreted who Lauren was talking about, and assumed she was referring to the death of Dias. He told Lauren that he was an EMS at the time, and he was the responding medic. He reassured Lauren that he did everything he could to help him, he also revealed to Lauren that Dias had attended work that day with no tactical vest on.
Although this did not seem to impact the way Lauren felt towards Kruezer, it was a strange twist of fate that she would feel this way towards the man that spent time with Dias during his final moments. Only time will tell where the relationship between the two will go.
Holiday
Regardless of the breaks she had taken, amounting pressure finally reached it's peak, causing Lauren to go on a leave of absence. Officially starting on May 13th, 2020, and ending on May 18th, 2020. Lauren was finally able to dedicate time to herself.
During her first day off, Lauren encountered Irwin Dundee. She informed Mr. Dundee that she was seeking therapy. Lauren had not seen Mr. Dundee for quite some time, and he informed her that he could be her therapist - He even had a facility!
Lauren arrived at The Billabong, and soon found herself attending what seemed like a regular therapy session. It was in an official-looking office building, there was a reception with a receptionist and even a waiting area. It was not long until Mr. Dundee began discussing experimental therapy. Lauren was open to the idea, and soon found herself being coerced into a "Therapy Cage".
The cage was not what Lauren expected. It eerily resembled one of the prison cells at Mission Row. Lauren immediately realized the situation she was now in, whenever her captives were not watching her, she would send a text message to Deputy Cadet Ben Kruezer.
Various members of the Bondi Boys MC would come to speak to Lauren, each offering her narcotics. Be that legal or illegal. Lauren accepted the items, but didn't take them. Wary of what they all are. Irwin Dundee had left Lauren, shortly after her being placed in the cage. He returned, and Lauren was sickened by what she saw.
Standing in front of Lauren was Irwin Dundee, clad in an outfit to look like the late Michael Dias. Mr. Dundee began taunting Lauren, insulting her, telling her she was weak and finally blaming Lauren for the death of Dias. Lauren was disgusted, she found herself screaming at Mr. Dundee - Lauren would remember this.
Before Lauren's release, Mr. Dundee served his final blow. Telling Lauren that nobody cared about her, and the only person that would ever love her is dead. He snapped a photograph of himself with Lauren, then posted it to Twatter. Mere seconds later the Police were kicking the door down of Mr. Dundee's facility. Mr. Dundee released her from the cage, and she fled the building. Lauren was welcomed outside by the whole police department, they were all there to save her - they did care.
Following her botched therapy, Lauren sought out, licensed Psychologist Johnathan Wright. The two partook in a session together on Raton Pass, at Dias' spot overlooking the Alamo Sea. Wright gave Lauren a lot of useful advice on how to ground herself, and urged her on the importance of dedicating time to herself.
For the first time since the passing of Jessie Skid, Lauren confided in someone about the issues facing her. She told Wright about her experiences with Dias, Lyonel Winchester, and Lawrence Splainer; and how she feels like she laid them all on. He proposed that perhaps Lauren should apologize to Splainer, and use that apology as a way to symbolically apologize to all three men. Wright also taught Lauren the importance of not dwelling on the negatives. Looking at the positives, no matter how small, or insignificant they feel.
After her therapy session on May 14th, 2020, Lauren went on another date with Ben Kruezer. At the end of the date she was hanging-out with Doctor Ledson, the two went to PDM so that Ledson could make a sale for his second job as a car salesman. Ledson's client was none other than Brett Biggledoinks. Brett was immediately infatuated with Lauren. He took the two to the Bean Machine, where he then held-up the establishment with a shotgun and proceeded to kidnap the off-duty Deputy and Doctor. Lauren successfully managed to make a sneaky call to 311, informing the Police Department that there was a shotgun at Bean Machine.
Brett took the two to a secluded location on Route 66. Brett gave the knight to Lauren and told her to stab the doctor, or else he would execute the two of them with a shotgun. Lauren apologized while stabbing him - making sure she stabbed him in a location that would have the lowest chance of being lethal. Brett then forced Lauren to dump the wounded doctor into the nearby creek. Brett inebriated with his love for Lauren after stabbing the doctor, could not decide what to do next. He settled on wanting the phone number of Cadet Jim Underwood. Lauren contacted Trooper Jackie Snow and very confidently asked for the number of Underwood. It was not suspicious at all. Snow refused to give her the number.
Lauren was then taken by Brett to Catfish View. Removing the knife from her person on the ride over. He told Lauren that he was going to hunt her down, and told her to run for her life. Lauren successfully hid from Brett, who's gunshots had alerted the Police Department. She then managed to find Senior Deputy Dante Wolf who ferried her away to safety. She relayed the doctor's location to Wolf, while Brett fought his last stand inside a meth lab. Lauren, Brett, and Ledson were all treated at Pillbox Medical Center. Brett was taken away to Mission Row in handcuffs, after experiencing what he would consider a successful date.
Momentous Dates within the PD
| Rank | Insignia | Note | Date |
| --- | --- | --- | --- |
| Recruit | - | Accepted into Academy | August 10th, 2019 |
| Cadet | | Passed Academy; Badge #544 | August 14th, 2019 |
| Solo Cadet | | Cleared for Solo Patrol; Badge #644 | September 9th, 2019 |
| Solo Cadet | | Transferred to the BCSO | September 25th, 2019 |
| Solo Cadet | | Had a surprise final eval in the form of leading a raid on Outto-Tune Tyrone | September 30th, 2019 |
| Deputy | | Promoted after being recommended to it by Trooper Tony Andrews; Badge #344[6] | October 1st, 2019 |
| Senior Deputy | | Promoted by Undersheriff Rocko Colombo | May 21st, 2020 |
| Senior Deputy | | FTO Certified | June 21st, 2020 |
| Senior Deputy | | Invited into Internal Affairs | August 24th, 2020 |
| Senior Deputy | | Air Certified | January 24th, 2021 |
Quotes
"Hey, hi, how are ya?"
"Frick."
"SHOW ME SOME HANDS! HAMS! HAMS! HAAAAMS!"
"I'm gonna fucking die!"
"Tits!"
"Excuse me?"
"I have an office."
"LICENSE, REGISTRATION, PROOF OF INSURANCE, PLEASE!"
"Hostage! Are you fed and watered?"
Trivia
Highlights
Gallery
References
Community content is available under
CC-BY-SA
unless otherwise noted.