Fire Emblem Warriors: Three Hopes - The Loop
Play Sound

Kyrin-Chan WeuhBou, also known as Leyla Nightingale of Embervale, is a character role-played by ItsLeslie.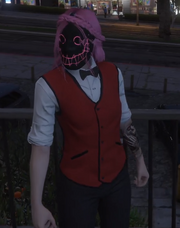 Description
Leyla Nightingale sports a full black body suit with glowing pink detailing. To match, she sports a black and pink mask with a crudely drawn face and her hair is dyed pink as well.
Despite the slightly intimidating attire, Leyla is a kind, soft-spoken individual who is ready to help people at any moment. She is always the first to offer food, water, or even money to those in need. She is very naïve, often misunderstanding conversation about robberies, guns, and other illegal activity. Ms. Nightingale enjoys spending time at the Diamond Resort and Casino as well as Rooster's Rest, where she works. Leyla feels very close to her co-workers at the Rooster's Rest, often referring to them as family. Particularly, she refers to Lang Buddha as "Daddy Lang" due to his paternal guidance he provides.
Recently, Leyla has started to try her hand at house robberies. While this came as a shock to many, her sweet, innocent disposition might be the perfect thing to fool the cops.
Notable Incidents
Ride Or Die Incident
Leyla had a brief encounter with Jean Paul who picked her up in his stolen vehicle after he apologized to her for running her over. Jean drove her around to showcase his driving skills, he noticed some police cars driving towards a spot where racers were, he had beef with these racers. He warned her that his plan with the racers would get bloody, but she accepted it and replied with "I love blood."
Jean Paul entrusted Leyla with the sports car that he had used, telling her to make sure she would never lose it or else she would serve Mac n Cheese for months. Leyla drove off with the car in a panic, not knowing what the plan would be. This resulted in Jean thinking that she had stolen his car and left him alone. Leyla did however drive back in hopes of helping Jean. She ended up driving really quickly resulting in the police driving after her, Leyla crashed her vehicle during the pursuit and the police were surprised to see her due to probably thinking that the driver was Jean Paul whom they had chased earlier.
Whilst the police interrogated her on why she drove the car and where she got it from, she didn't mention X or the Ghost Rider but did tell them that a "Demon" made her drive the car really fast.
Vault Hostage Incident
Outside the apartments, Bo, Leyla, Four Tee, and 2 others were taken hostage for a vault heist conducted by Yuno Sykk, Lang Buddha, Jean Paul, and Tony Corleone.
Relationships
Friends
Criminal Record
Unregistered Crimes
Quotes
"Surprise!"
"That came out of nowhere"
"Calculated"
"Weeeee"
"Yayyy!"
"Gamba! Gamba!"
Trivia
She cares quite a lot about her friends. She tries to be kind to everyone she meets.
She often does a "friend tackle" whenever she sees her friends.
She claims that whenever she dresses up in her criminal outfit "Bane Anna", she calls it a cosplay.
She now also uses the name Luigi since Bo came up with it while they were trying to think of alternative names as they commit criminal activities.
She has a toy that is designed to look like her that they sell in a collection at the Rooster's Rest. She is one of the rarer toys in the collection.
Gallery