Kyle Brovloski is a character role-played by Keeno
Description
Kyle Brovloski is a homeless man living under the bridge at the entrance of the Southside, near the Vanilla Unicorn. Kyle usually spends his time under the "Hobo Bridge" chasing tow trucks and delivery vans for spare change. Currently Kyle works at the Burger Shot as a part time cook.
Kyle grows an onion patch at the back of the Hobo Bridge which he nurtures by using his feces as fertilizer. He claims to be using the onions as an ingredient for his own business, the Hobo Burgers.
Kyle loves to host a number of events. He hosts a fighting tournament called "Hobo Boxing" which is often held during Fridays. He also plays a game of "Who Wants To Be A Millionaire", and "Hobo Quest". Kyle holds the hobo initiation for aspiring hobos.
When not working at the Burger Shot, he works in his Hobo Burgers business with a taco truck, parking it under the Hobo Bridge. Kyle also moonlights as a super hero/villain called Birdman after using the alter ego as a disguise from joining Robert's ghost-busting crew The Nut Busters. Together with Billy Sprinkle's alter ego Hobo Claus they troll the night robbing delivery drivers and hunters' cars of pelts in the country side.
Kyle recently pulled off a successful heist at the chicken factory, and roped Steven Hayes into his first crime.
Hobo Initiation (Bridge Jump)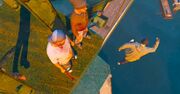 As self-proclaimed leader of hobos (as every other hobo call themselves), Kyle holds an initiation test for interested people to be a part of the Hobo gang. The test takes place at the highest bridge near the Port of Los Santos where the candidate then jumps off and succeeds being fully hobo when the candidate lands on the river water.
Not many people survive the fall and only succeeded being caught by concrete. When such candidates fail the jump, they still become hobos.
Participants of the initiation that are not willing to become hobos are called honorary hobos.
Relationships
Friends
Foes
Criminal Record
(1) Assasult with a Deadly Weapon
(3) Burglary
(1) Conspiracy
(1) Criminal of Possession a Firearm [Class 1]
(1) Joyriding
(1) Littering
(1) Poaching
(5) Resisting Arrest
(2) Robbery
(1) Vandalism
Quotes
"Please!"
"20 beeks!"
"...speccy little shit!"
"One, two, three, fee!" (on Hobo Boxing)
Gallery
Community content is available under
CC-BY-SA
unless otherwise noted.