Fire Emblem Warriors: Three Hopes - The Loop
Play Sound

Kiki Pendragon is a character roleplayed by AmRainbowBee.
Backstory
Kiki Pendragon grew up in small town New England with her mother and father Sharon and Louis Pendragon, as well as her older and younger sisters Maggie and Ginny. One of them moved out, got married, had children, and the younger one moved out before Kiki as well. This left her in a state of worry, being the middle child still at home but reaching well into adulthood in comparison to her seemingly more successful sisters. To try and make a new, independent life for herself, she moved to Los Santos in 2018 with a heart full of dreams and her head in the clouds. However, Kiki was a much different person then. She had trouble acclimating to this new environment, and experienced a culture shock so great she left for home again, where she remained for several years. However, Los Santos had already left its mark even in such a short amount of time. It still lived in the back of her head, and just when she thought she had finally forgotten about it, it would return. Like that outdoor stray cat you thought for sure was dead after weeks of no show but then returns randomly for breakfast when you had given up hope. Eventually she tired of the small town life and moved back to Los Santos, now having a decent idea of what to expect.
Personality
Kiki enjoys being in the city "and just vibin'" as she puts it. Very go with the flow, she's happy to do what makes her friends happy, as long as it's relatively legal and benign. While she is not entirely against the idea of criminal activity just for the thrill of it, Kiki does not want to be a criminal. However, she does have a thrill seeker side to her, and does quite enjoy things like fast cars and parkour. On the other hand she also loves to fish, treasure hunt, and work the Farmer's Market, because not only is it relaxing it also gives her the opportunity to meet new people and get to know her friends in relative safety. She is open-minded, helpful, and likes to think of herself as kind. Upon returning to San Andreas she immediately knew the thing she wanted to do most; to help people, and to help animals. Though animals are often significantly way cooler than people, Kiki is always willing to help others, sometimes to her detriment.
Hobbies
Twatter. Twatter. Lots of twatter. Too much twatter, really. Please. Someone stop her from being on twatter. She's addicted. She says she isn't. But she is. For some reason Kiki isn't on Twatter as much these days...
Parkour/Climbing up really high
Fast vehicles/Street Racing (Retired from street racing after joining EMS)
Yoga and Meditation
Long walks in the rain, in the woods, or on the beach
Telling service dogs she would die for them
Helping animals
Gardening
Momentous Dates Within EMS
Rank
Insignia
Note
Date
Recruit

-

Hired
February 1st, 2022
Trainee

Int. trained, first day on duty. Callsign T-70
February 1st, 2022
Changed callsign to T-27
February 3rd, 2022
Solo cleared
February 11th, 2022
EMT

Promoted to EMT. Callsign E-27
March 4th, 2022
Life Flight Certified, callsign Valhalla-1
April 3rd, 2022
Changed Callsign to E-70
April 6th, 2022
PARAMEDIC

Promoted to Paramedic. Callsign P-70
May 2nd, 2022
Relationships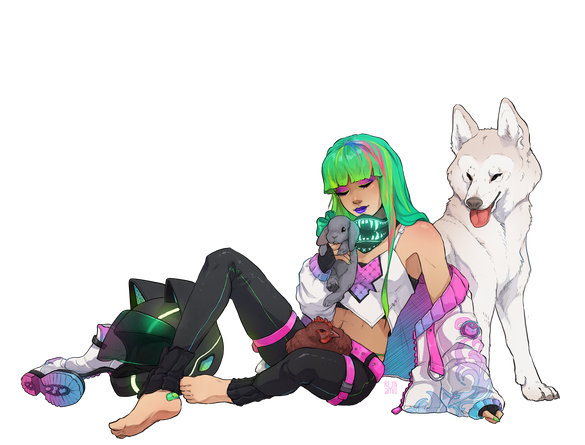 Sophie
Sophie came with Kiki when Kiki moved back to the city from home. She is a blue holland lop that Kiki cherishes and adores very much. For a long time Kiki was even going to save up and get a little leash and harness for her to take her on adventures around the city, but after much consideration she decided that if anything happened to Sophie and her little bunny got hurt... or worse.. Kiki could never live with herself. So Sophie is safe indoors, where she gets lots of love, cuddles, and treats.
Kiwi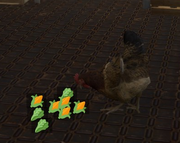 Kiwi is Kiki's Ambassador Chicken. Originally saved from an abusive chicken farm, Kiwi was rehabilitated at the La Fuente Blanca ranch and given to her by Mister Green as a thank you for all of her hard work at the Green Agricultural Company. Even when she only had Kiwi for a day and a half, if anything happened to her she would kill everyone in this room. Through her training with Kiwi she is able to bond with other chickens from La Fuente Blanca and help chicken adopters meet their chickens. Kiwi's favorite hobbies include: Following people around, eating snacks (especially corn, lettuce, and the occasional kiwi), and walking into things nonstop when given the opportunity to walk around on her own. Kiki often brings Kiwi to the farmer's markets, especially the one in Paleto, to bring attention to the booth but also to get her accustomed to being around people again. Kiwi is the goodest girl, and Kiki is incredibly protective over her, even willing to brandish her firearm if someone even jokingly threatens her. These days, Kiwi also sports a cute red bow tied very carefully around her neck with a tiny bell hanging off it.
Freya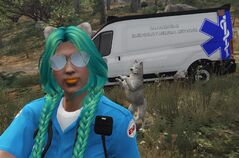 Freya is a 1-year-old husky Kiki adopted from Paleto Pets. She is high-energy and playful, but also a quick learner. Kiki took to her immediately, falling in love at first sight. Freya now accompanies Kiki everywhere that is safe, even having a personal kennel in the Owwiebus. Freya's hobbies include being snuggly, being loud, jumping on people, and chasing her tail. Freya is a girl on a mission, and that mission is to make all the friends in the world and have many doggy playdates. Her favorite toy is a stuffed alpaca she found among mommy's belongings and laid claim to. Freya is precious to Kiki, and Kiki would quite literally kill a man to protect her if needed.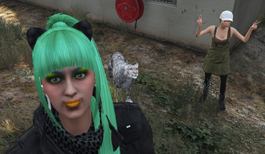 Kiki originally met Tessa during a fishing trip checking licenses, finding the sunglass-wearing Park Ranger slightly intimidating, something she later confessed to Tessa herself and was told she needed to get her eyes checked. These days she finds Tessa to be delightful, precious, and a treasure. Due to Ranger Lamb's dedication to her work, Kiki cherishes any moment she is able to spend with her, and can't help but get unreasonably excited and giddy when she sees or hears Tessa is around. It's because Tessa, in spite of what she has tried to tell Kiki otherwise, is a wonderful and genuinely good person in Kiki's eyes, and Kiki admires the kindness and patience of the woman she adores even with everything she's been through.
Odessa is easily one of Kiki's best friends. One of those that she can tell anything and she can trust she won't tell anyone if it's something Kiki asks her to keep on the downlow. They seem to have a similar vibe and a contagious energy between each other, and Odessa helps Kiki brave things that she wouldn't normally be able to handle on her own, such as facing fears and phobias that she has. She knows Odessa will always be there for her, and she'll always be there for Odessa.
One of the most polite and patient men Kiki knows, even if he likes to remind her she owes him 30 grand. She would confidently say Desmond is one of her best friends. He's generous, helpful, and kind almost to a fault. Kiki can't believe what he gets into sometimes. She trusts him with nearly any secret, and also finds herself constantly astounded by the how easily the man makes and then tosses around money. Desmond is someone that Kiki can be vulnerable around, and he never seems to judge her for it, and always has something kind and helpful to say. Even though he is a few years younger than her, he sometimes feels decades older than her.
The sweetest little lady Kiki ever did meet. Shirley's innocence and kindness are a delight for Kiki to see in a city rife with danger and criminals, like a light in the darkness. Seeing Shirley brightens Kiki's day, and she's happy to do things that make Shirley happy, such as letting her run off and say hi to her new boyfriend when she should be working. She does worry sometimes for Shirley, as she often seems somewhat naïve of how dangerous the world and Los Santos can be, but Kiki wants to believe she's merely underestimating the young woman and that there's something beneath the surface. A sleeper agent just waiting to strike, as it were.
The "Other" Kiki
On Kiki's first day back in the city she was told something that really stood out to her: You have the same name as another Kiki in the city! This was initially exciting to Kiki, because who wouldn't love to hear that their fairly uncommon name is shared with someone else? Clearly, this other Kiki must be really awesome. Ever since that moment, Kiki wanted to meet this other Kiki. This also came with some side effects. During her first day back in the city she met a guy named Jimmy in a clothing store, and then shortly after that interaction Sherry Paie twatted out that she had her eye on her. Confused but otherwise unbothered, Kiki went to Burgershot later in the day to get some food. It's during this visit that things escalated; Sherry Paie noticed her, and when Kiki heard her tell someone in the back to help her abduct Kiki, she tried to dip out. However, Sherry wouldn't let her. It was in that meeting that she was accused of killing Kiki Chanel and stealing her identity, because Sherry hadn't seen her in quite some time. She managed to diffuse the situation and avoid being hurt, but it had Kiki concerned. Who was Kiki Chanel? Where was she? What was she like?
Kiki has learned a lot about Kiki Chanel since then. She has also seen her at a distance numerous times, but never had the opportunity to make an introduction. She still does get asked questions such as, "the Kiki who owns Kiki's Organic Clothing?" or "like the Kiki toy at Burgershot?" All of which she is very quick to clarify that it is not her. She isn't going to claim things that aren't hers. One day she did finally meet Kiki Chanel. The Kiki Chanel in all her glory working as a receptionist at Pillbox Medical.
And, well... she's alive????
Screenshots of Kiki Pendragon
Artwork of Kiki Pendragon