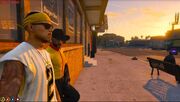 Karl "KJ" Johnny Black is a character role-played by Kongfue.
Description
Karl Johnny known as "KJ" is an el Capitán for the Vagos. He is half Norwegian and he got the name Karl from his mother's side. His father is from Texas.
KJ's main responsibility to the Vagos is to overlook the "Attack-a-Taco" operations, a front for the Vagos' extensive meth pushing business in Jamestown. Another responsibility of KJ is maintaining business connections of the familia with the Motorcycle clubs (The Lost, Havoc).
Romantic History
KJ is a huge flirt but he can't commit to serious relationship. Right now, his main focus is familia and business.
Past
Interests
Although most of the people in the city are interested in cards, KJ is more excited about collecting toys from Burger Shot and Rooster's Rest. He has two collectible pouches dedicated for his toys collection.
Assets
Vehicles
| Type | Value | Plate | Description |
| --- | --- | --- | --- |
| Chino Custom | | W4ZGUCC1 | previously owned by Vinny Pistone |
| News Rumpo | | K251134B | |
| BMW M5 E60 | | 84F3KJ40 | previously owned by Vinny Pistone |
| BD BIMX | | LWPTRZSM | |
Properties
Notable Quotes
"It's KJ time"
"Waz Gucci"
"Orale"
"Orale cabron, welcome to Attack-A-Taco how may I take your order?"
".....KINDA."
"...you know?"
"You see what I mean?"
"I'm gonna be honest..."
"Play stupid games...win stupid prizes."
Gallery
Played By: Kongfue
Characters: Karl Johnny Black • Rip Opie