Fire Emblem Warriors: Three Hopes - The Loop
Play Sound

Jolie Paul is a character roleplayed by pokimane.
Background Information
Jolie Paul is the long-lost younger sister of Jean and Pierre Paul. Although her birthplace and hometown are unknown, the Pauls have a French-Canadian background. Jolie grew up in a household with an abusive father, whose abuse only worsened after her mother passed away. Jean Paul and their father butted heads a lot until Jean decided to leave home in search for a new life, leaving Jolie feeling abandoned. Jolie knew Pierre Paul in her early life but was too young to form any meaningful memories of him. Once she turned 18, Jolie left home to reconnect with Jean. She traveled around the United States, finally settling in Los Santos after learning that her brother lived there. She not only reconnected with Jean, but also found a new family within the Cleanbois.
Relationships
Relatives
Jean Paul (Brother): Jolie had been in the city for nearly a week before finally meeting her long-lost brother. They get along well but are not seen together very often. Their relationship is still forming.
Pierre Paul (Brother): Jolie and Pierre Paul have had little to no interaction in Los Santos, although she knows that he is a police officer. When asked once about him, she said "Oh, we don't talk about Pierre."
Cleanbois
Tony Corleone - Tony is probably Jolie's closest friend and mentor. He is often the first person she calls in the morning and is the person she hangs out with the most. Jolie sees him as an uncle figure.
Lang Buddha - Jolie sees Lang as an inspiration thanks to his wealth and success as a businessman. Lang is very fond of Jolie and feels that she fits in with his family well. Jolie treats Lang with the most respect out of all the Cleanbois, mostly like due to his status as head of the house. He often encourages her unrefined nature, especially when roasting the other boys, but he sets limits when he feels that she's crossed a line.
Mickey S - Mickey and Jolie's friendship is very tough love, with the two constantly bickering and egging each other on. Their conflicts can sometimes get out of hand since Jolie knows no limits, which usually has Mickey fed up. Jolie feels that Mickey can take her bantering the most, which is why she picks on him often. After learning about the reason behind Mickey's fear of guns, she avoids pointing a gun at him, but punching is still ok.
Raymond Romanov - Jolie has a surprisingly good impression of Ray despite her friends' opinions of him, as well as his reputation of flirting with every girl he meets. Ray has truly extended his hand to her for assistance many times, particularly when he gifted her a car.
Yuno Sykk - Yuno and Jolie don't hang out very often as they have somewhat different social circles, with Yuno hanging around various different groups of people and Jolie sticking with her close friends. They first met after Jolie completed a boosting job with Tony and the two instantly clicked.
Other Relationships
Ricardo Perez - Ricardo is one of the first friends Jolie made outside CB. They bonded over the kindness Ricardo showed and he helped her get a makeover.
Fiona Stewart - Jolie met Fiona during her first S+ boosting job and they became good friends. After some time, Fiona gave Jolie guest keys to her family's mansion and adopted her.
Tracy Martell - Jolie met Martell when Martell responded to a clothing store robbery where Jolie was a hostage. Martell misheard Jolie's name and calls her Poopie. However, almost every time they have interacted since, Jolie has accidentally gotten Martell shot.
Hacker(Wo)mans
Car Boosting - Since her first week in the city, Jolie has hung out with Tony Corleone who showed her the ropes of Los Santos. Tony asked what she wanted to become in the city: a civilian with an honest living, a businesswoman, or a criminal. Without hesitation, she chose the life of crime. Tony then introduced Jolie to boosting, where she learned she was incredibly skilled at hacking cars, enough so that he let her hack during her first S+ boosting job. Although she didn't finish the job and Fiona Stewart took over for her, Jolie did extremely well. She has completed many A+ and lower-level car boosts since then.
Thermite Hack - The Cleanbois eventually took Jolie to her first bank thermite hack. Initially, Jolie struggled with thermite hacks, but she had her first success after a pep talk from Lang.
Laptop Hack - The only hack Jolie actively struggles with is the laptop hack at the bank, although she is evidently getting better every time.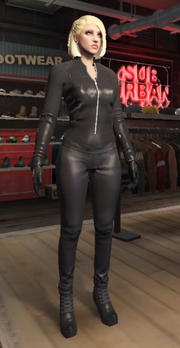 New Me, Who This
Jolie received a makeover with the help of her friend Ricardo Perez, a makeover and styling professional. Jolie gets a new face and a short bob cut, although she prefers her long ponytail and usually alternates her look with extensions.



Criminal Record
MDW Profile
Drivers License
0 points
DNA
On file
Priors

Criminal Record of Jolie Paul

First Degree Robbery
1
Grand theft auto
1
reckless evading
1
Third-degree theft
1
resisting arrest
1
Criminal Possession of a Firearm [Class 2]
4
Attempted Murder of a Government Employee
2
kidnapping
1
grand larceny
1
attempted robbery
3
assault with a deadly weapon
1
Aggravated battery of a peace officer
2
attempted assault of a peace officer
1
Criminal Possession of a Firearm [Class 1]
1
Quotes
"Beep, beep!"
"BOZO!"
"I'm so sorry, I slipped." - After punching somebody
"God bless."
"Fuckin' Mickey."
"You don't see the resemblance?" - Pointing out the size of her nose when mentioning her relation to Jean Paul
Trivia & Notes
Jolie has been in and out of a coma since moving to Los Santos, usually causing her to forget everything. Thankfully, the doctors told her she should be okay now and she has not slipped back into one since then.
Her anger issues present themselves in strange ways—every now and then she needs to get a good punch out so her anger doesn't build up inside.
Gallery