Fire Emblem Warriors: Three Hopes - The Loop
Play Sound
Jacob "Funny Man" Storm was a character role-played by FortyOne.
Description
Jacob Storm, better known as "Funny Man" to most, was a mercenary and hit-man who had participated in many of the most notorious crimes in Los Santos. He was very mysterious and only appeared at the bidding of those who hired him or sent him. He was affiliated with many people and held an immense amount of knowledge on how the criminal underworld of Los Santos operates.
Death
Jacob Storm was pronounced dead on February 26th, 2020, following the planned kidnapping of Sergeant Vladimir Raven for Arthur Hammond. After being tracked by the police helicopter through a boat ride and various vehicle changes, it was concluded that Raven was either still signed on duty, or had a wire, and able to be tracked.
Jacob searched Raven for wires or a recording device, but after not discovering anything of the sort, came to the conclusion that Raven was being tracked via his police tracker. Jacob drove Raven to Sandy Shores Sheriff Station to have him sign off duty, being followed closely by police.
Their vehicle, Jacob, and Raven were surrounded, and Jacob was gunned down by Senior Deputy Ziggy Buggs and Deputy Bodean Tucker. He was pronounced dead at Pillbox Medical Center, due to multiple GSWs.
Backstory
Funnyman Origin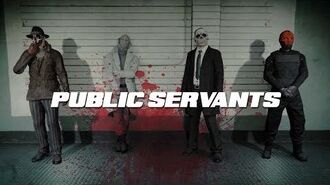 Gallery