Fire Emblem Warriors: Three Hopes - The Loop
Play Sound

Jaclyn "Jackie" Hyde was a character role-played by Kiwo.
General Description
Jackie was a typical "civilian" character. She held a routine job as an employee and manager down at Burger Shot. Her best friend was Cheryl Smith.
Jackie was romantically involved with Otto Delmar. Following an event of Jackie being held hostage by the Leanbois for a bank heist, Otto was made aware of what happened, and those responsible. Angered by the event, Otto made his way to the prison, and waited for the Leanbois to be released. Once their sentence was up, the Leanbois made their way from the prison. Otto opened gunfire, shooting them in the kneecaps.
Weazel News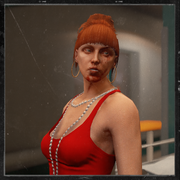 After getting accidentally punched by Kevin Whipaloo and getting into a twitter war with him, Jackie decided to contact Weazel News and get an article made so as to get Kevin's nudes on the front page for all to see and slander his name. The article read:
"During the last week, Jaclyn Hyde was sending private and sensitive texts between herself and her lover Kevin. Unfortunately for Jaclyn, she accidentally sent sensitive pictures to another contact in her phone that is also labeled as Kevin. His full name is Kevin Whipaloo, and is definitely not Jaclyn's lover. Kevin received these inappropriate and private pictures from Jaclyn on accident and instead of being a kindhearted gentleman and ignoring the pictures, Kevin decided to seek out Jaclyn directly. Kevin proceeded to punch her in the face and cause her great harm resulting in a trip to the hospital as well as mental trauma.

After deciding to beat an innocent woman for accidentally sharing inappropriate pictures, Kevin Whipaloo then decided to share these private pictures with not only his friends but the internet too, by leaking these private pictures on Twitter.

Not only has Kevin Whipaloo beaten an innocent girl, but also abused her and shamed her on the internet. Kevin Whipaloo clearly hates females and his only desire is to embarrass and harm females.

Jaclyn also expressed to us that Kevin Whipaloo's friends has a similar feeling towards females, as Kevin ordered his friends to Urinate on Jaclyn. You read that correctly, Kevin Whipaloo and his friends have an obsession with urinating on females that he has recently abused."
Jackie's Death
This violent response from Otto ultimately led to Jackie's death by the hands of the Leanbois. Jackie was followed, kidnapped, and her identification card was robbed from her. She was driven to the cliff sides by the Leanbois, and instructed to walk to the ledge. While attempting to speak in Otto's defense, she was struck from behind, and her body fell from the cliffside into the ocean. Neither her identification card or body have been found.
Due to a lack of concrete evidence, the Department of Justice dismissed the murder case. While Jackie is currently considered a "Missing Persons" case, many people have admitted that they do believe she is dead.
Jackie's Ghost
At night, a spectral vision of Jackie appears at the cliff side where she fell. Blood letters stain the rocks, spelling the name 'SAAB'.
Quotes
Any time you want a burger, come on down to Burger Shot. Our burgers are pretty hot. Make your birthday dreams come true.
SoundCloud
Episode Recaps
| | |
| --- | --- |
| ℹ️️ | All videos previously linked below have been deleted from Twitch. |
#
Title
Date
Events
1
Kiwo does the RP thing like she used to ha - pt. 1
15th March 2019
2
Kiwo does the RP thing like she used to ha - pt. 2
15th March 2019

Meets Al Saab
Meets the police
Goes to Work and gets robbed by Leanbois and harassed by Prune Gang
Falls in a ditch and is saved by Otto

3
Kiwo does the RP thing like she used to ha - pt. 3
15th March 2019
4
Hi, welcome to Burger Shot - pt. 1
16th March 2019
5
Hi, welcome to Burger Shot - pt. 2
16th March 2019

The taxi gets into a police chase and when they crash Saab and Avon run off leaving Jackie alone on the freeway
Falls off a bridge and Saab finds her and drops her off at hospital
Otto finds her after she gets out of surgery and the two have a little 'giggle-fest'
The two meet up with Kindle and set up another fight
Meets Windsong's mother

6
Hi, welcome to Burger Shot - pt. 3
16th March 2019

Meets Joe Caine
Jackie and Otto go on a double date with Joe and Cheryl
Both Jackie and Otto start playing hard to get and go their separate ways
Sets up a parties with Cheryl to compete with Otto
Jackie and Cheryl become BFFs and loiter at the Pink Cage
Goes on a date with Saab
Meets up with Otto and they make up and Jackie makes him get an STD check
They go play golf then goes and gets ready to bunk up with Otto

7
I didn't like him, so I chucked a brick at him - pt. 1
17th March 2019

Goes to work and gets harassed by customers
Loiters at pink cage
Goes to work and gets harassed by customers

8
I didn't like him, so I chucked a brick at him - pt. 2
17th March 2019

Goes to job interview at Tim Lee's casino
Gets bike stolen
Helps Eugene get blue pills with Ryan
Meets up with Otto and updates him on what happen last night
Gets a haircut to surprise Otto
Accompanies Otto to a meeting with a stalker
Goes on a date and rides Jet skis with Otto
Meets Kelly Smith
Continues the date in the motel listening to music and dancing with Otto

9
I didn't like him, so I chucked a brick at him - pt. 3
17th March 2019

Watches Otto and Sergei jump Jean-Pierre
Discusses relationship with Otto
Gets a pearl necklace
Accompanies Otto and Joe to another meeting
Pink Cage loitering

10
Would you like fries with that? - pt. 1
18th March 2019
11
Would you like fries with that? - pt. 2
18th March 2019

Gets threatened by Leanbois
Learns about Otto's court case
Goes Jewellery shopping with Kevin
Goes to works and meets Jonelle Jones

12
Would you like fries with that? - pt. 3
18th March 2019

Hangs out with Cheryl
Meets Otto at the pier
Goes to the hospital with Otto to get his test results
Records dragon slayin' with the crew
Goes to Lil Erf's diss-track premiere
Gets into a fight

13
Moving up in the world - Manager of Burger Shot - pt. 1
19th March 2019
14
Moving up in the world - Manager of Burger Shot - pt. 2
19th March 2019
15
[Failed to Load Image] - pt. 1]
20th March 2019
16
[Failed to Load Image] - pt. 2
20th March 2019
17
[Failed to Load Image] - pt. 3
20th March 2019
18
Huuuuuu - pt. 1
21st March 2019
19
Huuuuuu - pt. 2
21st March 2019
20
I think Otto is up to no good
22nd March 2019