Fire Emblem Warriors: Three Hopes - The Loop
Play Sound

Fiona Stewart is a character role-played by Ashi.
Description
Fiona Stewart is known across Los Santos for her white hair and fiery personality. She is a full member of The Guild and second-in-command of Yokai.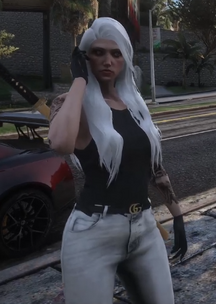 Fiona is married to Marlo Stanfield and together they own Bean Manor, a mansion named after her favorite but neglectful son Burt Beans, AKA Gloryon. She is also well known for her many adoptions and keeps track of them with a list that she keeps on her phone. The adoption spree began when Gloryon became too busy with his job giving out loans instead of hanging out with Fiona. She has a goal of having at least one child from every gang to help avoid any potential future conflicts.
Her vehicle of choice is a GT-R R35 Wide Body which she uses for street racing as well as casually driving around the city. Fiona can usually be found at the Guild Hall or Demon's Den Arcade, two businesses owned and ran by The Guild. In her free time, she enjoys racing, boosting, harassing cops, yelling at Marlo, and chilling with her fellow Guild members.
Fiona has spent a lot of time learning how to hack banks and disable trackers on boosted cars. With her son Yuno cheering her on, Fiona has successfully hacked the upper vault. She has also completed an S+ hack for a Lexus LFA which was eventually gifted to Yuno.
Story Arcs
Down Bad with the HOA Boys
With the government seizing her beloved GTR after her involvement with terrorist activities as well as the economic crash, Fiona struggled to find stability in the new economy. Fiona limited her legal work to mostly selling bulk orders of top shelf, keeping some separation between herself and the HOA tavern to not allow the business be tied to her criminal aspiration. Due to limited HOA activity and the more fishing instead of criminal interest in the group, Fiona found a routine in drunken delivery driving and hunting for store managers. She eventually learned about oxy running from Curtis Swoleroid. She still struggled to find a partner to protect her from robbers and instead started selling her dirty money to Eugene Zuckerberg. If she was not on the hunt for more money, she would be searching for an Elegy or Dominator to race with or spinning at the casino wheel until she was broke again. Fiona's petty criminal activities caused her to frequently be on the run from the police.
Finding a New Path Forward
Fiona pushed to revitalize the HOA with some ideas from the past in hopes to salvage the strained connections in the group for her. Though she had little support from fellow members, her HOA court sessions were well received by others and lead to the spite adoption of Gloryon from Donnie. Nino Chavez help inspire Fiona to collect a harem of rich husbands with the guise of the marriage tax break. Marlo Stanfield gave her a new job as a loan collector with Diamond Hand Credit and agreed to be engaged to Fiona, unfazed by her being open that she just wanted to marry him to divorce and take half of his assets. He also began giving her daily allowance and sharing his house and various vehicles with her, most notably the Mustang. With Marlo, Fiona helped found PCA for all the new collectibles created at Burgershot. Gloryon and Bjorn hire Fiona at the Roosters Rest. With a warm welcome, Fiona began to feel the weakened bond in the HOA. She gave it another chance to establish an idea with pushing for PROMP before giving up finally and moving forward to focusing more on herself instead of her beloved HOA boys.
Meth Queen
With loan collections, profit shares from PCA, and the reliable income from working at Roosters Rest, Fiona stopped her previous manager hunts and drunken delivery drives. After repeated badgering, Fiona took out a loan from Marlo to get her first car finally. With the more reliable legal forms of income, Fiona's criminal activity reduced to mostly just street racing. Being well known and trusted by Lang and Gloryon, Fiona got brought into their meth operation to fill in their missing crew due to WoW. Some of the crew were hesitant to bring her in, but eventually chose to trust her. She has since sold her Elegy and R8, collected a Sultan MK2, accumulating over 1 million in the bank and over 2k in GNE in hopes to get her Nismo GTR back once the tuner shop returns. She was given an R8 to participate in the midnight heats and since sold it after it, similar to her Elegy, started behaving uncontrollably for her driving style. After joining the meth operation and saving up what she hopes will cover her GTR, she has not returned to the civ working life. She assisted the nerds in winning the 3rd NPA paintball tournament.
Matriarch of Bean Manor
After amassing a sizable fortune between Fiona and her fiancé Marlo, the pair purchased the Bean Manor (Michael;s mansion. The garage storing a small fleet of lawn mowers and a vin-scratched reliant robin, the manor has been destined to be a chaotic hub ready to be a sitcom from day one. Slowly passing out keys to the expansive family tree, most all of Britney gang were adopted and several of the children that hadn't been seen or heard from lately shifted down to the shit list. Fiona dialed back heavily on all her criminal activity, getting down to zero strikes on her car. She dabbled in cooking meth in the manor for a short period. While Marlo 'took a trip' Raymond Romanov tricked Fiona into a date and begun Fiona's idea to scam him to restart her heist dreams. With scratching seemingly the only Go-Kart in the city, Jean Paul also began to show interest with his wingman Marty Banks supporting heavily. Shortly after beginning the suiter scam, Marlo returned from vacation for a confrontation at Bean Manor. Afterwards, JP and Ray both more or less disappeared from the picture. Park Parker took Fiona on a Mother-son date to give an intervention after Ray made a deal to have Park sing for a future date. After the intervention, Park pushed Fiona to reduce her number of children to 10.
Finding a Home with The Guild
After leaving the HOA, Fiona continued to spend her free time with The Guild and grew closer to them. She proved herself to be trustful after spending months being part of Lang and The Guild's meth operation.

On September 16, 2021, while Fiona and the nerds sat together at the Tuner Shop hoping that she'd be able to buy her GT-R, Yeager made her a Guild prospect and told her to start wearing his old horns (The reindeer antlers from the clothing store). From then on, Yeager would yell at her if she wasn't wearing the antlers. Just a few days later, without revealing their identities, the nerds also made her a suppressor connect and gave her nine suppressors to sell.

A few more months go by and Fiona begins to feel lost because she still doesn't really have a group to call her own until on December 7, 2021 she gets called to the Guild Hall for an unknown reason. After arriving, Fiona and her friend Barry Svensson are handcuffed by Yeager and taken to a secret room in the back where the rest of The Guild are waiting. Fiona and Barry are initiated into The Guild together after Lando accidentally sets them, as well as himself, on fire. After a hospital trip, she is shown the crystal under the Guild Hall where suppressors and RPGs are crafted.

Fiona loves The Guild for their inclusiveness and everybody being treated as an equal. The Guild doesn't normally do the traditional criminal activities such as robbing banks and boosting, but she still likes to join in on their lighthearted shenanigans like toilet papering houses and terrorism.
Relationships
HOA
Fiona was made into a prospect of the HOA after she purchased a battle pass for $10 from Siz Fulker in December 2020. She was easily accepted and welcomed by the group after her purchase. Manny McDaniels deemed her a full-member of the HOA after she had passed his test of whether or not she puts a person first before the group.

Over time, Fiona felt ties within HOA strain especially involving herself, believing the group thought of her more so as a tavern employee, then excluded out of many HOA activities. She had discussed the distant feelings with several HOA members and heard similar feelings of the HOA not being as close or worth waking up for many of the other members. This ultimately came to a head when she attempted to confront Siz in a group meeting on top of an umbrella in Sandy Shores. After revealing nearly every secret aspect of the Tavern and his meth operation to those attending, he reiterated his position and stated that she and all the other members of the HOA were adults who were capable of resolving their own internal disputes and generating ideas/goals that they could pursue (stressing that it wasn't his responsibility to be the HOA's "father", where everyone looked to him for a solution to all their problems). This caused Fiona to leave the meeting before it concluded, to everyone else's confusion. Despite this response, Fiona did not chose to leave the group to avoid spoiling Kian's induction to the group and instead tried to act on Kraytor's OG activity week idea with "PROMP" in hopes to bring back the HOA enthusiasm and group mentality.

Nearly three weeks after the umbrella meeting, she chose to distance herself from the HOA, stating to Cheddar that people in the HOA had, "turned into giant cunts and treat me like shit all the time." To her, this was demonstrated by a lack of participation in her group activity ideas, Jesus chasing Fiona at gun point after Fiona was the only member to stand up for him in the weeks prior, Ant lashing out at Fiona unexpectedly, Cheddar disrespecting Fiona's attempts to assist him with his debt and then shitting in Rooster's Rest while wearing his kutte as she was working, and Jesus posting a twat about Cheddar's (fake) death while alluding to Fiona being not missed from the HOA.

She cited the final straw as an incident where Julio made the reunion between her and Miguel as awkward as possible for his own entertainment, although he explained it as coming from a desire to make others a miserable as himself.

She officially left the HOA and handed in her kutte after she spoke to Siz on May 12th, 2021.

Before she left, she was heading the Park Patrol (PP), serving as the HOA Court Chief Justice; and working towards establishing the People's Republic of Mirror Park (PROMP) as the Supreme OG of Mirror Park.
Basem Shahin†
At times, antagonistic to Fiona, but got adopted then shortly after murdered. Fiona attempted to visit his body when it was being put to rest at the morgue.
Gloryon
During the Scotland Face-off with his father, Fiona said she was taking him as her son. He accepted her as his 2nd mother. Gloryon took Fiona along on their first 24/7 heist. AS Gloryon came around less and less in the city, the teasing of him increased and #1 child status lost, dropping out of even the top 3. Despite the tough love, he supports his mom financially and with his Evo.
Curtis Swoleroid
An old friend of Fiona's, joked about her they used to sleep together before Marlo, Curtis has been happy to assist Fiona with anything asked.
Claire Everly
A cop that caught Fiona many times, striking her peepo chonk.
Christ Asscrab
A local that terrorized Roosters Rest on day. Fiona attempted to calm the local and took care of him throughout the day. He was adopted for a period of time before getting unadopted after not being seen after weeks.
DRL
Friend from HOA, the pair have had deeper talks of their frustrations getting into crime, DRL offering to always be down to join Fiona for any crime. The pair have boosted before. During a tour of Bean Manor, he was adopted with Kian and Jesus from the HOA. He has gone as far as to plan to sleep with Fiona to get her money.
Dean Watson
Fiona spent more time with Dean following her engagement with Marlo. Fiona was able to test drive several of Dean's expensive cars. Fiona was taken to see Dean's pet panther as a kitten Onyx. Fiona survived "Dean-gen' hours, riding down a hillside in a wheelchair. Helped think of Onyx's attack phrase.
Dreah Johnson
A good friend of Fiona's and coworker at Rooster's Rest, she denied Fiona's original adoption invitation, but requested to be adopted with the rest of Britney gang when keys to Bean Manor were included. Lang learned of the adoption and banned all his CEOs from being adopted by Fiona.
Eugene Zuckerberg
One of Fiona's adopted sons, Eugene has happily assisted Fiona when asked including boost. He frequently teases her for random things. He sides more with Marlo, threatening Fiona with a grenade
Goofy
A fellow racer, the two are friendly with each other. Fiona has adopted him. Fiona has given him permission to kill his brother Spartan.
Donnie Pecorino
Frequently butt heads together when they encounter. Fiona hates his car's horn which he provoked her with. Fiona confronted him after hearing he doesn't like Scotland. The conversation escalated to a brawl after he ew'd the idea of marrying a Scottish woman. After the brawl, he asked for Fiona's stolen shoes from Lars Haverford. Fiona acted as judge over his HOA court case.
Harry Brown
A coworker at Rooster's Rest, the pair connected on being similarly down horrendous with trying to progress in crime. Harry joined her for her first 24/7 heist and has brought Fiona along for several boosting contracts. Harry frequently looks out for Fiona with Lang's meth operation.
Hutch Hutcherson
The two respect each other in racing. Hutch has offered to help Fiona with anything, inviting her as one of the earliest people into his and Marlo's underground booster's club.
James Arsenal
As a close business partner to Marlo and husband of Raul Luis-Blanco, he has reached out frequently to help Fiona on behalf of Marlo and also as a son. He 'invested' 45k into Fiona's practice laptops with the hopes to be brought on heist jobs.
Jesus Contreras
Fellow HOA member during her tenure with the group. Force permed Fiona after she robbed the MP store. Afterwards, joined her on many of her drunken delivery drives. Fiona was one of the only members to stand up for him after he was kidnapped and shot by members of Rooster's Rest. He chased Fiona away from a meeting after learning she later became a Rooster's Rest employee. Their relationship was even further soured after her departure from the group and subsequent negative comments towards the HoA. After a long period of Jesus avoiding Fiona, the pair made up and since grown friendly again, Jesus joining the Scamily with Kian and DRL during their tour of Bean Manor.
John Spartan
Cop that Fiona adopted during being processed to help reduce her sentencings. He still badgers her to stop doing crime. Negotiated do be called the #2 favorite child in exchange for no chorus for a month and giving Fiona a keyboard.
Judd Lincoln
A friendly acquaintance, Judd has asked Fiona to assist with boosting.
Julio Thomas
Fellow HOA member during her tenure with the group. He stabbed Fiona "as a joke" around when the Jane Obama's tried to sacrifice her to a phallic god. Acted as a brother to Fiona, though the two saw each other infrequently. Their relationship was soured after her departure from the group and subsequent negative comments towards the HoA.
Mila Smoak
Adopted at the request of James Arsenal. Assisted with finding the Scamily a 'dog'/pilot/pocket-medic. Unadopted after Fiona probably forgetting.
Jean Paul
He began remembering her name after she showed off her vin scratched go-kart. He borrowed the go-kart and re-painted and skinned it. He was almost going for a date with her thatnks to Marty hard wingmanning, but quickly lost interest.
Mr. Kebun
Friendly with Fiona, unknowingly adopted by her as he 'found out' when she unadopted him. He called out her forgetting to get him lunches and is willing to be un-unadopted for 100k to cover his college fund.
Kian Mercer
A good friend while in the HOA, Fiona and Kian have worked together and had serious conversation about troubles and ideas. Fiona held off her leaving the HOA when Kian was officially brought in, looking to avoid souring his welcome to the club. The pair still remained good friends after her leaving of the HOA and on a tour of Bean Manor, Kian was adopted into the Scamily with other HOA members Jesus and DRL.
Kitty Dream]]
Adopted with the rest of Britney Gang. Assisted in stirring up the drama for Fiona when Marlo returned and was being filled in on Fiona's poligamist starts. Fiona unadopted her more so to prevent Ray's rumoured desire to get Kitty to call him Daddy.
Kyle Pred
Adopted son by Marlo. Not seen frequently by Fiona.
Lang Buddha
Respected Fiona quite a bit during her time with the HOA, quickly welcoming her into Rooster Rest and then further with his meth operation, one of the very few non-nerds involved. Lang has brought Fiona along on heist and boosting jobs. He frequently looks to include her in security for task. Fiona has thought frequently about how much she'd side with Lang over one of her closest relations, Marlo.
Maisie Hart
One of the members of Britney gang visiting Bean Manor with already-adopted daughters Penny and Tori, joining the family as well. Fiona hit her, Maisie learning quickly that child abuse is Fiona's way of showing love.
Mando Thompson
Leader of the ballas, Mando has surprised Fiona, riding along for a race as a "support gansta," the pair are friendly, Mando inviting Fiona for boosting. Mando is the great-grandson of Fiona through Eugene.
Big Ayyummm†
One of the PM puppets, Fiona met him before a race being one of the other racers tasked with getting him names of racers that deserve to have their personal cars' VINs scratched for punishments. They collected a fine from Fiona after Fiona was damaging a boosting car with Marlo while goofing off on the way to the drop. Fiona may have been able to disguise herself, but also spoke about it as the pair drove past the puppet again shortly after.
Marlo Stanfield
Fiona fought off Marlo trying to get her to take out a loan and instead now works for him at Diamond Hand Credit as a debt collector. She has also convinced him into marriage for as she explains tax benefits which is usually countered with the fact he has given her more than he would have benefited. They both have been upfront about her taking 50% of his money and assets in the expected divorce. No official papers have been signed yet. He also frequently let her into the casino to spin the wheel. He promised to buy Fiona a pet panther. They share a house in the southside together as well as cars frequently. He frequently gives Fiona money, totaling over 2 million including covering at least half the cost of her GTR and getting her Bean Manor.
Maisie Hart
Adopted with the rest of Britney gang then unadopted off the child list after not being seen since.
Mel Rickenbacker
Fiona assisted with lending Mel her car on a day when Mel felt he was a god then adopted shortly after. Mel reached out to Fiona to help him with his plan for terrorism/revenge during his murder case. While showing off a new gun he had, Mel blasted off one of Fiona's ears.
Meelo Graves
A fellow racer going by Nex, he has begged to get adopted by Fiona after begging for money and hearing about the Scamily Million Dollar Game. She has offered to adopt him for 500 GNE after getting her phone spammed by Penny and Kitty to not adopt him. He frequently hits up Fiona to hang out with the 'Family.'
Mighty Joe
Adopted since they couldn't say no then unadopted after Fiona probably forgetting.
Nico Kanto
The two met outside the tavern while Fiona was in her 'Miss Monopoly' scheme to sell lottery tickets. Nico with Kian drove Fiona to Bean Manor and discussed Nico finding a place in the Scamily. Hearing his relation to Hal, Fiona denied any possibility of an adoption, but was open to the idea of him as the pool boy/concierge.
Nino Chavez
Helped bring Fiona and Marlo together, Nino has helped coach Fiona in selling and early boosting knowledge. Nino has brought Fiona along on boosting and offered to assist on heist.
Park Parker
While hanging out with Kitty Dream at a concert, he called Fiona mom after hearing Kitty call her that, becoming part of the Scamily. He learned he wasn't genetically her son after 12 days in the city. He gets his incredible musical talent from his mom as compared with her singing skills. Park gave Fiona an intervention about her poligamist interest with Ray and numerous children, sparking Fiona to unadopt dozens of children down to around ten.
Penny Farthing
After pushing for a threesome with her husband of the time Harry and Fiona, Fiona became paranoid Marlo wanted to sleep with Penny. Marlo scheduled a meeting to make it clear that sleeping together wasn't going to happen, leading to Fiona verbally adopting with the terms that it can be relinquished at any time, $1000 weekly allowance to not call Marlo "daddy." Lived in the south side house's red room. Unadopted after Lang found out about the adoption.
Raul Luis-Blanco
A worker at Otto's, Raul was the first adoption prompted by Marlo instead of Fiona. He has given Fiona a family discount on repairs in attempts to rise on her children list ranking. He quickly moved his way up to be number 1 after supplying Fiona with dozens of guns for free.
Raymond Romanov
Frequently teased Fiona with 'forgetting her name' for not beating him in races. After Marlo went on vacation, he progressed to remember her name and tried to date her, continuing after his return, pushing through her gag reflex to his advances and her bro hugs.
Roman Sionis
Fiona was offered a management position at his foundry. She turned him down, worried she wouldn't be able to fully commit.
Al Saab
Remembered and joined for both there first vault heist.
TJ Walker
A cop that caught Fiona during one of her early bank heist. Fiona has worked as a wing-woman to push TJ to follow up with a woman. Unadopted off the child list after not calling Fiona enough.
Vinny Pistone
An old friend of Fiona's, said to have closer than friends before, Vinny teases her about her driving, but still has happily assisted Fiona with anything asked. Fiona attempted to unadopted Vinny, but was denied.
Yuno Sykk
A member of the Cleanbois that hangs around at the Rooster's Rest and amazing hacker. Learning that she'd been the one to purchase Tori Bologna's Elegy (which Yuno had also wanted at one point), the pyromaniac tried to fill up her gas while the engine was on, getting tacked in the process before Fiona ultimately ran away.
Attempted Unadopted/Shit List Children
Claire Seducer
Basem Shahin
Crime
Heist Log

No.

Type

Date

Team

Role

Outcome

Comments

1
24/7
June 19, 2021
Driver
Failed
Hacked by Gloryon

Marlo and Gloryon caught with 33 looted bands.
2
24/7
June 21, 2021
Main Driver
Success
No Officers responded.
Everyone escaped with the loot.
3
24/7
June 21, 2021
Main Driver
Failed
Only 1 cops responded and Fiona messed around.
Only Fiona was caught and lost her loot.
4
24/7
June 26, 2021
Main Driver
Success
Marlo and Fiona distracted Air1 and the Mustang interceptor.
Everyone escaped with the loot.
5
Fleeca
June 26, 2021
Main Driver/
Trainee Hacker
Success
No cops showed up, Fiona tried her first hack.
Everyone escaped with the loot.
6
Paleto
July 8, 2021
Driver/
Trainee Hacker
Failed
Everyone caught after a crash in Vinewood
Fiona finds out Tessa is her sister
7
Fleeca
July 11, 2021
Driver/
Trainee Hacker
Success
A local crashed out the interceptor and the crew got away in Jay's cussy.
Fiona almost got the hack.
8
Fleeca
July 11, 2021
Driver/
Hacker/
Negotiator
Failed
Fiona succeeded first try hack.
Everyone caught from foot chase in vinewood.
9
Burger Shot
Nov 28, 2021
Shooter
Success
Successfully completed the first new safe heist for Burger Shot for around $700
Tony's acting helped get the crew in. Escaped without PD response
10
UwU Cafe
Nov 28, 2021
Shooter
Failed
Successfully completed the first new safe heist for Uwu Cafe for around $2k
Tried to escape out the back with a Sandking with Fiona and Mickey getting caught after a very long car then foot chase
11
Yacht
Nov 28, 2021
Hostage Guard
Success
Hacked by Yuno Sykk.
Everyone managed to escape with the loot.
12
Yacht
Dec 12, 2021
Hostage Guard
Success
Marty and JP tried to impress Fiona for JP to woo her.
Everyone managed to escape with the loot.]
13
Yacht
Dec 12, 2021
Hostage Guard
Success
Marty and JP tried to impress Fiona for JP to woo her.
Everyone managed to escape with the loot.]
13
Vault
Dec 22, 2021
Hostage Guard
Success
Hacked by Mickey.
Everyone managed to escape with the loot.
Had Eyam Job as hostage.
14
VAR
Dec 28, 2021
Shooter/Mom
Failed
Guarded Stairs with Ray and Saab and gave Mom Boost for Yuno
2/4 VAR master keys acquired.; Furtherest progression for CB/GG
Vehicles
| Image | Name | Description | Plate | Status |
| --- | --- | --- | --- | --- |
| | Elegy RH8 | After months of wanting a car to race, Fiona bought Elegy in May, 2021, which resembles her old car GTR, she bought it after getting a stable job at Rooster's Rest which also helps her pay the loan for it. Sold after several races and chases spoiled by "Dubai Mode." | J WALKER | Sold |
| | Sultan MK2 | Previously owned by Jean Paul and given to Fiona in exchange for Marlo forgiving Jean's stacking interest. Fiona since then had it fully upgraded and used as the "family" crime car whenever a four-door is needed. She finds it not compatible for her to race in since she seems to be compelled to drive much more dangerously in it. | 3T8753EP | Sold |
| | Audi R8 | A gift from Marlo to make Fiona race in the July Midnight Heat Tournament after Fiona not wanting to race in any other type of vehicle and Gloryon occupying his own for the races. She got close several times, but did not move on from the qualifier races." | NOTAGTR | Sold |
| | Elegy RH8 | The race scene shifted to primarily A/A+ races and not wanting to race her Sultan, Marlo purchased Fiona a VIN scratched Elegy. She lost the Elegy after being chased and ditching the car to be rescued from several PD units including bikes and Air1." | SCRATCHED | Crushed |
| | Reliant Robin | While catching up with DRL, the pair got a boosting contract for the Reliant Robin. Fiona scratched it to be another family car. She has shown it off often to most everyone including her cop Scamily members. | SCRATCHED | Crushed |
| | Go-Kart | One of if not the only go-kart scratched in the city. Several cops have gotten the chance to use it. The cosmetics were customized by Jean Paul. | SCRATCHED | Owned |
| | GT-R R35 Wide Body | Fiona bought her GT-R from the Tuner Shop on 29/9/2021. Currently, it's still her main vehicle of choice for transportation and racing. | WAGEGAP | Owned |
| | Elegy Retro | A vin scratch that's been converted. Fiona planned to use it as her drift car. | RETRO | Sold |
Gallery
In-game
Fan arts
Trivia
Called Supreme OG Leader of Mirror Park through the months around her leaving the HOA after attempting to revive and grow the People's Republic Of Mirror Park (PROMPT)
Got the J WALKER' license plate after a long standing warrant for jaywalking, escaping seven chases over multiple days that ended in a massive chase involving most all the PD.
Bertha was Fiona's Meth cooking country girl alias while helping Lang's cooking crew.
Fiona has used several various of similar racing aliases include Shrek, Shrek2, Shr3k, NotShrek, and Silver.