Devon Fox is a character role-played by Evee.
Backstory
Bridget "Bree" Matthews returned to Los Santos after faking her death at the end of 2.0. In an effort to hide her identity after the events that transpired in The People v Bree Matthews and in an effort to hide the multitude of crimes she committed while on the run in Europe, Bree decided to change her name to Devon Fox.
While in Europe she met a man who she later fell in love with. The two started off small by boosting items from lesser known museums until they gained the confidence to steal pricier works of art. The two worked together stealing priceless works of art, ancient artifacts, and historical pieces. Eventually, the heat got to be too much and the couple fled from country to country in Europe where they expanded their criminal network, growing The Collective, a professional art heist group. It was here Bree began to expand her knowledge and branched out to specialize in art forgery, identity theft, and creation of forged documents. She was known in the criminal underworld as Renaissance.
Unfortunately, it all went south when a heist went wrong and her boyfriend was apprehended by the police. They offered him immunity if he flipped on Bree, and he did - selling her out completely to several law enforcement agencies, including Interpol. He went into hiding and took all of their money with him. Since then, Bree has changed her name to Devon Fox in order to evade the authorities and has attempted to track him down through various countries. After receiving an anonymous tip that he is residing in San Andreas, she has returned in an attempt to find him and exact her revenge.
Interpol Most Wanted List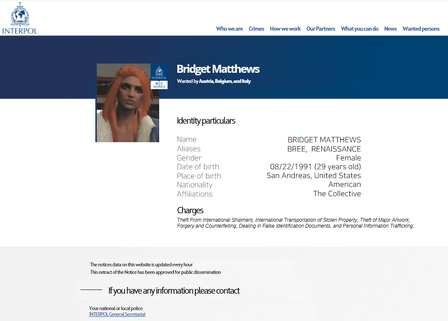 "Interpol blue notice is issued to gather additional information about a person's identity, location, or activities in relation to a crime."