Roblox: DeepWoken - The Loop
Play Sound
| | |
| --- | --- |
| 👮⚖️ | Please do not put FALSE or UNCONFIRMED INFORMATION on this page, thank you. |
The Department of Corrections is a civilian division within the Los Santos Law Enforcement departments.
The Corrections Officers are in charge of watching guard and keeping inmates in line during their stay at Bolingbroke Penitentiary.
General Description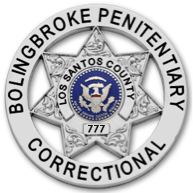 The Department of Corrections is open to legal and upstanding civilians who have been trained by either the Corrections Captains or the Warden.
This department is a solely civilian operation, only affiliated and partially trained by the police department. The civilians are interviewed and then trained to be Corrections Officers.
Staff
Civilians are hired for Department of Corrections by Sr. Correctional Officers. The civilians put in an application for the Department of Corrections and are then interviewed by the FTO's. If successful, they are put into a cadet phase and attend a training day where their FTO determines if the candidate is good fit for Department or not.
Selected Doctors are assigned to the Department of Corrections by Kai B. Knight (Medical Director) to work on scene. Their primary duty is to maintain the health and well-being of prisoners and Corrections Officers.
Corrections Officers greet prisoners at the entrance gate, and operate and defend Bolingbroke Penitentiary. Select civilians staff the prison, and assist prisoners with rehabilitation.
The Corrections Officers communicate on a radio frequency separate from the police department, but are able to contact LEOs or EMS. The Corrections Officers are able to observe 311 dispatch calls at all times, but can not see 911 calls. This ensurers that they are aware ahead of time in the event of an emergency situation.
Chain of Command
Ethan Maxwell is the Warden for the Department of Corrections. His Deputy Warden is Kai B. Knight.
From there, the rankings are Corrections Captain, Corrections Sergeant, Senior Corrections Officer, Corrections Officer, Corrections Cadet, and Corrections Medical.
Wardens (HC) and Deputy Warden (HC) callsigns begin with 7 (as in, 7xx).
Corrections Captain, Sergeant, Officer and Cadet callsigns begin with 7 (as in, 7xx).
Corrections Medical call signs begin with the letter MD (as in, MDx).
Rank Structure
Note: If a guard gets promoted to a new rank, add the new rank to the list below. These are just the current ranks at the moment.
| Rank | Responsibility |
| --- | --- |
| Warden | High Command |
| Deputy warden | High Command |
| Corrections Captain | Command |
| Corrections Sergeant | Command |
| Sr. Corrections Officer | Regular Guard |
| Corrections Officer | Regular Guard |
| Corrections Cadet | Must be supervised by an FTO |
| Corrections Medical | On-Site Prison Doctors |
Certifications
| Certification | Legend | Rank Requirement |
| --- | --- | --- |
| Field Training Officer | | Approved Correction Officer |
Former Members
Name
Rank
(End of Term)
Badge #
(End of Term)
Note
Date
Ensley Alton
Senior Corrections Officer
721
Transferred to the LSPD.
March 18th, 2021
Dwayne Carter
Corrections Officer
733
Transferred to the BCSO.
April 29th, 2021
Elizabeth Reed
Senior Corrections Officer
704
Transferred to the LSPD.
May 13th, 2021
Marco Holliday
Corrections Officer
789
Transferred to the BCSO.
May 13th, 2021
Lisa Adkins
Corrections Officer
712
Transferred to the LSPD.
July 9th, 2021
Glenn Trigger
Senior Corrections Officer
723
Transferred to the BCSO.
August 7th, 2021
Dean Duncan
Corrections Officer
718
Transferred to the BCSO.
August 10th, 2021
Shane Jones
Senior Corrections Officer
744
Transferred to the LSPD.
August 18th, 2021
Wynona Fontaine
Deputy Warden
701
Resigned
September 7th, 2021
Shawn Richards
Deputy Warden
717
Resigned
December 3rd, 2021
Jack Frent
Warden
762
Transferred to the SDSO.
December 5th, 2021
Connor Stubble
Corrections Captain
703
Transferred to the PBSO.
January 2nd, 2022
DOC Member Roster
References