Coop Holliday is a character role-played by thaCOOP.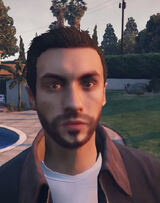 Coop Holliday is a charismatic man, with a depth of career experience. He can be friendly or somewhat reserved and enigmatic. He has been in the city of Los Santos for longer than almost everyone.
Coop has experience in multiple government departments; including years as a Head Judge & Justice for the Department of Justice, and a short Cop career in the Los Santos Police Department.
He is currently pursuing a career outside the government, potentially working closer with his best friend Nino at Sahara International. After years of being crime free, Coop is ready to experience a change (similar to Vinny, after he left PDM). With his police training and law knowledge, watching a criminal Coop Holliday unfold is an interesting prospect.
Coop is well known for his exploits in his relationships. He can be charming and warm, as well as serious and hard to read at times, particularly when joking.
Coop seems to value loyalty in long-standing friendships and serious relationships, and is loyal in return.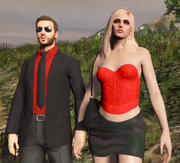 He had a "friend-with-benefits" relationship with Lauren Forcer, and used to be overheard talking about any of his regular hook-up adventures with various people all over Los Santos.
In 2020, Coop proposed to Carmella Corset and asked Jackie Snow to be his best man (as Nino wasn't around). Days after eloping, they divorced due to their fiery relationship, then got back together, and continue to be on then off.
Coop has one of the more personal relationships with the police force, compared to the other Judges. He can often be seen riding along in cop cars to get a first-person view of how the city is functioning. He was known for holding private meetings with Command/High Command members to discuss charges, the penal code, and/or the state of the relationship between the DoJ and the police force.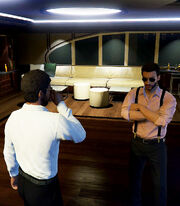 In September 2019, Coop's best friend Nino Chavez (business man) offered him a career change by working closer together, after Coop expressed his beliefs differ from the current DoJ.
Fast forward to mid 2020, will he finally accept the offer from Nino to work together at Sahara International.
Will Nino share his drug and gun ventures openly with Coop and slowly turn him dark?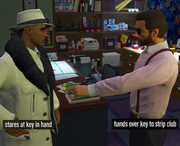 In January 2020, Coop handed the Vanilla Unicorn key to Slim on behalf of Nino (50% owner).
As time passed, Coop mentioned to Slim he could step in to help run the VU if Slim wasn't interested, given Coop's close relationship with Nino.
In March 2020, Slim became less involved in the VU and brought in Mother, Payne, then Speedy to assist.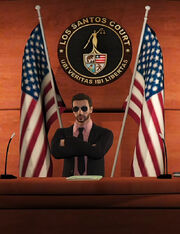 Coop was the youngest and first Chief Justice for the DoJ in Los Santos. He wrote the original laws and charges enforced by the Police. Late 2018, he handed over the Chief Justice position to Dennis LaBarre, supporting as a Judge.
Early 2020, the Panel of Justices was created, consisting of Coop, Labarre and Wayne Ardson. The Chief Justice position was removed. The three Justice members in the Panel have since changed over time.
On June 8 2020, Coop handed in his notice, stepping down as a Judge, stating in a city announcement that his passion for the Judicial system had come to an end.
He left a legacy of being a "fair" Judge, however towards the end of his career had a running joke of never taking a case. Coop is the only person to officially have a law named after him - Coop's Law.
Coop's Law definition
In the event(s) in which any citizen is found guilty of multiple, numerous and/or continuous instances of heinous, malicious, and/or organised capital level crimes in the county of Los Santos, they will be subject but not limited to the following sentences: Search & Seizure, Life in Prison, or the Death Penalty. This may be carried out at the discretion of the Department of Justice.
---
Los Santos Police Department
[
edit
|
edit source
]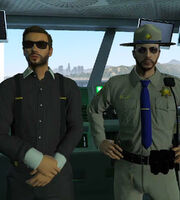 Coop becoming a cop first started as joke between himself, Jackie Snow (pictured) and Olivia Copper. This joke eventually became a short-lived reality.
On February 8, 2020, Coop left his role as Justice, and became a Cadet for the Los Santos Police Department, Badge #556.
On March 13, 2020, Coop resigned from the LSPD and returned to the DoJ as a Judge, stating the DoJ needed him back to help run the city.
However his career restlessness continued, and a few months later he again stepped down from the DoJ to pursue new beginnings.
Coop retained his Police training, and ever since has carried a gun to protect himself and his loved ones. He takes this knowledge into his next career.
Wrote the original laws/charges as the first Chief Justice.
Only person to officially have a law named after him (Coop's Law).
Youngest Judge during the time he presided, known for wearing suspenders and a belt.
Grew up in Boston.
Childhood friends with Nino Chavez (they touched tips).
Almost always seen sporting some fashionable one-of-a-kind sunglasses to match any outfit.
Has a couple of his own songs:
Coop Holliday is a character role-played by thaCOOP - he also role-plays Matthew Payne
Coop Holliday Full Episode Playlist
Old Clips - work in progress
New Server:


Lauren teased for 'Ellen' haircut by Coop & Soze
Coop hands the Vanilla Unicorn key to Slim
Coop accepts he needs to be a beta cadet
Coop tries to hit on the Chief, and is one-upped instantly.
Coop Holliday's personality test
Coop hands in his cop badge to help DoJ as Judge
Coop's PMW theme music

Relationship clips:
Coop massages Lauren
Coop and Lauren quickie
Coop proposes to Carmella
Coop talks about a toaster strudel
Coop plays Doctor to Carmella
Coop asks Snow to be his best man at the wedding
Coop & Carmella after divorce - part 1 and part 2
Coop & Carmella get back together

Old Server
Thanks Luigi
---
Community content is available under
CC-BY-SA
unless otherwise noted.