Raise a Floppa - The Loop
Play Sound

Christmas Delnorte is a character role-played by WildJing.
General Information
Christmas Delnorte is an entrepreneur who is roaming the streets of Los Santos working with several crews and organizations looking for "opportunity".
History
Christmas Delnorte was born on January 1st 1987, name given by his father who had a reputation for being a gambler and a drunk. His Father is a Colombian born citizen that migrated to the US in 1977 where he met his wife Jennifer from Nevada. In his late teens Christmas moved with his uncle Roberto, who he took in as a father figure and mentor, who also brought him into his crew of "boosting" cars. After a job gone wrong, Roberto sacrificed himself in order for Christmas to escape capture from local police. It was during this escape that Christmas managed to get to his secret stash and take a bus to find a new life in Los Santos.
Major Arcs 2.0
Fresh Off The Boat: T-Money and Vinewood
After arriving in Los Santos, Christmas met up with a high-school friend T-Money who showed him around the city. Christmas got to see all the shiny tall building but he mostly spent his time socializing on the Groove Street Gas Station. Christmas took it upon himself to look for a a job and make money which landed his first job with Bad Boy Customs (BBC) as a delivery driver.

The hours were long and the pay was low, Christmas was starting to get bags in his eyes and he knew that even though he liked cars and driving, being a delivery driver was not the way to go for him. T-Money heard this one day and decided to help Christmas and he brought him along to Vinewood for a bit of "training". It was during the darkest times at night that Christmas and T-Money creeped into the beautiful Vinewood mansions and broke in through the back with the hope of finding riches.
After hitting several mansions for several nights, Christmas felt very confident and he decided one day to go do some houses by himself. Little did he know that this day he would run into an angry rottweiler that chased him out of the first house he hit and the dog was able to land one bite his ass as Christmas jumped the fence. The bite was so hard the Christmas fell injured on the ground and a nosy neighbor called the cops who later came and searched Christmas to then find lockpicks, stolen materials and scratches on his hand from lockpicking.
Chop Life: Alex and Meeting OTT
After spending sometime in the city, Christmas became real close friends with Alex who earned his trust from several jobs they and activities they performed together. It was one bright afternoon that Alex approached Christmas and asked whether or not he would be interested in stealing and chopping cars. As soon as Christmas heard this he had the biggest smile and he felt excitement running through his veins, this was a blast from the past.

Both Alex and Christmas took a ride up north to the airplane scrapyard where they met the individuals who chop cars and they provided the list of cars they desired for the day. Christmas first looked at the list and immediately he ran to his car with Alex ready to go look for the first set of cars. The first car on the list is a Comet, easy one to find near the Richman hotel. Upon arrival Christmas got out of the car, spotted the shiny black comet and proceed to take the car. Once inside Alex got in as well and they both drove up north to the chop shop.

While going down route 68 Alex spotted a Banshee parked near Dollar Pills, which was on the chop list, so he proceeded to lockpick and take the car. Christmas was the first to arrive at the chop shop and as soon as he delivered the car Alex radioed him that someone suspicious was rolling up in a vehicle. Christmas hopped over the fence and got into the Banshee with Alex. A second vehicle then turned up and pulled right beside Alex and OTT was driving this vehicle. OTT requested a "tax" for using the chop shop, at this point Alex ignored the request and quickly drove off. Once on the highway and with no sight of the car Alex and Christmas drove towards the Grove Street Gas station.

Christmas was the first to step out of the car and as soon as he turned he saw the same car from the chop shop start to pull in front of Alex and OTT stepped out taking a knife and placing it on Alex's throat blacklisting him from the chop shop for not paying the tax to which then OTT proceeded to stab Alex in the back and left him to die on the street. OTT told Christmas that if he ever wants to continue to chop he would have to pay a $2000 dollar tax that day or face the same fate as Alex. As soon as Christmas got back from the hospital, after Alex recovered, he proceeded to take out the money from the bank and transferred it over to OTT to which then OTT informed Christmas that he could continue to chop with no issues but that there would be a $1000 tax if he was to use the chop shop in the future.
Gang Life: Martin and the Marabunta
Waking up one day and looking at his stash Christmas knew it was time to go and sell material, a side hustle he had while working with BBC and also through his "house cleaning" operation called the Los Santos Cleaning Company (LSCC). It was upon his arrival at the Groove Street gas station where a man in blue with a southern latin voice approached him and requested that the materials be sold to him claiming he could give me the best price in the city. This man introduced himself as Martin from the Marabunta Grande gang in the city.

Martin invited Christmas to join an chop-shop operation he was running with Juan and Alexi. Christmas informed Martin of the OTT issue Alex and he faced previously but this was not going to be a problem because Martin works for OTT and he informed us that we do not need to pay any tax for shopping cars. It was later mentioned that OTT and Marabunta were taxing $2000 to anyone who was chopping cars and not selling the materials to them or OTT. The upside was that regular people who worked on getting materials were now getting paid twice as much as what they were making before.

After a few activities with the Marabunta, Christmas was invited to join by Martin and Juan. At this point things seemed to be going well and the family dynamic was there. This lead to Christmas buying a car and a house in Fudge Lane to hang with the crew and he was then later invited to put on colors.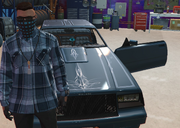 A few days later it was decided by OTT and Marabunta to start taxing the recycling center which then lead to Sergeant Rhodes banning all Marabunta and affiliates from the recycling center. This event coupled with some claims of robberies started the ESB Material War. During this time Christmas was left in the dark on what was happening with the war and when ever he would ask for information from the Marabunta they would just inform Christmas to not wear colors and to stay as hidden as possible. But it was one day that Martin and Juan got in an altercation in which they requested Christmas to black out and bring a gun to a situation.
Christmas felt out of place as Martin was urging him to go to him quickly. Christmas knew what the situation was about, as he was able to gather intel from other groups in the city, and he felt that Marin was only wanting him in this situation for extra numbers. Once the situation concluded Christmas tries to ask Martin for details but once again left in the dark.
It was not until next day that an even happened and something click for Christmas at this point and then he finally realized that he was being used by the Marabunta for the materials and also for the muscle when they needed it, the entire "family" that was promised was never there, it was all transactional. All these pieces came together when Martin picked up Christmas with Heath and Walley in the car to then see Martin grab Heath and throw him over a bridge once again leaving Christmas in the dark. Heath survived and was able to meet with Christmas and discuss about that situation and the Marabunta.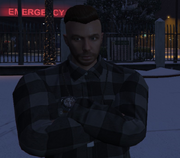 This is not the type of crew and people that Christmas wants to be associated with, after seeing they way they act and treat their own this was definitely not the right place for Christmas. So one bright afternoon Christmas quickly spoke with Juan and it was easily decided that it was best for Christmas to part ways from the Marabunta and find a better path that fits him.
A New Venture: Los Santos Locksmith Brother's & Engineering
The lead up to the next chapter in Christmas's life. Los Santos has proven to be a city full of opportunity, after leaving the Marabunta, Christmas took it upon himself to find other means of making money in the city. A few months back Christmas took it upon himself to call a lawyer he found in the Yellow Pages called Tsuki Shinobikaze seeking advice on a business license for a "cleaning operation". After going over the details and next steps Christmas asked Tsuki if he ever heard of DabCoin and luck came to show that Tsuki was a DabCoin broker. Having that "gamblers nature" in his genes, Christmas decided to make the maximum initial investment of $10,000 hopping for the best.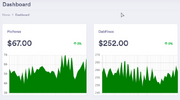 Needless to say, Christmas was very active in the city meeting new people and eventually found himself learning things he never knew about...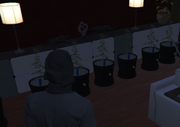 Amongst these activities Christmas was able to cross paths with a long chin fellow named Sally Avvocata. Right off the bat Sall and Christmas noticed they were like-minded individuals with similar outlooks in life.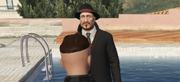 Sall and Christmas started to hang around, getting themselves into trouble, enough that until one day Christmas felt he could trust the long chinned man so he proposed an idea to Sall about a "locksmith business", essentially a new way to trick the store clerks into letting us walk to the back safe with a forged order to"service" the back safe unbeknownst to them we were taking the big bills and any gift cards we saw laying around. Sall really liked the idea and after planning out the perfect store they decided to move forward with the first test run...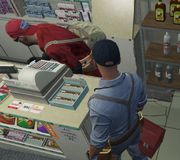 It worked like a charm, and that week alone Sall and Christmas took down about six stores taking bags of money and gift cards until one day the cops were called on scene by a local passerby who thought something fishy was happening at the store. Once the police arrived on scene they requested that we show a business license, and since we did not have one, the cop stated that we could not continue to operate until we received a formal business license. The police definitely threw a wrench in our plans as Sall was in talks with his partners back in New York about expanding the locksmith business and use it as a front for future operations. Due to this unforeseen hiccup Sall was called back to New York to speak with his partners about the future.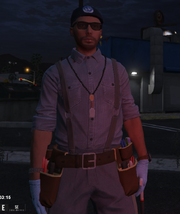 Christmas was looking forward to continuing the locksmith operation, to the point that a name was already given to the business The Los Santos Locksmith Brothers and Engineering (LSLB&E); it even rolls with the tongue. Now that the store income was gone it was time for Christmas to look at the DabCoin investments he made and to his surprise his $10,000 had become $420,000: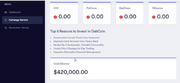 With all this money Christmas did the one thing a sound investor would do, Re-Invest! and boy did it pay out BIG officially making him a CryptoCurrency Millionaire: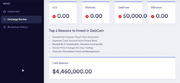 Having all this money Christmas could only think of one thing, Island Living. No dream could be more perfect than to escape Los Santos and live in a beautiful Caribbean Island close to the drug route in case if Christmas needed resupply on some extra curricular activities. There is one more thing Christmas still needs to do, and that is to say goodbye to those close connections he made because he is unsure on when he will return cause being a Millionaire can definitely go a long way...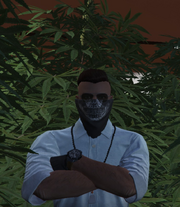 Major Arcs 3.0
Back To The City: Desolation Unknown
TBD... a new Christmas?