Charlie Greene is a character role-played by Sun_Bae_.
Background
Charlie moved to Los Santos to get away from the traumas of her past and search for her long lost father who doesn't know she exist. Charlie lost her younger brother, Dax, who was hit by a drunk driver that fled the scene. Charlie also thought about starting an event planning business when she threw a birthday party for her frenemy, Nora Koh.
After finding her half-sister, Whisper Hale, they discovered that their Dad passed away some years ago. Before Whisper moved to the city, she lost a lot of her memory about her past life. Charlie and Whisper attempted to find her missing memories to find some answers for her. Charlie struggles with abandonment issues from her parents not being to involved in her life. Her father never knew about her, yet her mother was an alcoholic and avid drug user who was very abusive to her and her brother growing up. After Charlie's brother died, she became her mother's primary target for emotional and physical abuse. Growing up, Charlie never talked to anyone about this abuse that she received and still hasn't opened up to anyone about it. Because of this, she has poor coping skills and turns to alcohol herself and struggles to open up to her closest friends and partners.
Charlie was one of the co-owners of A Light In The Dark until she got overwhelmed with running the business in feeling like she was the only one trying to make the business work. She walked away from ALITD and took Sam's offer to join the Cereal Villa team. Sam made her this offer after spending time together at the markets and Charlie expressed her feelings of feeling alone on the team. Charlie decided to become co-owner of Cereal Villa by signing a contract, and often makes the joke that this is the only thing she'll ever marry.
Charlie currently struggles with an alcohol addiction. She has struggled with alcoholism after moving to the city. She mainly drinks to cope with her feelings rather than talking about them. She is actively trying to become better about talking about her feelings and using healthy coping mechanisms but it doesn't always work out. Longest time sober has been 20 days. She hopes to use Parks & Rec to create an AA program in the city for those who struggle with addiction, not just alcohol addiction. This idea first came from having her "crane talks" with her friend, Veronica Westfield, who also struggles with Alcohol. They have made chips to signify their progression.
Relationships
Zeno Asphodel
Charlie and Zeno have been in an open relationship since early August 2021. They have been on three dates, two including taking other people with them.
Charlie frequently attends the after tsunami parties that Zeno throws in his apartment.
Charlie and Zeno never miss an opportunity to wear similar outfits, model, and take pictures around the city. Charlie and Zeno currently live together in Chumash and have a beautiful relationship that they openly talk about their feelings and come to each other in times of need. Zeno and Charlie will celebrate their one year in August 2022.
Charlie is very in love with Zeno and would do anything for her relationship with him. Charlie broke up with Zeno via text in a depressive episode.
Reggie Mitts
Charlie and Reggie began dating early December 2021. When they first met, Reggie shot out Charlie's tires. Reggie and Charlie were always up to something, whether that be foolishness or Reggie helping Charlie with one of her many jobs. Charlie tried to be supportive in anything that Reggie wanted for themselves but struggled with alcoholism and not talking about her feelings. Charlie would be a tad jealous when Reggie wasn't putting enough effort into their relationship as she thought they should. Charlie also did not like that Reggie was hanging out with someone she deemed dangerous and that caused a riff between them. She asked them if they still wanted to be with her, after not being sure, Reggie and Charlie decided to take a break. The next morning, Charlie woke up to a break-up text that mentioned that Reggie was an aspiring criminal and couldn't split their time between their relationship and doing crime. The same text message was also copy and pasted from Reggie's other partners. A beautiful 5 month relationship, ended in the middle of May 2022. After much reflection, Charlie feels like this relationship was passionate and toxic in many ways. Charlie has also admitted that she still loves Reggie and wants what's best for them but no longer wishes to be in their life.
Luna Park
Luna and Charlie began casually dating at the end of January/beginning of February 2022. They originally met Charlie's first few weeks in the city, when Luna was downed outside apartments. They exchanged phone numbers and saved each other in variants of "Cute Ems Girl//Cute Apartment Girl". They reconnected soon after Reggie and Luna started interacting with each other. Luna and Charlie share house keys with each other, but currently do not live together. When Luna was kidnapped by the Game Master, Charlie was distraught and very worried about Luna. Charlie also realized that she did not know that much about Luna and discovered something new about Luna every day that she was missing. Charlie vowed that when Luna was returned that she would get to know her girlfriend better and know more of the person that she loves. Regardless, Charlie loves Luna and thinks the world of her. Charlie also thinks that Luna is a workaholic and needs to take more breaks for herself. Charlie in a depressed state broke up with Luna via Text and blamed herself for all the bad things in Luna's life.
Whisper Hale
Charlie and Whisper met in the city of Los Santos unknowingly sisters. They got a blood test at Pillbox to see if they were relatives, the blood test showed that they are half-sisters and related on their dad's side.
Whisper had forgotten her memory previously to coming to Los Santos and is slowly regaining the more she stays in Los Santos. Whisper discovered on one of her trips home, that their father had been deceased for a couple years. Charlie was very disappointed by this answer and wanted to know more of where her dad came from and what her heritage looked like. Charlie also struggles with that her father never knew about her but had a role in Whisper's life. She feels a tad jealous that Whisper had a chance to know their father.
Romantic Interests
Sidwig Crawshank
This is an on and off again relationship. Charlie and Sidwig started seeing each other after Sidwig sang to her. Their first date was hiking up the mountain and attacking locals together. Their second date, Sidwig treated Charlie to a dinner and scenic view on top of the Vinewood sign. Sidwig proposed to Charlie and she said no. Sidwig stabbed Charlie and threw her off the Vinewood sign. After this, Charlie got her revenge by stabbing Sidwig and cutting off his hair. They started seeing each other again after some time apart. They started sleeping together again after Charlie decorated his house. Charlie broke things off with Sidwig because of her relationship with Reggie. Reggie never requested this of her, but she felt it was necessary to respect her current relationship with Reggie. Even though Charlie and Sidwig are currently not sleeping together, Charlie considers them to be friends.
Nico Kanto
Nico and Charlie were sleeping together for a while. Charlie was under the impression that they were dating after a Rave at the underpass when Nico wanted to clarify that he did not sleep with Liz Anya despite what twatter says. After some weeks, Charlie and Nico had another talk about a relationship and Nico said that they were never dating but Nico said he was okay with going in that directions. Charlie decided to break up with some of her flings to focus on her relationships. Charlie still considers Nico to be a good friend of hers.
Ursula Leichenberg
Charlie and Ursula have always flirted with each other but only became closer after Charlie decorated Sidwig's apartment. Charlie and Ursula started spending time separately from Sidwig for a while. Charlie ended up breaking off her flings to focus on her partners at the time. Charlie still considers Ursula to be a good friend of hers and cares about Ursula a lot.
Rocky Topps
Rocky and Charlie met on Charlie's first week in the city. From their conversations, it seems like both Rocky and Charlie were into each other from first meeting, but decided to remain friends. After their conversation about Parks and Recreation, Rocky and Charlie became close and Charlie considers Rocky to be one of her closer friends. After several months, they decided to spend the night together and they both agreed it was well worth the wait. Rocky and Charlie have decided to take things slow, as both of their lives are super busy and that the timing was off. They both came out of relationships around the time they started casually sleeping together. Rocky had been there for Charlie since Luna got kidnapped, they shared experiences from when Rocky was helping find Jeffy Coldiron when Jeffy was taken. Charlie has told Rocky that she would put their friendship first, rather than her romantic feelings for him for the time being until or unless they are both wanting something more. Charlie also considers Rocky her knight in shining armor, referring to prom who she claims "saved her prom" after being broken up with the night before. Rocky and Charlie broke things off but still remained friends in early July 2022.
Jeffy Coldiron
Jeffy and Charlie became friends after hanging out with Niki. Jeffy and Charlie had grown close and had an interesting relationship in a sense that they would always be transparent with each other. After some time, they developed feelings for each other. Charlie, at first, denied those feelings because of her relationship with Rocky and Niki. After several conversations about how they feel and Charlie being freshly single, they decided that they would go on a date and to take things slow.
Parks and Recreation Director
In May 2022 at the encouragement of Rocky Topps, Charlie reached out to Mayor Bunny to squash their beef from Bahama Mamas West and to shoot her shot as Director of the newly revived Parks and Recreation department. Assisted by Niki Reynolds and a newly hired team of supervisors and recreation coordinators, Charlie ran several successful Parks & Rec events for the city such as "Friendly Feud Fridays". Charlie convinced Bunny to promote Niki to Assistant Director.
Shakespeare in the Parks & Rec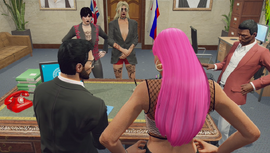 When Bunny lost her mayoral bid for re-election to Mickey S, Charlie feared that avid Bunny-hater Deputy Mayor Ricardo Perez might try to hijack, sabotage, or micromanage the Parks & Rec department. On June 16, 2022 as Mayor Mickey was preoccupied transferring the July $2,252,760 budget to the Parks & Rec account, he missed a phone call from Ricardo questioning numbers on the Parks & Rec budget. Later in the day as a consequence, they lost their leverage against Charlie and Niki during a standoff inside of the Mayor's Office--where Mickey became enthralled by a showdown in which Charlie refused to work with Ricardo. The meeting adjourned with the compromise that Ricardo would help review the next budget and remain available as a resource.
Next, "Burning Mandem" event planner Lana Valentine from MDM Records conferred with Mickey, Ricardo, and Ayub inside of the Mayor's Office to accuse Parks & Rec of imitating "Burning Mandem" with a state-funded "Free Your Mind Festival" on June 25, 2022. Lana explained that MDM Records had to reschedule their "Burning Mandem" event from June 24, 2022 to July 4, 2022 because of a scheduling conflict with Ricardo's Pride event, and that MDM Records co-owner Dwayne Flores angrily wanted Charlie to reschedule both the "Free Your Mind Festival" and Fourth of July event to a date that didn't upstage "Burning Mandem". Mickey admitted a lack of authority over Parks & Rec, especially because he had already paid out their budget for the month. In an effort to sabotage the "Free Your Mind Festival", The Mandem worked to persuade the Lost MC and the booked Wu Chang Records artists to pull out. Also, Charlie's Lost contact Sai Carter soured on it when she confronted Niki over a secret drug deal with him. In a tense negotiation at MDM Records between The Mandem and Charlie, Niki, and Pact Nicely on June 23, 2022 that Mayor Mickey belatedly showed up to at Bunny's strategic request, Parks and Recreation agreed to move the "Free Your Mind Festival" from Sandy Shores to the Vinewood Bowl and to change their start time of the Fourth of July event.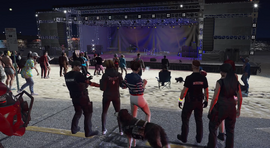 With Niki missing for Parks & Rec's big "4th of July Extravaganza" on July 4, 2022 at Vespucci Beach, the city's first Parks & Rec Director Nancy Drew and the Bondi Boys MC (including leader Irwin Dundee) assisted Charlie and the Parks & Rec team with the event. Nancy set up a brand-new medium stage w/LEDs that had never been seen in the city before, and fireworks exploded high in the sky (coming full circle from Nancy's first Fourth of July event where the fireworks didn't go off). Damien Tinkerman, Ellie Nite, Peren Meliamne, Hubcap Jones, Daphne Malone, Dommy Mommy Sooty, and King Ryan performed. Wilson Hart won the Benson's Backalley Motors raffle for BBMC leader Irwin Dundee's red $750,000 Everon truck. Collin McKinley won the car show. King Ryan won the $10,000 prize in a trash-talking boxing tournament hosted by Bobby Beldrum. Dundee sold raffle tickets and fled in a stolen cop car. After the event concluded, Jeffy Coldiron passed along a sloppily written goodbye note from Niki to Charlie. In the note, Niki apologized for the no-show and stated that she needed to take a leave of absence from Parks & Rec. After coordinating one last "Friendly Feud" on July 8, 2022 as an emergency favor for Charlie, Niki resigned from Parks & Rec.
Deputy Mayors Ricardo Perez and Sherry Paie resented how much power Mayor Mickey S had granted to Bunny over the Mayor's Office and the Parks and Recreation department. On July 12, 2022 while Mickey was on extended leave from the city, Ricardo and Deputy Mayor Ayub Elmi phoned Parks & Rec employees (including former Assistant Director Niki Reynolds) and audited the department looking for any evidence of embezzlement. Ricardo texted Mickey that they should withhold the Parks & Rec budget until Bunny transferred ownership of the department to Mickey, and that Bunny had too much power (Ricardo referred to her as a "Shadow Mayor"). Deputy Mayor Mila Smoak admitted minor discomfort over Bunny's oversight, but advised that Mickey had let Bunny own Parks & Rec unchanged and that Ricardo was conflicted out of investigating Parks & Rec. On July 13, 2022 in a phone call with Sherry, Judge Serge Cross became suspicious and annoyed that she kept pushing for an ownership transfer of Parks & Rec so close to the end of Mickey's first term. Serge told her to wait until the next mayoral term, and told Bunny he'd have all of the Deputy Mayors back off until Mickey returned from his extended leave. But with Ricardo permanently gone from the city by the time Mickey returned, all of the opposition Ricardo had spearheaded against Bunny and the Parks & Rec department collapsed.
On July 27, 2022, Charlie resigned as Parks & Rec Director because of a unilateral decision by Bunny (sent via e-mail) to slash the August budget request and change the supervisors' weekly salaries to event-only pay. Given Parks & Rec Accounting Manager Ethyl Winkelfiddle's earlier texts to Charlie that she would escalate her concerns about the recent Parks & Rec inactivity to Bunny, Charlie assumed that Bunny had lost confidence in her as the Director. At Dean World on July 30, 2022, Bunny clarified to Charlie that this had not been the case, and that she could have her Parks & Rec Director job back.
Cerberus Intern
During day 3 of a Cerberus internship competition on July 5, 2022, contestant Charlie was teamed with de facto Gulag Gang leader Marty Banks, Sparky Kane, Dougie Fresh, and Max in a challenge where four teams start with a radio and go around the city trading up to the most prestigious item possible. Charlie openly dissented against Marty's usage of the radio to call in a friend for help, and once the team was disqualified for a rule break Lang Buddha eliminated everyone on the team except for Charlie. Marty swore revenge.
A week later in a Cerberus meeting on July 11, 2022, Samuel Dennis and Charlie pitched their Cereal Villa business to Lang, Dean Watson, and Dillon Dubbs. They agreed that Cerberus could own 50% of the business in exchange for a $500,000 investment and help with a storefront. Also, the first cereal box must have Cerberus branding. The next day on the day 4 finals of the Cerberus internship competition, Marty ocean dumped Charlie before the start of Marlo Stanfield's trivia game show and Marty's girlfriend Elena Vega ended up winning the Cerberus internship. When Lang confronted Marty why he had ocean dumped Charlie, he answered "she deserved it". Although Lang dropped the subject and went gambling with him, Cerberus ultimately decided to hire Charlie as an intern in addition to Elena. The new head of the Cerberus Intern Program, Dillon, delivered the internship orientation at the Cerberus Business Center on July 25, 2022--where Vice President of Operations Nancy Drew specifically brought up Lang's #1 rule to keep gang politics out of the workplace.
Gallery