Roblox: DeepWoken - The Loop
Play Sound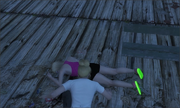 Candice DeFitt is a character role-played by Wolfabelle.
General Description
Candice DeFitt is a Deputy for the Paleto Bay Sheriff's Office, Badge #393.
Candice appears to have a pathological hatred of all city street infrastructure, and seems to intentionally drive into street signs, lamp posts, electrical stations, and missile caches, when given the opportunity.
Candice is a connoisseur of dick jokes, once attending a PD meeting seemingly only to bless them with one before running out.
Highlights
Before being hired to BCSO, Candice worked as a PD parking lot attendant and tow truck operator.
Candice is an expert in providing sex ed to the police department, with advice like "Pulling out is dangerous". This has inspired her nickname/BTF codename of "Creampie".
Candice is an Agent of the Burglary Task Force (BTF), helping catch four separate house burglars in a single day by pretending to sell Girl Scout cookies.
Candice has mad game and is constantly hit on by citizens of Los Santos, including men, women, cops, criminals, and civilians.
Candice has an ongoing rivalry with Saleem Shakib and Evald Sørensen due to a one-time motorcycle accident, leading to repeated criminal threats and warrants issued in response to those threats.
Candice has been criticized by command (unfairly or not) for a lack of urgency, inattention, a poor attitude, and poor driving.
Candice has shown a disrespect towards the elderly, resulting in anger and attacks from Prune Gang members Mel and Eugene.
Upon meeting fellow cadet Crystal Clear, Candice was distressed by her similar appearance, possibly due to jealousy and insecurity. Candice repeatedly insults and dismisses Crystal despite Crystal's attempts to win her over with gifts, flattery, and friendliness. This has resulted in several HR interventions, including a team building exercise (aka "PD event") wherein Kyle Pred went off duty and pretended to kidnap William Gunner based on Gunner's suggestion. Candice and Crystal may suspect they were set up based on later seeing Kyle's "borrowed" car on a scene with Kyle and Gunner, but are not sure. The incident seemed to make them go closer, with Candice encouraging Crystal's driving at one point.
Candice may be somewhat of a furry, given her occasionally going on all fours and shouting "Yiff! Yiff!", along with frequently exclaiming her fondness for various sorts of animal girls.
Candice is quite possibly a cocaine addict. She has been seen consuming cocaine while off duty on more than one occasion.
As of November 2021, Candice is a convicted felon. She has served 35 months at Bolingbroke state penitentiary for illegal possesion of a class 2 and brandishing a weapon.
After God, in the form of Morgan Freeman, granted divine powers to DEVan Almighty, it was revealed that Darnell Davis is Candice's miracle baby.
Candice's hair was cut short by Kyle Pred, so Candice chose to "steal"  Crystal Clear's off duty hairstyle as a wig, in a reversal of their initial animosity towards one another.
Momentous Dates within the PD
| Rank | Insignia | Note | Date |
| --- | --- | --- | --- |
| Cadet | | Hired; Badge #593 | July 16th, 2021 |
| Solo Cadet | | Solo Certified; Badge #693 | August 13th, 2021 |
| Deputy | | Promoted to Deputy; Badge #393 | October 20th, 2021 |
| Deputy | | Transferred to the PBSO | December 2nd, 2021 |
| Certification | Legend | Rank | Note | Date |
| --- | --- | --- | --- | --- |
| Burglary Task Force | | Deputy | Appointed as Agent in the BTF | October 20th, 2021 |
| Motorcycle Driver | | Deputy | Motorcycle Certified | November 16th, 2021 |
Quotes
"I want to touch the fire!" [1]
"Yo check report #16225"
"Are you okay?"[2]
"If you don't use contraception, don't pull out."
"I've got bitches on my tits"
"Little s***!"
"uh hmm" (while clearly not listening)
"I like the bike. I really, really like the bike"
Gallery
References