Fire Emblem Warriors: Three Hopes - The Loop
Play Sound
| | |
| --- | --- |
| 👮‍♀️ | Please do not put FALSE or UNCONFIRMED INFORMATION on this page, thank you. |

Brittany Angel is a character role-played by KylieBitkin.
General Description
Brittany Angel is a Captain for the Paleto Bay Sheriff's Office, Badge #300.
She is an owner of PD Tow (Angelic Towing), and head of the Street Racing Unit.
Physical Description
Angel is a 31 -year-old Caucasian female with white hair and blue eyes. Her white hair is nearly always pulled into a ponytail, although she will occasionally put her hair up in a bun or let her hair down. While some assume that her white hair is either dyed or caused by some sort of stressful event, the hair color is actually a result of a genetic deficiency that caused her hair to turn gray and lose color by mid-adolescence.
Personality
Angel speaks in a Liberty City accent, her accent has however gotten a little less harsh with the time she spent in Los Santos. She is an overall cheerful and happy person that is mainly just trying to make a difference in the city, however she can sometimes come off as mean or insulting due to her blunt nature and no holds barred attitude, this same attitude makes her one of the most effective and feared law enforcement officers in the city who is not afraid to do what is necessary to get results and always follows through on her promises.
She aspired to rise through the ranks of the police department in hopes of one day attaining the position of being able to lead shift operations. Outside of rising through the ranks, she had high hopes of one day being in charge of either leading the Training and Recruitments Office or the Traffic Enforcement Division within the police department all of which she has now achieved by becoming a Captain of the BCSO, lead of P&T and lead of the SRU.
Background Information
Background
Angel has two biological sisters, Antigone West is her twin sister, and Claire Everly is their younger sister, all three of the sisters were put up for adoption at a young age with Angel and West being sent away to a separate family from Claire. Angel and West grew up together in the Liberty City, and because the two sisters spent their childhood growing up together, Angel had developed a much closer bond with West than she did with Claire.

Claire was eventually reunited with Angel and West when she was in her teens, but Angel felt like Claire didn't fit in with them at all as she felt that Claire never made a real effort of forming a true sisterly bond with them after their reunion. After a few years, Claire eventually moved away to pursue a career of becoming a police officer in a different city, leaving Angel behind with a feeling of abandonment.

As an adult, Angel joined the Liberty City Police Department where she worked as a police officer in the Algonquin district. While she enjoyed her years working for the LCPD, she eventually decided to move to Los Santos after she heard that Los Santos was not only paying better, it was generally a much quieter city with much lower crime rates.

She eventually ended up with a relationship with Kyle Pred, and after they had been dating for a while, Pred decided to quit his job as a homicide detective in Maryland, and move to Los Santos so he could be with Angel. The couple used to live together in Angel's studio apartment, but they now live together on Procopio Drive #8 in Paleto Bay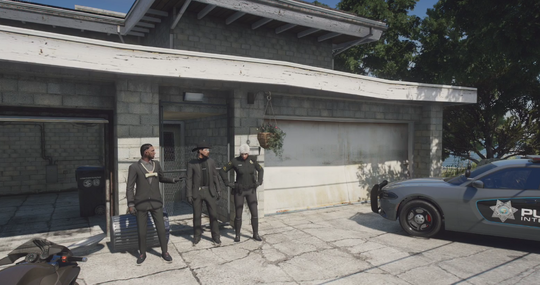 Career
Career
After the PD restructure Angel was appointed as a Senior officer of the LSPD badge number #457, it didn't last long until her skills were noticed and she was appointed the Head of the Personnel and Training Division alongside Domenic Toretti. Giving them complete control over the hiring/firing and training of new recruits. This marked the first time that this responsibility was permitted to anyone outside of the highest powers of the PD. Together they conducted interviews for new hires and ran training academies. Her first hires as lead were Jeffrey Bundy and Sexton Hardcastle.

Following the election of her boyfriend Kyle Pred to Sheriff of the BCSO it was decided that it would make sense to separate the leads of PTD between the departments to help with ensure neutrality. While debating the possibility of transferring Angel tried on a BCSO uniform, however then Chief of police Bob Smith walked in on her and angered by what he thought of as a betrayal, he disowned her from the LSPD and forced her transfer to the BCSO. Pred welcomed her enthusiastically and promoted her to lieutenant the next day. Angel was particularly fond of her call sign #457 and it was one of the strongest reasons for her wanting to stay in the LSPD, she fought hard with members of high command to try and keep it however she was unsuccessful and reluctantly picked #300 as her new callsign.

Angel always thought of herself as a city cop and never saw herself as a member of a sheriff's department. However, together with Pred as the new sheriff they moulded the BCSO into, not just a department but a family (definitely not a cult) and a place that Angel would never consider leaving. Although only officially the rank of Lieutenant Angel took up the slack where other high command fell short, enabling them to utilise their skillset to the maximum, she became high command herself in all but rank.

When interceptors were introduced to the PD, Angel was amongst the first to drive them in the Interceptor time trials hosted by Soze. Resulting in her being in the first group fully certified to drive them, while being one of very few, even to this day to have passed every trial first try. She has since improved her times and holds the record on every trial. She again held the record when trials were run in A+ and yet again after the cars were fully retuned. As an interceptor driver Soze recognized her skills and responsibility and permitted her to run interceptor trials for others.

Eventually Angel's behind the scenes shadow high command work was rewarded after months of inactivity for Captain Cornwood, Kyle Pred demoted him from Captain replacing him with Angel. As a person unmotivated by power or rank Angel was unfazed by the promotion feeling it changed very little for her, as she fulfilled the role in all but name anyway.

As an interceptor driver Angel consistently found herself at the side of the road having successfully ended a chase, with suspects cars waiting for someone to help impound it, whether that was untrustworthy tow drivers or PD members. Frustrated with this, Angel formed PD tow (or Angelic towing) staffed mainly by the eager PD parking attendants who had little else to do and who she could background check to ensure their integrity. The Tow company has priority to all felony level calls allowing the PD to reliably get assistance impounding cars.  

As the lead of PTD Angel was approached by BCSO high command to help increase numbers during Shift 3. They decided that the best approach was a hiring fair during the shift. Angel appointed her recruiters Anita May and Matthew Espinoz to organize and run this event who in turn approached LSPD to see if they would like to be involved, which they turned down. The resulting fair caused heavy pushback from LSPD who believed that PTD were no longer acting neutrally in their hiring, This, compounded with previous controversial hires/promotions by Toretti, and rumours of cadets being pressured into departments caused a decision that high command members should no longer lead hiring, resulting in both Angel and Toretti stepping back to supervisory roles with May and Espinoz taking lead of the department. Fortunately, Angel had prepared for this by training them up to be her successor since she hired them as recruiters

For several months the interceptor division had been stagnating with lack of leadership, Angel being regarded as the best pursuit driver in the PD was granted full control of the division by Soze, which she then rebranded as the Street Racing Unit (SRU), she appointed Jackie Snow and Olivia Copper as co-leads. The unit expanded its scope to now involve investigations as well as pursuits, allowing them to track and identify high profile targets and place bounties for their capture. The resulting unit is now one of the most competent and successful units in the PD.

As the division lead for SRU Angel was responsible for obtaining budgets for the department, she however received significant pushback from the mayor Abdul and his deputy Salem Yellow, with them refusing to grant either any or enough money. This greatly angered Angel especially after she learnt how much money was being left unused in the state fund. The resulting fallout led to two substantial changes.

Firstly, the mayor created a new role called, Commissioner. This role was intended to act as a middle man between the Mayor and PD on all budget related matters, so that the mayor's office would no longer have to deal with Angel. However, the role granted enormous power to the commissioner something no one except Angel noticed. The resulting debate required the presence of Senators to settle it, who in turn officially established the role while removing the excessive power it had previously. During the debate Pred became insulant with the Senators questioning their authority they responded by having him arrested and removed from Sheriff, an act that Domenic Toretti eagerly caried out, causing Angel to confront him to express her disappointment in what he has become despite her being the one to train him.
Secondly, Angel, frustrated by the mayor, had intentions to impeach them. So, she FOIAed the state account to find out why they refused to spend the money. She assigned Byson, Cross, Hall and Bundy to investigate, the details of the account showed multiple acts of embezzlement, enabling them to begin the Impeachment process, which they successfully managed to do, resulting in Abdul and his team being stripped of mayorship.
Another Sheriff election had been running concurrently with these events despite Pred being removed no longer Sheriff he still reran for the position. The senators however decide to ignore the votes entirely and dissolve the BCSO. Appointing Toretti Sherriff of Sandy shores (SDSO) and Pred Sheriff of Paleto (PBSO). Following this all PD members were free to chooses their department with PBSO being BCSO in all but name Angel stayed loyal becoming Captain for the Bay.    
Skills
Skills
Angel is regarded as one of the most well rounded and skilled members of the PD

Her most infamous skill is her driving and pursuit ability, and she is regarded as the best in the PD. She is often the only driver able to stick to pursuits due to a combination of pure driving skill to keep up, eagle vision to spot them in the distance, map knowledge to predict and intercept chases, foresight to predict and avoid jukes and vast amount of experience giving her knowledge of nearly all escape routes. When not solo her expert coordination and comms further enable her and empower others making an almost unstoppable force.

When out of the car and with a gun in hand Angel has the reputation and nickname, "The Angel of Death" for her ability to fight the criminal world's, best against overwhelming odds and still come out victorious. It's a reputation that she used to take pride in but no longer embraces as she has matured. She takes no pleasure in shooting criminals, but unlike many in the PD she doesn't hesitate when necessary.

Her lack of hesitation has gotten her into trouble in the past but also helps enables her to be one of the most effective leaders. Combined with her extensive experience and situational awareness she is one of the best field leaders. Her situational awareness is unmatched making her impossible to catch off-guard but also slightly paranoid as proven by her reluctance to refuel near anyone

These skills meant that Angel was the first person approached to be a SWAT commander, she reluctantly accepted the role, but has activity avoided any involvement since, with her only use of SWAT equipment being to clean graffiti of her SRU billboard with a grapple gun.

Angel had a fear of heights and always refused to fly; however, Jackie Snow had a hunch that she would excel as a pilot and would always pester her to try, he eventually cured her fear of flying via a series of parachute jumps and then tempted her to pilot with the new PD jets. She was a natural and completed every maneuver expertly

Some of the major reasons she was appointed as PTD lead was her teaching, paperwork and delegation skills. She is willing to put the effort into making sure that paperwork is done correctly, however she also has a talent for identifying other skilled people and putting them into positions to enable them while reducing the workload for herself. This has resulted in every department she has started having long-term success.
Momentous Dates within the Government
| Rank | Insignia | Note | Date |
| --- | --- | --- | --- |
| Senior Officer | | PD Ranking Restructure; Badge #457 | February 5th, 2021 |
| Sergeant | | Promoted to Sergeant; and appointed as Head of the PTD alongside Senior Officer Domenic Toretti[1] | February 25th, 2021 |
| Sergeant | | Transferred to the BCSO | April 18th, 2021 |
| Lieutenant | | Promoted to Lieutenant | April 19th, 2021 |
| Lieutenant | | Changed badge number to #300 | April 20th, 2021 |
| Captain | | Promoted to Captain | July 16th, 2021 |
| Captain | | Transferred to the PBSO | December 2nd, 2021 |
| Certification | Legend | Rank | Note | Date |
| --- | --- | --- | --- | --- |
| Field Training Instructor | | Sergeant | FTI Certified | February 25th, 2021 |
| Interceptor Driver | | Lieutenant | Interceptor Certified + Pursuit FTO | June 16th, 2021 |
| Street Racing Unit | | Captain | Appointed as Division Lead in the SRU | October 15th, 2021 |
| Jet | | Captain | Jet Certified | December 12th, 2021 |
| Interceptor Driver | | Captain | Interceptor Restructure; Full Access to all Interceptors | April 21st, 2022 |
Quotes
Hail Satan
Fuck bikes, Bikes are cringe
Nice driving
WHERE'S MY C7
Bwo, I mean bro, I mean Officer
Trivia
Has her own personal desk in MRPD previously with a picture of an M1A1 Abrams on her desktop[2] now with a picture of Angel and her sister Claire Everly.
Has a decorative StatTrak™ on her AR in the MRPD armory that displays her call-sign "457".[3]
Has a smoking addiction.
She had a fear of heights, until Trooper Snow made her complete a series of parachute jumps to cure her of her fear so he could train her to be air certified
She is regarded as the best driver in the police and holds the record for every interceptor time trial.
Her favourite car is the Corvette C7 and since receiving her interceptor certification she is rarely seen driving anything other than the C7 interceptor which she has claimed as her own with the callsign 300 on the roof.
Highlights
Gallery
References