Fire Emblem Warriors: Three Hopes - The Loop
Play Sound
| | |
| --- | --- |
| 🔫🇲🇽 | Please do not put FALSE or UNCONFIRMED INFORMATION on this page, thank you. |
The Aztecas are a street gang holding claim to a small territory in the North Rancho area.
History
The Aztecas are an older gang that has existed for decades, but became largely inactive in recent times. Jose Martin Perez revived the gang in 2019. At the end of 2021, Gabriel Navarro arrived in Los Santos, quickly taking over as el Jefe in 2022, and beginning to yet again rebuild the Aztecas.
Territory
The Aztecas lay claim to the block opposite the Davis Police Department, on Innocence Boulevard.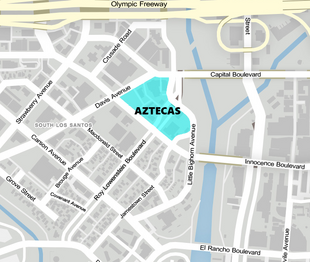 Territory Comparison to other Gangs, Groups, & Motor Clubs
Leaders
Jose revived the gang in 2019, recruiting members and amassing a formidable gang, succeeding in wars between both the Leanbois and Vagos. Over time, however, his presence in the city began to dwindle, and as quickly as his gang grew, they faded as well. He eventually returned to the city, disappointed with how the gang progressed without him, and left to join the East Side Ballas.
Once Jose started taking a less active role in the gang, Antonio took over as el Jefe, appointing Violet Noreguarde as his second-in-command. They took an active role in empowering the gang once again, with Violet often holding down the turf alone while Antonio worked on recruitment and gang restructures. Eventually Violet and Antonio came to numerous significant disagreements, and Violet left the gang. 8 months later, the Aztecas entered a war with the East Side Ballas. Jose returned to the city, and left the gang to join them. An hour after he left, a battle ensued, and Antonio was killed by Tyrone Biggums and Jose.
Tom Ryan took the mantle of el Jefe after Antonio's death. The gang was practically nonexistent at this point, after Jose sold their houses to the East Side Ballas and Antonio and Violet Noreguarde had departed. He and his Fiancée Ell LeFant relocated to the Aztecas' current block, rebuilding the gang and making a name for themselves. Like those before him, however, Tom grew disillusioned with the gang, slowly becoming less active. He eventually handed control to Gabriel Navarro, before he and Ell retired from the gang life.
After being left in charge of a new era of Aztecas, Gabriel took to seriously restructuring the gang. First, he decided the Leadership would be equally impacted by three el Jefes, and appointed Blake Jackson as his second. He also formed a High Command within the group to manage growth, promoting Jack A. Roo to the first Capitano, and began recruiting more able bodies.
Gallery